Published 04-28-20
Submitted by onsemi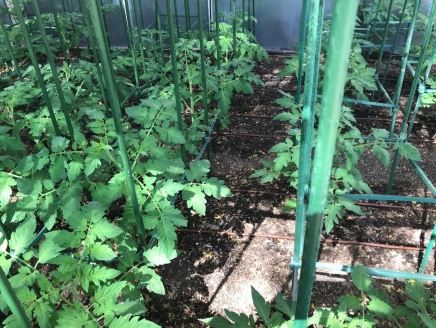 Tomatoes grown from seedlings.
As I strive to practice an attitude of gratitude through COVID-19, I find myself reflecting on the positive things to come from social isolation. It's allowed me to spend more time with my family and home projects like working with my husband on our home and yard. For those of us in America, spring has arrived and it's planting season. For myself in Arizona, my husband and I planted herb seeds and tomato seedlings in our garden early March, thanks to the abundance of sunshine. We use raised beds to avoid competing with critters for our dinner. And ergonomically, it's safer than kneeling on the ground. Gardening gets us outside, keeps us active and provides a sense of productivity and accomplishment.
"Living in the desert is a constant reminder of the need to conserve water. This year, one of the measures I have introduced in my backyard is to re-use the water from rinsing my vegetables to also irrigate my vegetable plants." - Jean Chong, vice president, ethics and corporate social responsibility
ON Semiconductor's On-Going Corporate Social Responsibility (CSR) Efforts
Originally celebrated on April 22, 1970, Earth Day is celebrated worldwide in more than 192 countries signifying support for environmental protection. At ON Semiconductor, every day is earth day! We reuse, reduce and recycle wherever feasible, globally. For example, in Bucheon, Korea we reduced chemical usage and in Suzhou, China, we reduced energy usage by powering off idle machines, adjusting running quantity and loading rate and optimizing the parameter which resulted in a reduction of emissions. To reduce our carbon footprint, we recycle at all of our sites, globally. In 2019, over two million pounds of scrap material and precious metals, equivalent to the weight of approximately 167 African elephants, were shipped to our global reclamation center to be processed, sorted and sold for reuse.
"As corporate social responsibility further embeds itself into our culture, we will continue to encourage our employees to practice good corporate citizenship and set exceptionally high standards for ourselves, our products and our partners." – Keith Jackson, CEO and president.
Earlier this year we were listed on Barron's 100 Most Sustainable Companies for the third year in a row and were also recognized as one of Newsweek's America's Most Responsible Companies. In addition, we joined the United Nations (UNs) Global Compact in 2019 to assist in advancing the UNs Sustainable Development Goals. As a company, our core values are rooted in respect, integrity and initiative with a commitment to profitable growth, world-class operating results, benchmark quality and delivery of superior customer and shareholder value. 
How you can partake in celebrating Earth Day during COVID-19?
Today marks the 50th anniversary of Earth Day and to celebrate and contribute to the health of the planet, my husband and I have been using our free time to expand and improve our garden. We have been organic, year-round gardeners for about nine years. We create our own mulch and compost, which is free from chemical fertilizers and insecticides. We use everything from eggshells and coffee grounds, to produce peelings and yard scraps. Doing so provides us the benefit of not only superior produce but also an amazing aroma of composted soil that smells like rain!
If you are interested in a small step you can take to benefit the earth for this year's Earth Day, consider gardening! There are many ways you can do it depending on the size yard or available space you have. For those that live in townhomes or apartments with either limited yard space or just a porch, container gardening is a great option. The only thing needed is a container or pot with a hole at the bottom for water drainage. You can reduce trash, and reuse or recycle common household items with just a bit of imagination for your container garden.
Lana Hall from the CSR department at ON Semiconductor uses a local composting company that provides customers with equipment to collect compost that they pick up, process and then redistribute soil with customers and local gardens. Lana shares that, "Participating in this program has provided an easy way to reduce my family's carbon footprint, as well as helping fellow gardeners and farmers."
While starting vegetables early from seeds is very satisfying, and usually cheaper, it's not always practical. Start your garden today by purchasing small plants from local home and garden stores, which should offer curbside service during this time, and let the sun and water take it from there. Not only does gardening provide great tasting food, exercise and a nice dose of vitamin D, but like any job well done, it gives us a feeling of pride and accomplishment of the final product. Earth Day may be celebrated differently this year, but you can still celebrate by taking a few simple steps and benefit the earth by setting up your own garden at home.
ON Semiconductor's Technology Contributes to a Greener Planet
With sustainability at the forefront of our operations, we not only strive to be a responsible company in the actions we take such as reuse, reduce and recycle throughout our sites across the globe, but we also help make the world greener, safer and connected through our energy-efficient semiconductors. We are committed to a greener world and the following technologies are just a few examples of our contributions:
Smart Farming Technology: Our IoT portfolio includes solutions for energy harvesting platforms, which are battery-free solutions with advanced wireless connectivity. Our RSL10 Solar Cell Multi-Sensor Platform supports continuous Bluetooth® Low Energy transmission of sensor information without requiring any batteries. The use cases for this technology are exponential but a few examples include wide-range temperature sensing, combined digital humidity and pressure sensing, which can be controlled via our RSL10 sensor beacon mobile app. This technology is rapidly growing within the smart farming industry and is resulting in cleaner air, enhanced energy-efficiency, cost-savings and ease of maintenance.

Electric Vehicles: The de-carbonization of automobiles and other transportation is gaining rapid momentum as environmental and sustainability concerns grow in parallel with stricter clean air legislation. In order to provide energy-efficient technologies, ON Semiconductor's super-junction MOSFETs, IGBTs, SiC devices and power integrated modules, along with the company's gate drivers, sensing, control and peripheral power products provide a complete system solution for electric vehicle charging systems of all types and power levels.

Solar Power: Wide Bandgap technology is enabling a bright-solar powered future, contributing to a more energy-efficient planet, combating the effects of climate change. In 2019, we shipped enough power solutions to replace 70 coal-fired power plants. Learn more about solar inverter solutions, as well as how utilizing wide bandgap in solar and renewable energy applications can benefit your designs!
Embracing Change
"Fifty years ago Earth day was only celebrated and embraced by a few. It was relegated to be a day that was only celebrated and embraced by hippies (Mother Earth) and green advocates. Today it has become a mainstream holiday. With more and more people practicing sustainability within various aspects of their lives, we can have hope in a healthier, greener planet for future generations." - Theresa Haywood-McCarley, senior director, corporate social responsibility
I'm proud to work at a company with high regard for CSR and is an ever-growing contributor of solutions to provide cleaner, energy-efficiency technologies. In a season of so many unknowns and chance, we must remember that we have the ability to take control and practice daily gratitude. Your Earth Day celebrations might look different this year due to the current circumstances of the world, but you can still take steps to promote a greener, healthier planet!
To learn more about ON Semiconductor's commitment to CSR, please see our latest report.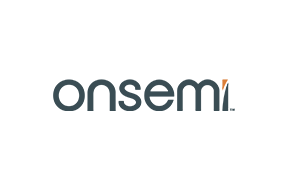 onsemi
onsemi
onsemi (Nasdaq: ON) is driving disruptive innovations to help build a better future. With a focus on automotive and industrial end-markets, the company is accelerating change in megatrends such as vehicle electrification and safety, sustainable energy grids, industrial automation and 5G and cloud infrastructure. With a highly differentiated and innovative product portfolio, onsemi creates intelligent power and sensing technologies that solve the world's most complex challenges and leads the way in creating a safer, cleaner and smarter world. Learn more about onsemi at www.onsemi.com.
Corporate Social Responsibility at onsemi: We believe in our people, culture and ability as good corporate citizens to address climate issues, sustainability and positively impact the communities where we work and live. Empowering the right people and partners creates long-term shared value to further our commitment to the triple bottom line of people, planet and profit. Since our first Corporate Social Responsibility (CSR) Statement of Commitment in 2008, our program has continually grown through innovation in our initiatives and strategic goals to deliver value to our stakeholders. Our philanthropic contributions, supporting nonprofits and educational institutions globally, and employee volunteer efforts target societal needs.
More from onsemi