Published 04-28-20
Submitted by Discovery Education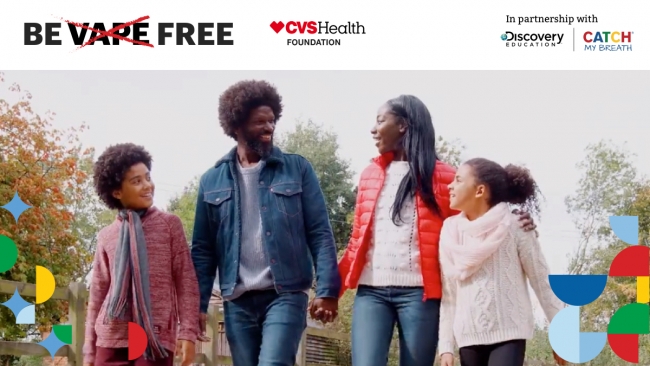 According to the Food and Drug Administration, 5 million youth in the United States currently use e-cigarettes: 1 in 4 high school students (27.5%) and 1 in 10 middle school students (10.5%). Vaping increases a person's chance of experiencing complications from upper respiratory illnesses and some researchers believe there exists a relationship between vaping and COVID-19 patients. In growing efforts to combat the vaping epidemic, Be Vape Free presents the all-new Be Vape Free Clearing the Air Virtual Field Trip, premiering April 30th at 1pm ET. Learn more and register today. 
The Be Vape Free Clearing the Air Virtual Field Trip provides young people and their families with the facts and science to make healthier decisions. As part of the virtual field trip, students will hear from other young people and gain powerful insights from their peers sharing firsthand experiences of avoiding the dangers of e-cigarette use. The on-demand field trip will also feature interviews with a marketing expert who can help young people think critically about influences such as advertising and social media. Students will learn effective refusal skills and debunk common vaping myths with first-hand insight from a leading health professional.
Be Vape Free is a nationwide initiative providing standards-aligned, no-cost, e-cigarette prevention resources for educators teaching grades 5-12 created in partnership with the CVS Health Foundation, CATCH Global Foundation, and Discovery Education. At the core of the initiative is the evidence-based CATCH My Breath vaping prevention program, developed by The University of Texas Health Science Center at Houston (UTHealth) School of Public Health.
"Even though students are not in school, it remains critical for them to continue to see and hear from their peers and from experts about the dangers of e-cigarette use," said Eileen Howard Boone, President of the CVS Health Foundation. "This virtual field trip will allow students, educators, and families to continue to benefit from the Be Vape Free resources made possible through our work with Discovery Education and the CATCH Global Foundation." 
"During this global pandemic, we need to work together to ensure students have access to no-cost virtual learning experiences that empower young people to make good life choices," said Lori McFarling, President of Corporate Partnerships, Discovery Education. "This dynamic Virtual Field Trip expands the existing anti-vaping resources available to families as part of the national Be Vape Free initiative designed to aid educators and families in their efforts to stay healthy and safe." 
"Given the extra vulnerability vaping causes to respiratory pathogens like COVID-19, being vape free is more important than ever. The Be Vape Free Virtual Field Trip is another incredible resource created through this partnership that enables youth and communities to create a vape-free generation," said Duncan Van Dusen, Founder and CEO of CATCH Global Foundation.
The Be Vape Free initiative ensures that everyone—students, parents, educators, and other community members—has access to no-cost, preventative resources to help educate and empower young people. With the support of educators and all community members, the Be Vape Free initiative is on a mission to foster the first vape-free generation. The Be Vape Free resources are available at BeVapeFree.org and through Discovery Education Experience's Corporate Education Partnerships channel and the Viruses and Outbreaks channel.
###
CATCH Global Foundation
CATCH Global Foundation is a 501(c)3 public charity founded in 2014. Our mission is to improve children's health worldwide by developing, disseminating and sustaining the CATCH platform in collaboration with researchers at UTHealth. The Foundation links underserved schools and communities to the resources necessary to create and sustain healthy change for future generations. www.catch.org 
CVS Health Foundation
The CVS Health Foundation is a private charitable organization created by CVS Health that works to build healthier communities, enabling people of all ages to lead healthy, productive lives. The Foundation provides strategic investments to nonprofit partners throughout the U.S. who help increase community-based access to health care for underserved populations, create innovative approaches to chronic disease management and provide tobacco cessation and youth prevention programming. To learn more about the CVS Health Foundation and its giving, visit www.cvshealth.com/social-responsibility.
About Discovery Education
Discovery Education is the global leader in standards-aligned digital curriculum resources, engaging content, and professional learning for K-12 classrooms. Through its award-winning digital textbooks, multimedia resources, and the largest professional learning network of its kind, Discovery Education is transforming teaching and learning, creating immersive STEM experiences, and improving academic achievement around the globe. Discovery Education currently serves approximately 4.5 million educators and 45 million students worldwide, and its resources are accessed in over 140 countries and territories. Inspired by the global media company Discovery, Inc., Discovery Education partners with districts, states, and like-minded organizations to empower teachers with customized solutions that support the success of all learners. Explore the future of education at DiscoveryEducation.com.
Contacts
Brooks Ballard, CATCH Global Foundation, brooks@catch.org
Erin Shields Britt, CVS Health Foundation, Erin.Britt@cvshealth.com
Grace Maliska, Discovery Education, gmaliska@discoveryed.com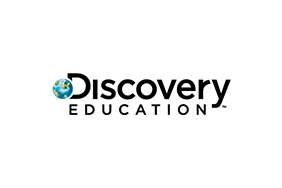 Discovery Education
Discovery Education
Discovery Education is the global leader in standards-based digital content for K-12, transforming teaching and learning with award-winning digital textbooks, multimedia content, professional development, and the largest professional learning community of its kind. Serving 4.5 million educators and over 50 million students, Discovery Education's services are in half of U.S. classrooms, 50 percent of all primary schools in the U.K., and more than 50 countries. 
Accelerate student achievement in your district by capturing the minds and imaginations of students with the fascination of Discovery, tapping into students' natural curiosity and desire to learn.
More from Discovery Education