Published 04-28-20
Submitted by Ceres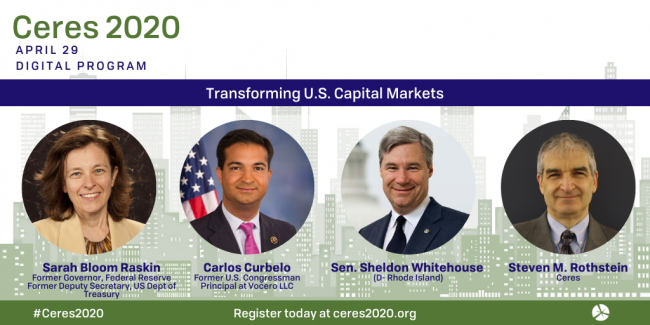 The coronavirus pandemic has not only dramatically changed our world and our way of life, but it is shining a light on our universal interconnectedness and our vulnerability to the seismic risks that have rocked our current capital market systems. Whether it be a deadly virus or the climate crisis, we are experiencing first hand the need for collective action and mass mobilization.
Tune in to the Ceres 2020 Digital Program to learn how we can build a more resilient, sustainable global economy and help prevent future crises. Upcoming sessions:
Transforming US Capital Markets
Wednesday, April 29
12pm EDT
The climate crisis is causing negative financial impacts on companies, investors, and even financial markets overall. As US financial regulators play ever larger and consequential roles in buttressing the economy in light of the ongoing COVID-19 pandemic, their role in keeping in mind how climate change fits into their responsibilities and the climate impacts of their actions is more important than ever. In this session, participants will: - Assess how climate risk fits into the current mandate of key federal financial regulators - Evaluate current actions being taken by US financial regulators and legislators on climate change - Explore what U.S. financial regulators can—and should—do to integrate climate change into their prudential and supervisory roles.
Speakers
Steven M. Rothstein, Managing Director, Ceres Accelerator for Sustainable Capital Markets

United States Senator Sheldon Whitehouse (D- Rhode Island)

Carlos Curbelo, former U.S. Republican Congressman, and Principal at Vocero LLC

Sarah Bloom Raskin, Former Governor, Federal Reserve and former Deputy Secretary, US Dept of Treasury
Climate Strategies and Opportunities: Asset Managers' Perspectives
Tuesday, April 28
12pm EDT
Many asset managers are acting to manage climate risks and capture low-carbon investment opportunities. Yet given the scale and urgency of the climate crisis, much more action is needed by asset managers worldwide to align their investment portfolios with the Paris Agreement's goals of net-zero global greenhouse gas emissions. 
In this plenary session participants will:
 Examine actions asset managers are taking on climate change in the four areas of The Investor Agenda: investment, corporate engagement, investor disclosure and policy advocacy

Explore how asset managers are collaborating via the Climate Action 100+ initiative to persuade companies in their portfolios to align with the Paris Agreement's goals

Identify opportunities asset managers are pursuing in low-carbon, clean energy technologies
Speakers
Jack Ehnes, CEO, California State Teachers' Retirement System (CalSTRS) 

John Goldstein, Managing Director and Head of the Sustainable Finance Group, Goldman Sachs 

Roelfien Kuijpers, Head of Responsible Investments and Head of the Global Client Group for Ireland, Scandinavia and the United Kingdom, DWS 

Peter Mennie, Global Head of ESG Integration and Research,  Manulife Investment Management
Limiting Temperature Rise to 1.5 Degrees: Roles for Investors, Companies, and Policymakers
Tuesday, May 5
12pm EDT
With new awareness of the systemic risks if global temperatures rise above 1.5℃, investors, companies and policymakers have begun making commitments to net-zero carbon emissions by 2050.  
In this session, participants will:  
Explore how major asset owners decided to commit to net-zero portfolios

Compare corporate strategies to set and meet ambitious carbon reduction goals

Evaluate the critical role of policymakers in enabling deep carbon emissions reductions
Speakers
(Moderator) Steven Clarke, Ceres Director Corporate Clean Energy Leadership, Ceres 

Cynthia Cummis, Director of Private Sector Climate Mitigation, WRI SBTi 

Michael Frerichs, Illinois State Treasurer

Jeff Hanratty, Applied Sustainability Manager, General Mills 
Conservative Case for Climate Action and Clean Energy
Wednesday, May 6
12pm EDT
Conservative voices are powerful allies in the effort to pass climate legislation in the United States, and our political systems effectively require bipartisan cooperation to enact major policies. In this session, participants will: - Discuss the conservative case for clean energy and climate action - Build a better understanding of the universe of conservative efforts on climate and clean energy policy advocacy - Explore specific examples of conservative policy engagement
Speakers
(Moderator) Martha Newell-Kinsman, Ceres

Mark Fleming, President & CEO, Conservatives for Clean Energy

Heather Reams, Executive Director, Citizens for Responsible Energy Solutions

Corey Schrodt, Legislative Director, Rep. Francis Rooney (FL-19)
State Leadership Amidst the Climate Crisis: Innovations and Collaborations
Thursday, May 7
2pm EDT
Whether dealing with COVID-19 or the climate crisis, states across the U.S. are stepping up to tackle our world's biggest public health, environmental, and economic challenges head on. On climate change, leading states are developing innovative solutions, learning from each other and working collectively to reduce GHG emissions and scale up clean energy and clean transportation investments. Already, state policies such as Clean Energy Standards, the Advanced Clean Cars Program, the Regional Greenhouse Gas Initiative and more are transforming the economy. Hearing from leaders across the country, we'll discuss the many opportunities to scale up solutions—and shield our economy from the looming climate crisis—at the state and regional level. During this session, participants will: - Learn about innovative new policies that states are pursuing to reduce emissions, while protecting the economy and impacted communities - Explore the economies of scale when states work together to address and invest in climate solutions. - Hear about success stories and lessons learned to date - Identify opportunities for advocacy and growth of clean energy policies in 2020
Speakers
(Moderator) Alli Gold Roberts, Director, State Policy, Ceres

Chris Bast, Chief Deputy, Virginia Department of Environmental Quality

Julie Cerquiera, Executive Director, U.S. Climate Alliances

Zach Pierce, Climate and Energy Advisor, Office of Colorado Governor Jared Polis

Martin Suuberg, Commissioner, Massachusetts Department of Environmental Protection and Chairman of RGGI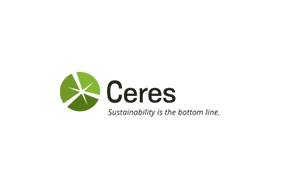 Ceres
Ceres
Our Mission: Ceres is transforming the economy to build a just and sustainable future for people and the planet. 
Ceres is a nonprofit organization working with the most influential capital market leaders to solve the world's greatest sustainability challenges. Through our powerful networks and global collaborations of investors, companies, and nonprofits, we drive action and inspire equitable market-based and policy solutions throughout the economy to build a just and sustainable future. For more information, visit ceres.org and follow @CeresNews. 
More from Ceres