Published 04-28-20
Submitted by ImpactAssets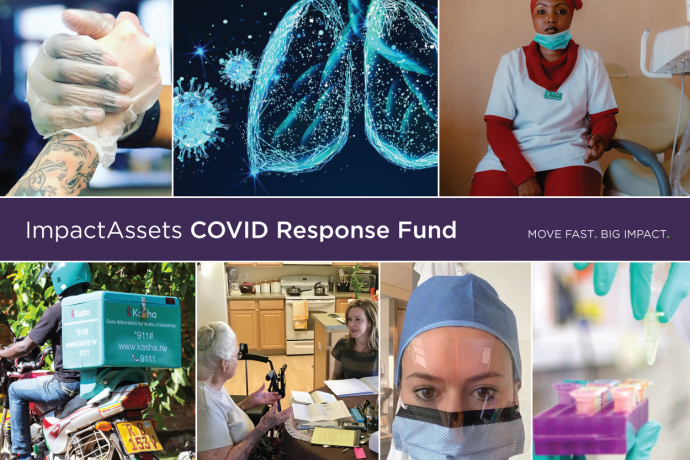 ImpactAssets, a nonprofit impact investment firm that invests in funds and companies that create social and environmental return alongside of financial return, today announced the launch of the ImpactAssets COVID Response Fund, a hybrid of rapid-response charitable giving and flexible impact investing with an initial capacity of more than $1 Billion in investment opportunities.
The Fund will focus on the immediate unmet needs of small businesses and individuals as well as companies fighting on the front lines of the pandemic, across three groups of beneficiaries:
Small businesses and individuals in communities hardest hit by the economic downturn;

Frontline Heroes: companies and projects that advance our immediate fight against the pandemic, including treatments and vaccinations, personal protection equipment (PPE) manufacturing and delivery of health services;

Mission-Critical Changemakers: companies that have materially advanced progress on climate change and social equity and whose survival is integral to preserving and continuing that progress.  
"Now more than ever, the world requires the robust and scalable power of impact investing and philanthropy to support those in need and create a more resilient and equitable future," said Margret Trilli, ImpactAssets President and Chief Investment Officer. "We have been thrilled to see impact investors leaning in at record levels to support critical needs in this moment of crisis."
ImpactAssets consulted with The Rockefeller Foundation, one of the most credible and experienced impact advisors in the sector, on the development of the Fund. "This is exactly the kind of response to the COVID-19 pandemic that has the potential to deliver solutions to the people, communities and businesses that are struggling most," said Adam Connaker, Principal, Innovative Finance, The Rockefeller Foundation. "We look forward to collaborating and exploring further opportunities to put catalytic philanthropic capital to work with ImpactAssets."
The ImpactAssets COVID Response Fund taps a pipeline of 5,000 partners and beneficiaries from the ImpactAssets ecosystem of mission driven portfolio companies, fund managers and community banks. The Fund will evolve as the needs of communities and individuals shift through response, recovery and reinvention. One key pillar of the strategy includes channeling critical charitable dollars to community banks and Community Development Financial Institution (CDFI) lenders, who are in critical need of capital to support the unprecedented plight of small businesses and individuals in their communities.
"In response to these unprecedented times, the ImpactAssets COVID Response Fund will leverage ImpactAssets' experienced investment team, its robust investor network and established deal pipeline to identify and vet high-impact opportunities in need of capital," said ImpactAssets Board Member Kim Wright-Violich, Managing Partner, Tideline. "This Fund is wisely built to deploy capital strategically and immediately, to support companies and individuals who need it most right now." 
"The ImpactAssets COVID Response Fund meets an extraordinary spectrum of need," said Liesel Pritzker Simmons, Co-Founder and Principal, Blue Haven Initiative and ImpactAssets Board Member. "Through the fund, our family office is supporting mission-driven companies rapidly delivering products and services related to the crisis, as well as stabilizing affected social enterprises and small businesses across the country and around the world."
About ImpactAssets
 ImpactAssets is a nonprofit impact investment firm that invests in funds and companies that create social and environmental return alongside of financial return. ImpactAssets' Donor Advised Fund and field-building initiatives enable philanthropists, other asset owners and their wealth advisors to advance social or environmental change through impact investment and philanthropy.
About The ImpactAssets Donor Advised Fund
The ImpactAssets Donor Advised Fund is an innovative vehicle that empowers donors to increase the impact of their giving by combining it with strategic sustainable and responsible investing to build a sophisticated philanthropic endowment. Donors advise on how assets are  invested across a range of leading impact investment options including community investment, turn-key portfolios, private debt and equity funds and custom investments. The ImpactAssets Donor Advised Fund currently has more than $1 billion in assets in 1,250 donor advised funds, working with 350 wealth advisors across 60 financial services firms.
                                                                     # # #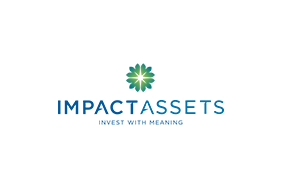 ImpactAssets
ImpactAssets
ImpactAssets is an impact investing trailblazer, dedicated to changing the trajectory of our planet's future and improving the lives of all people. As a leading impact investing firm, we offer deep strategic expertise to help our clients define and execute on their impact goals.  
Founded in 2010, ImpactAssets increases flows of money to impact investing in partnership with our clients through our impact investment platform and field-building initiatives, including the IA 50 database of private debt and equity impact fund managers.  
ImpactAssets has more than $2 billion in assets in 1,700 donor advised fund accounts, working with purpose-driven individuals and their wealth managers, family offices, foundations and corporations. ImpactAssets is an independent 501(c)(3) organization. 
More from ImpactAssets