Published 04-27-20
Submitted by Koch Industries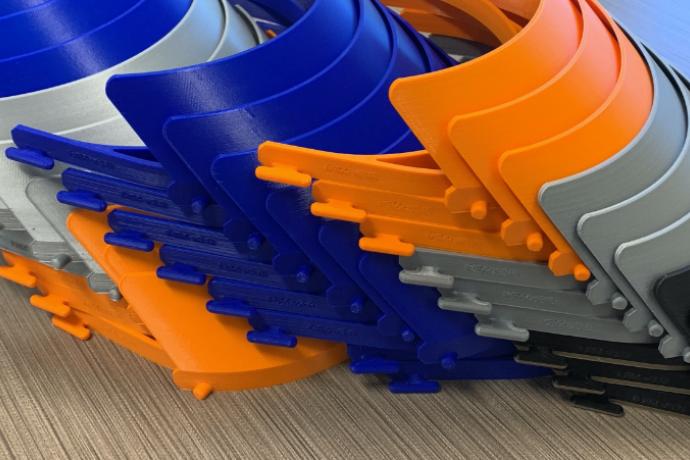 Tim Aman is a self-described geek. From his workstation at John Zink Hamworthy Combustion's (JZHC) headquarters in Tulsa, Oklahoma, the company's IT systems analyst proudly shows off the scale replica of the Star Trek USS Voyager he made with a Makerbot Ultimaker 3D printer using a file he downloaded off the internet.
So, when he saw a news story in late March about the possibility of 3D printing face shields to help resource-starved healthcare workers in the fight against COVID-19, Aman got inspired. He downloaded the file directly from the National Institutes of Health's (NIH) 3D Print Exchange and sent it straight to one of the office's 3D printers to test it out.
The design of the shield itself is brilliant in its simplicity.
"It's simply a frame that allows you to add rubber bands to the back to attach it to your head," said Aman. "You can then take a standard transparency or even a plastic report cover, three-hole punch it and snap it onto the front of this frame. It's basic medical PPE."
Impressed with the results, Aman began talking with others around the office about it, and how JZHC could potentially help. A couple years ago, all JZHC offices – Koch Industries' emissions control and clean-air solutions manufacturer – installed 3D printers to encourage employees to experiment with additive manufacturing (the industry term for 3D printing). For Aman, this was an experiment with purpose.
"I started printing some personally just to see what I could do, and our café manager saw them and said, 'My sister is a nurse in Florida, and she would love to have some of those,'" Aman said.
His mission was clear. Aman got back on his computer, scaled the model up and duplicated it to fit several shields onto one printing plate, then put all five of the facility's functioning 3D printers to work. In a couple of days, he had his first batch of 30 units ready to be shipped down to a clinic in Florida.
That initial batch really got Aman moving; seeing the potential to help, he wanted to do more. JZHC president and CEO Casey Chambers encouraged him and the team to continue making additional units in good faith, telling them to "focus the machines on shield printing and pass out all we can." Aman assessed JZHC's collective printing power and began running the machines nonstop.
"This is a useful, clinically reviewed tool, and we can provide them to medical professionals who need them at no cost," said Aman. "Whatever we can pitch in, that's what we want to do." 
Soon after production began ramping up, fellow JZHC employee Adam Bader – whose wife works as a doctor at a local Tulsa hospital – reached out with a request.
"A colleague asked me if there was any need for supplies in the Oklahoma area for face shields or respirators," said Bader. "He knew my wife worked in the ER and was looking for input from the medical community. They happened to be in search of supplies and sent some ideas back to us."
Bader's wife and her colleagues felt the face shields would be "extremely helpful," so Tim and the team at JZHC delivered a batch to the hospital as quickly as they could print them.
"Face shields are a very important part of our personal protective equipment in the emergency department," said Dr. Elizabeth Bader. "The community involvement with 3D printing around the world during this pandemic has been amazing. We are thankful for John Zink's support."
But 3D printing is not instantaneous – it's deceptively time-intensive. Each batch of three shields can tie up one printer for eight hours. So, with five printers working full time, Aman and company can produce 15 masks every shift. When asked how long he plans to run the machines, Aman replied, "Until we run out of material."
Which shouldn't be anytime soon – JZHC's Tulsa facility has pledged to provide the material to keep Aman's efforts going, as he and his coworkers continue to explore alternative visor designs to improve production rates (i.e., make more, faster) and better serve nurses and doctors. 
While the facility is close to its maximum capacity for face shield production, Aman hopes others will see the NIH site, see what others are doing in the 3D printing community, and take action, too. In the meantime, the JZHC printers continue to run.
"This is a movement, so to speak," added Aman. "There are makerspaces in major cities all over the United States that provide access to 3D printers. If there were a way organize mass action, the 'geeks' of the world would certainly pitch in."
If you'd like to download the file for the face shield referenced in this article, click here. You can also reach out to your local makerspace and ask what you can do to help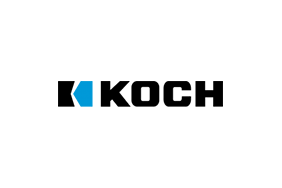 Koch Industries
Koch Industries
Creating value. Improving life.
From life's basics to tomorrow's technological breakthroughs, it's our job to create and innovate a wide spectrum of products and services that make life better – and to do so responsibly while consuming fewer resources. Below are 16 of the ways we do exactly that.
Responsibility is our highest priority.
For us, creating value goes far beyond economic performance. It means doing the right thing. In the right way. Always. For our customers. For our employees. For our communities. For our environment.
Five steps we take.
Every day, we work to create more value, using fewer resources than the day before. We do it by managing our resources in a way that benefits our customers, employees, partners, community members and society with a philosophy of mutual benefit. With more than 300 manufacturing sites across the United States, we're one of America's largest manufacturers. To stay in business for the long term, we must constantly improve and innovate – both in the products we make and how we make them.
Reducing Waste
Saving Energy
Recycling Resources
Preventing Pollution
Community Partnerships
Ways we work to be responsible.
In our view, the role of business in society is to create products and services people want and need, but to do so responsibly. This means finding ways to use fewer resources, operating safely, protecting the environment and always acting ethically.
Safe Operations
Organizational Efforts
Environmental Performance
More from Koch Industries