Published 04-24-20
Submitted by VolunteerMatch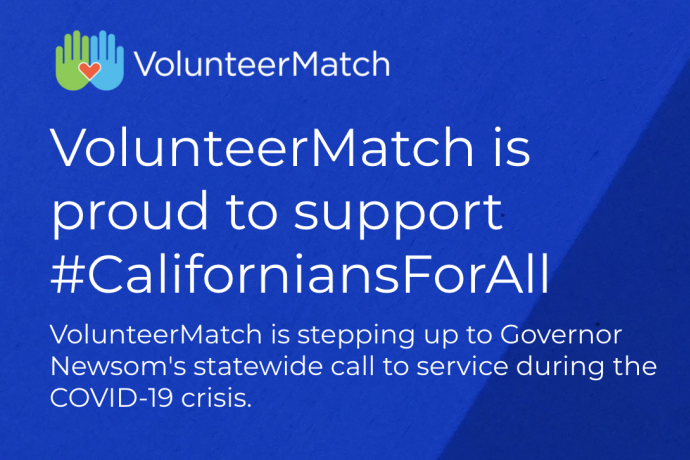 VolunteerMatch supports #CaliforniansForAll
VolunteerMatch, the world's largest volunteer engagement network, today announced its support for Governor Gavin Newsom's #CaliforniansForAll service initiative. The 20+ year-old nonprofit organization, headquartered in Oakland, provides free volunteer recruiting services to over 128,000 nonprofits nationally -- and over 13,000 in California. It maintains a footprint on the web that attracts 1.3 million individuals interested in volunteering each month, giving it a unique opportunity to rise to the challenge and complement the state's efforts by lending its support to meet the desperate need for volunteers in its home state.  
"Governor Newsom has taken a bold step forward during these difficult times by issuing this call to action and, as a California nonprofit ourselves, we are proud to lend our whole-hearted support to amplify his message," said Greg Baldwin, CEO of VolunteerMatch. "California's nonprofit organizations, and the vulnerable populations we support, face immense challenges which have only been exacerbated by the COVID-19 crisis. By lending our voice, we seek to complement the great work the California Volunteers team is already doing to educate and inform our neighbors about safer forms of in-person and virtual service opportunities.
This morning VolunteerMatch launched a #CaliforniansForAll microsite that highlights key cause areas the State of California has prioritized while scaling the digital infrastructure necessary to get volunteers to all the local nonprofits that need them to react and respond to the COVID-19 crisis.
"Our responsibility is to make it easier for California's nonprofits to get the type of help they need, when they need it," said Baldwin. "VolunteerMatch has identified this public health crisis as a key priority, and we've completely oriented our organization towards addressing the challenges introduced to the nonprofit sector by this pandemic. Supporting the Governor's initiative is the obvious next step for our team, if we are to deliver for the resilience and recovery of our sector." 
VolunteerMatch has been actively engaged with its community of nonprofits since the crisis began, and has been re-engineering and enhancing its platform to make it easier for nonprofits to get the help they need during this crisis. Over the past several weeks it has introduced key features that enable organizations to add a COVID-19 tag to new and existing volunteer listings in order to surface relevant volunteering opportunities to those looking to give back.
To learn more and find ways to get involved in COVID-19 volunteering in California's key priority areas, please visit the microsite at https://californiansforall.volunteermatch.org/
# # #
About VolunteerMatch
VolunteerMatch believes everyone should have the chance to make a difference. As the web's largest volunteer engagement network, serving over 120,000 participating nonprofits, 150 network partners, and 13 million annual visitors, VolunteerMatch offers unique, award-winning solutions for individuals, nonprofits and companies to make this vision a reality. Since its launch in 1998, VolunteerMatch has helped the social sector attract more than $12 billion worth of volunteer services. Learn more about VolunteerMatch at VolunteerMatch.org, and follow @VolunteerMatch on social media.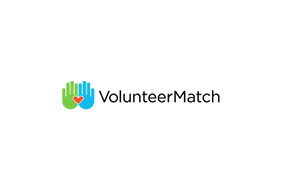 VolunteerMatch
VolunteerMatch
VolunteerMatch is the Web's largest volunteer engagement network, strengthening communities by making it easier for good people and good causes to connect. Founded in 1998, the organization annually supports more than 11 million visitors, 96,000 participating nonprofits and 160 network partners who have built their programs on VolunteerMatch's community involvement platform. As a nonprofit social enterprise, VolunteerMatch works toward financial self-sufficiency through a diversified portfolio of fee-based services including premium volunteer recruitment tools and solutions for nonprofit organizations, enterprise volunteer engagement services for companies and campuses, and marketing and sponsorship programs for brands. For more information on our CSR solutions, visit solutions.volunteermatch.org.
More from VolunteerMatch