Published 04-24-20
Submitted by Ceres

PIXABAY
By Mindy Lubber, CEO and President of Ceres, and Steven Rothstein, Managing Director of the Ceres Accelerator for Sustainable Capital Markets
As our nation marks Earth Day this week, and our government leaders turn their focus to economic recovery efforts in the coming months, we can't ignore one of the biggest lessons of the coronavirus pandemic: if we don't prepare for our greatest global threats, whether a deadly virus or a warming planet, they will continue to overwhelm us.
As we make momentous decisions about how to revive our livelihoods, communities and economies, we need to be aware of the devastating impacts of the ongoing climate crisis. As acute as the pandemic is today, and will continue to be for some time, the health, social, economic and financial risks we face from climate change could be even more deadly and destructive, over the long term, to our planet and its billions of people.
Congress has already passed a $2.2 trillion federal aid package to support families, businesses, and workers. While federal policymakers seem close to another stimulus package, as of the writing of this article, there will likely need to be further infrastructure and jobs support. The Federal Reserve has announced plans to inject $4 trillion dollars of more liquidity into the economy, acting as a historically unparalleled effort to provide much needed support and a buffer from the shocks suffered by our capital market systems. The Fed is taking actions it never has before, providing massive amounts of back-stops for lending, including corporate and municipal bonds and loans to businesses big and small, to huge swaths of the economy.
There are no neutral decisions. In time, the discussions will move from emergency relief to economic recovery efforts. Our policymakers and regulators have a responsibility to think ahead and make sure that the decisions that they make right now to put people back to work and reopen our communities and economy, do not inadvertently exacerbate the climate crisis. If they don't, we risk going from one global crisis to a potentially, larger catastrophe.
As former Bank of England Mark Carney recently wrote:
"After the COVID-19 crisis...The great test of whether this new hierarchy of values will prevail is climate change. After all, climate change is an issue that (i) involves the entire world, from which no one will be able to self-isolate; (ii) is predicted by science to be the central risk tomorrow; and (iii) we can only address if we act in advance and in solidarity."
For decades, Americans have been racing against the clock in our response to a rapidly changing climate. And in 2018, scientists warned we have to move even faster and take bolder action to limit global temperature rise to 1.5 degrees Celsius in order to avoid worse consequences, including more rising sea levels, extreme weather, the collapse of ecosystems and untold human suffering. We already see with the pandemic how interconnected our capital market systems are - and how a risk event in one part of the world can quickly spread to other parts of the world and wreak havoc on our global economy.
Like the pandemic, the climate crisis is a systemic risk with devastating health, social, economic and financial impacts. If left unchecked, it will continue to undermine our market structures, already weakened because of the ongoing pandemic, even more dramatically, because it's potentially irreversible impacts continue year after year. Once our ecosystems start to unravel, it will unleash even more devastating chain reactions for which there is no vaccine.
Rising sea levels will literally sink the value of our real estate, leaving businesses and communities with enormous risky investments. Changing weather patterns, including droughts and more violent storms, will affect where we can grow crops, harming food delivery systems and farmers. More extreme global weather events, including floods and fires, will pummel our global supply chains and create hundreds of millions of "climate refugees."
Our policymakers and regulators have the responsibility to ensure that the decisions that are being taken today to rebuild our economy also factor in the climate consequences that are not too far behind. They have the potential to reshape a new sustainable economy in fundamental ways that better prepares us for the next climate-fueled crisis and accelerates the just transition to a net-zero emissions future.
We must make sure our policymakers and regulators get this right and make decisions through the lens of climate resiliency that make sense now and into the future. Ceres, through its work through the Ceres Accelerator for Sustainable Capital Markets and other advocacy efforts, recommends they:
Factor in climate risk exposure of investors and companies and high-emitting industries as part of the decision-making process. This includes considering the risk exposure of the assets that they purchase and factoring in climate risk into macro and micro prudential regulation.

Require large companies with high carbon risk exposure that receive financial aid to provide a decarbonization plan. To help companies make the transition, the aid should steer them to specific emissions reductions and renewable energy investments.

Require large companies and financial institutions, such as banks, that receive financial aid to provide climate risk disclosure. Companies should disclose these risks in line with the recommendations of the Task Force on Climate-related Financial Disclosures (TCFD). Such disclosures spotlight climate risks that companies face and enable taxpayers, investors, customers, employees and regulators to price in this risk appropriately.

Ensure jobs or infrastructure measures include large investments in net-zero carbon solutions, such as renewable energy development and sustainable mass transit systems that also create clean jobs and growth.
We are a strong, powerful nation with the creativity, ingenuity and determination to come together and get through the current crisis. But we can also strengthen our preparedness to prevent another one and better protect our families, communities - and new economy - for generations to come. We can't lose sight. Not now.
The piece was originally published in Forbes.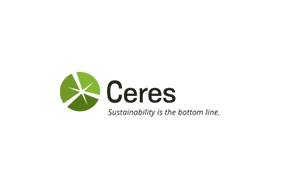 Ceres
Ceres
Our Mission: Ceres is transforming the economy to build a just and sustainable future for people and the planet. 
Ceres is a nonprofit organization working with the most influential capital market leaders to solve the world's greatest sustainability challenges. Through our powerful networks and global collaborations of investors, companies, and nonprofits, we drive action and inspire equitable market-based and policy solutions throughout the economy to build a just and sustainable future. For more information, visit ceres.org and follow @CeresNews. 
More from Ceres