Published 04-24-20
Submitted by CRB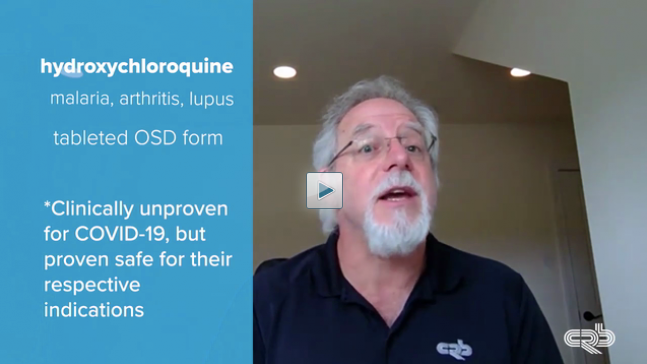 Click here to watch video
by Dave DiProspero, Director of Pharmaceutical Process Technology
The global pandemic and economic shutdown facing us today is unlike anything most of us have seen in our lifetime. Around the world, the threat of COVID-19 has forced everyday life to come to a standstill. 
In the pharmaceutical industry, though, no one's standing still. Manufacturers are racing faster than ever to research, develop and quickly deliver drug products that will defeat this disease and treat its symptoms. While much of the world's attention is focused on the possibility of a vaccine, another therapy is showing promise: small molecule oral solid dose (OSD) products such as hydroxychloroquine and azithromycin. These OSD products, intended to treat less prolific diseases like malaria, may find themselves thrust into the spotlight as their effectiveness against the symptoms of COVID-19 becomes known. 
This potential surge in demand could hail a long-term shift for OSD manufacturers. The pathogenic virus behind COVID-19 is the third coronavirus to sweep our global population in this century, and it's not likely to be the last. By taking decisive action to upgrade and expand their operations, OSD manufacturers will position themselves to play a key role in defeating both today's pandemic and whatever unseen health threats the future may hold. 
My goal in this post is to help you take that decisive action. I specialize in OSD manufacturing and have helped numerous clients rethink and improve their equipment, facilities, and systems in order to meet shifting market demand. Most of these clients start with the same basic four questions—questions that, under the present circumstances, are more urgent than ever.
1 | What is my fastest and most cost-effective option for rapid scale-out?
Many of the OSD products that show promise against COVID-19 were, until now, intended to treat relatively rare indications and were thus produced in small- to medium-sized batches. Today's pandemic has changed that. In order to meet unexpected demand for large-scale output, those manufacturers need to reconsider every unit operation in the production process, from bulk powder handling to compression/encapsulation, tablet coating and final packaging. 
How can company leaders chart the best course of action—one that can be deployed with relative speed, impeccable quality and with good business acumen? 
Expand, renovate and/or repurpose existing facilities

To assess the feasibility of an in-house expansion, work with a partner who understands the operations, equipment and technology that are critical to OSD production, and who can home in on where and how to "liberate" spare capacity within your facility. This may mean quickly converting non-GMP areas into production spaces, repurposing lightly-used assets, or rapidly deploying new systems, equipment and facilities, including modular manufacturing operations. Identifying and closely examining the cost and benefit of each available option will help you recognize the most efficient way forward.

Partner with contract manufacturing organizations (CMOs) or another manufacturer

If you determine that your facility won't accommodate the output you require, partnering with a CMO or external manufacturer is a potential solution. But how do you know your new partner is the right fit for your objectives, and will reliably deliver the quality and capacity you need? The best way to answer that question is to seek the advice of someone with established relationships and industry connections. They can take you behind the velvet rope of top "innovator-type" manufacturers, or they can introduce you to the generic producers and CMOs with the shortest lead times, the most robust internal platforms and the strongest production capabilities. 
2 | How will I get the process equipment I need to support that scale-out?
If you're planning to expand your capacity internally, your challenge isn't only to improve efficiencies and scale your process. You also need a reliable equipment vendor. That vendor needs to be prepared to expedite delivery according to your timeline, and their equipment needs to meet your specifications and expectations of quality. Determining quality is especially hard under today's travel restrictions, which prevent you from conducting traditional factory acceptance tests (FATs) at the vendor's location. Here are a few ways to de-risk that procurement process. 
Find the vendors that are able to move fast and do it right

Like you, many equipment manufacturers and distributors are finding new ways to support the campaign against COVID-19. The best of them are working hard to collapse their manufacturing timeline in order to get more high-quality equipment into use, faster. For example, I've seen vendors rethink the way they manufacture a tablet press in order to deliver it within weeks, not months. Used equipment vendors are also joining this race with a significantly large inventory of previously owned OSD installations ready for rapid deployment. Ask for help if you're unfamiliar with these vendors. Knowing where to find them, and how to assess their quality, is key to ensuring a rapid and successful facility expansion.

Find a partner that thinks differently

Because a traditional, hands-on approach to FATs is no longer an option, OSD projects that are currently underway could face significant delays at the very moment when they're needed most. To avoid such a delay on your own project, work with a partner who embraces alternative approaches. They'll help you undertake FATs and other quality assessments through innovations like virtual reality and alternative communication portals.
3 | Is this the right time to consider full or partial continuous manufacturing?
This question isn't a new one. Even before this pandemic, many OSD manufacturers had begun to adopt continuous manufacturing (CM), either as a full replacement for traditional batch operations or as part of a hybrid batch/CM system. Even the FDA, seeing the improved quality made possible by CM, has thrown its support behind this shift. 
The incentives that first drew OSD manufacturers to CM are even more attractive as we face off against COVID-19. CM allows for denser use of a facility's footprint. That means manufacturers can do more with less space, creating a virtuous cycle of efficiency and cost savings. More importantly, CM allows OSD manufacturers to vary their output quickly, without having to adjust equipment or sacrifice important cost efficiencies. This readies them for future spikes in demand, like the one we're witnessing today while improving overall drug quality and consistency. 
As a result of these advantages, we're seeing many success stories involving continuous OSD manufacturing for other indications, and there's no reason to believe the same won't be true for a COVID-19 product. 
Shifting to CM is a complex process. Multiple unit operations, traditionally partitioned inside individual suites, need to be transitioned into a fully or partially integrated production line along with certain standalone sub-processes. Solve this complexity by consultating with experts who understand pharmaceutical process design and who can advise on the best way forward.
A fully integrated CM platform

From "powders in" to "tablets out," a fully integrated CM platform offers significant technical processing advantages and business benefits. It's more complex to implement but encompasses the widest range of manufacturing capabilities.

A partially integrated or batch/continuous hybrid platform

Partial or hybrid CM systems typically start at powder feed and end at tablet compression, leaving other unit operations to the domain of traditional batch processing. OSD manufacturers who are eager to net some of the benefits of CM but who need faster, more immediate implementation might choose this route in the short-term, with plans to develop a more robust end-to-end CM platform in the future.
4 | What measures can I take to secure my supply chain? 
Unfortunately, only about a quarter of the world's of active pharmaceutical ingredients (APIs) are manufactured in the United States. The rest have to be sourced from elsewhere. This leaves stateside drug manufacturers vulnerable to sudden labor shortages and logistical challenges, particularly when a global health pandemic causes havoc in places like China, India and Europe—the world's main API suppliers. 
What can OSD manufacturers do to help ensure they have the supply they need when they're ready to develop, reformulate or scale?
In the short term, decrease your risk by diversifying your raw material suppliers

There are several short-term operational strategies that you can deploy to help insulate yourself against the risks of supply chain disruption; one of the most tried-and-true of these strategies is to source your materials from multiple suppliers or work with one supplier who operates from multiple locations. A partner with experience in supply chain management and operations improvement can help you undertake a gap/risk analysis of your supply chain in order to apply this multi-sourcing strategy effectively.

In the long term, increase your operational control by integrating an advanced CM system that includes in-house API production

An advanced end-to-end CM system that starts with API manufacturing and ends with final dose form collection and handling is the ultimate way to de-risk your operation. Though this transformation is complex and requires substantial capital investment, it allows OSD manufacturers to simplify their supply chain and exert more control over their entire operation. 
Rapidly scaling your OSD operation is a complex process, and it will look different for every manufacturer. It's imperative that you get it right according to your unique circumstances and objectives so that more people have access to your products, more quickly. 
You have an important role to play during this pandemic and whatever health threats might await, and we're here to help you play that role to your fullest potential. 
What are your questions?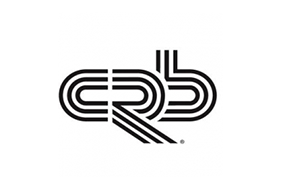 CRB
CRB
CRB is a leading provider of sustainable engineering, architecture, construction and consulting solutions to the global life sciences and food and beverage industries. Our more than 1,600 employees provide world class solutions that drive success and positive change for our clients, our people and our communities. CRB is a privately held company with a rich history of serving clients throughout the world, consistently striving for the highest standard of technical knowledge, creativity and execution.
More from CRB