Published 04-23-20
Submitted by Wells Fargo & Company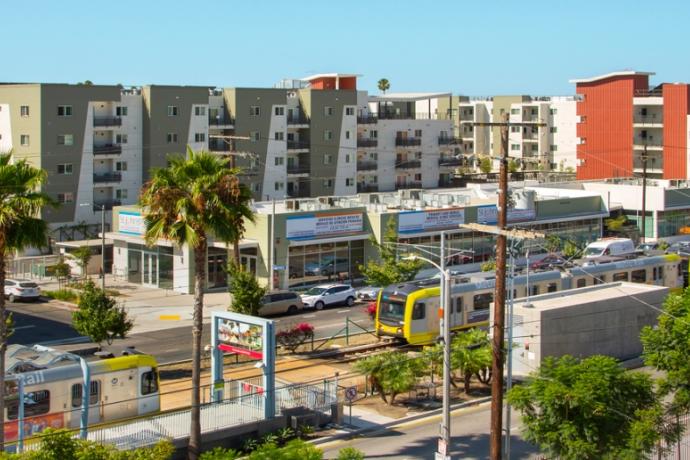 Abode Communities works with scores of families at Rolland Curtis Gardens. The COVID-19 crisis has presented unique opportunities for the company to support residents. Photo: Abode Communities
From Homeless to Hope: Door Opens to a Better Future
For Johnna Blocker, the future may have seemed bleak. Homeless with no prospects in sight, she and her children lived in a local shelter while she looked for an apartment she could afford to rent in the uber-expensive Los Angeles market. Then, one day, she won the "lottery" — an affordable housing drawing with 3,000 applicants for only 140 apartments. Eventually, she moved into Rolland Curtis Gardens, one of the state's newer affordable housing complexes, and her life has never been the same.
"When we moved in, it was surreal," she said. "I just couldn't believe it. I remember when I was going through all the bad times, it was hard to see any future for us. But I kept my faith, and now I am truly grateful for where I am. I get on my knees each and every day and thank God for all of this."
Today, the future is more promising for Blocker and other residents of Rolland Curtis Gardens — the latest in a portfolio of affordable housing communities developed by Los Angeles-based Abode Communities, with help from a long list of allies, including Wells Fargo.
Over nearly 25 years, the nonprofit has built 50 communities and 4,000 apartment units for low- and moderate-income residents. Along the way, it has received a number of awards as one of the leading U.S. developers of environmentally sustainable affordable housing.
"Our approach is really to address the affordable housing needs of the most vulnerable populations — such as those experiencing housing insecurity, homelessness, physical and economic limitations, and seniors on fixed income," said Robin Hughes, Abode Communities' CEO and a nationally known advocate who works with numerous groups focused on the housing affordability crisis.
"From a real estate standpoint, we are a community builder," she added. "It's all about creating communities that have the support services necessary to help residents thrive and grow."
Hughes acknowledged, however, that Rolland Curtis Gardens looks quite different these days amid the COVID-19 crisis. On-site services such as the health clinic and child care center closed after the public health emergency orders. Community meetings and other gatherings have also temporarily ceased per social distancing guidelines to prevent the spread of the coronavirus.
Still, Abode's staff has stepped up to continue providing services to residents, while maintaining those guidelines, she said. They make routine welfare check-in calls, offer people one-to-one support, identify each household's needs, and connect them to resources such as local food banks, health referrals, and assistance with unemployment applications.
Hughes said the Rolland Curtis Gardens model offers valuable lessons for the eventual coronavirus recovery. "We'll come out of this with a huge need for affordable housing designed around health needs," she said. "For Abode Communities, that's where we begin."
An ally from the beginning
As one of Abode Communities' long-term allies, Wells Fargo has played a key role in the Rolland Curtis Gardens story through grant support, land acquisition financing through the New Generation Fund, and development financing with Enterprise Community Partners and others. Since 2012, there have been more than 25 financing sources over the life of the project.
The alliance's replacement of the old, worn-down Rolland Curtis Gardens eight years ago helped prevent the gentrification of the property, which sits only blocks from the University of Southern California. The original investor was planning to convert it to market rate student housing and displace its long-term low-income housing residents, many of whom would later be selected for a unit in the new, rebuilt Rolland Curtis Gardens.
It is that kind of community approach and commitment to preserve housing affordability that offers the best path forward, said Jacqueline Waggoner, vice president and Southern California market leader for Enterprise Community Partners.
"The need for healthy, stable affordable homes is a top priority in Los Angeles and across our state," she said. "Everywhere I go, people are really talking about solutions. It's not just talk, either. Everyone is engaged — the city, county, state, the governor, Wells Fargo. I am more hopeful than I've ever been in the past that we're going in the right direction."
For Wells Fargo, Rolland Curtis Gardens embodies its goal of advancing housing affordability and supporting vitally needed services for residents, said Eileen Fitzgerald, head of housing philanthropy.
In June 2019, Wells Fargo committed $1 billion to nonprofits that are working to solve the housing affordability crisis. Two months ago, it joined with Enterprise Community Partners in launching the Housing Affordability Breakthrough Challenge involving more than $12 million in grants to the top six most creative solutions to the crisis.
"Our goal is to bring housing stability to those who are most in need," Fitzgerald said. "Rolland Curtis Gardens and other communities like it bring all the services together to make a difference in residents' lives and give them economic opportunity. And the foundation for all of it is housing stability. It is the fundamental piece for everything."
Against the odds, 'you got this'
For years, Blocker's housing was anything but stable. She was involved in a situation she calls "a bad relationship." It took all of her strength to leave, she said, and take her four children. With no affordable housing options, however, she felt they had no other choice but to stay in homeless shelters.
One day, as she was looking for permanent housing, she saw a huge line of people encircling a local church. Someone told her it was a line to apply for an apartment in a new affordable housing complex. 
"Well, I had nothing else planned, and my time limit at the shelter was coming up," she said. "So I stood in that line for a long, long time. When I filled out the application and gave it to this lady, I know I must have looked so discouraged. I'll never forget how she uplifted me, took my hand, and said 'Good luck, honey. You got this!'"
Against the odds, Blocker did get it. Out of 3,000 applicants, her name was number 127 in the lottery for 140 apartments in Rolland Curtis Gardens. That wasn't the end of the suspense, however. Several times during the paperwork, she feared she would not qualify for the unit because of her modest income — until she finally got confirmation she'd been approved.
"I got the call that day, and I was just crying — I was so happy," Blocker said. "The kids came running in and we all laughed and cried. I told them it was going to be all right, we were going to move in. And they were so happy. You just know, as a parent, when your children are happy, that's the biggest happiness you can ever feel."
"Affordable housing developments such as Rolland Curtis Gardens are meant to support families like the Blockers who have experienced homelessness." said Hughes "But we also provide homes for hardworking families and individuals with modest income who can't afford the high market rents in the region."
Touched by the transformation
Today, Rolland Curtis Gardens, with its modern design, clean lines, and earth tone colors, bears little resemblance to its predecessor. The two-building complex has more than twice as many apartments, including one-, two- and three-bedroom units. It has an on-site health care clinic, community room, child care center, playground, open common areas, and on-site staff members that provide referrals to job counseling and other support services. 
The change in Rolland Curtis Gardens has been stunning, said Christian von Merkatz, an executive with Wells Fargo Community Lending & Investment, who saw it unfold from the ground up. Wells Fargo provided millions of dollars in development loans and tax credit equity financing for the project.
"It was pretty emotional to see the transformation," he said. "To see it go from where it was years ago to what it is today, it's just beautiful. Then you had the tenants who had been fighting to avoid eviction. Today, you can see the tenants have a real sense of community there. They're friendly, close, and really appreciate what they have."
Last fall, von Merkatz heard Blocker speak at the grand opening ceremony — an experience he said he won't forget. "It was pretty amazing to hear her talk about her story," he said. "It was very touching to see how grateful she was, and it makes our job that much more satisfying. After all the hard work, you get the feeling it was definitely worth it."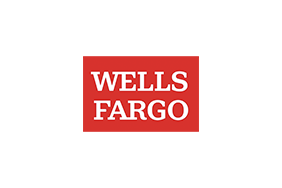 Wells Fargo & Company