Published 04-22-20
Submitted by Edward Jones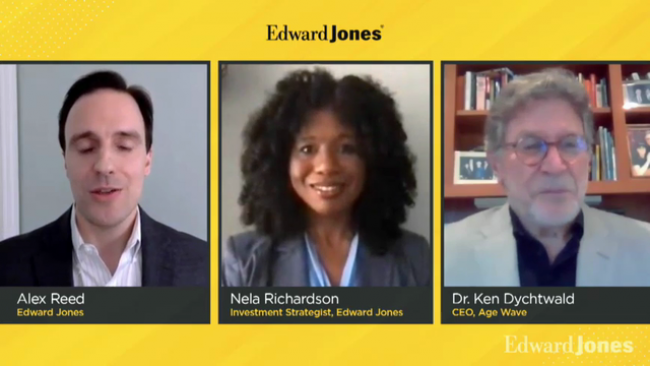 Click here to watch video
Edward Jones Perspective: Special Edition
Increased Stress
Over the past few weeks, it's likely your life has been greatly disrupted. The coronavirus pandemic may have you working from home, being asked to home school your children or caring for aging parents – or maybe even all three. You may feel pressure to contribute to communities, while also continuing to plan for you and your family's future, all while no one still quite knows what exactly the future holds. You're undoubtedly experiencing a lot of physical, emotional and financial stress, and rightfully so.
As the details of this pandemic unfold, there is so much information it can be difficult to find moments of clarity along with a sense of control. This can be especially difficult for older adults and their families as they navigate pandemic news, fears and the uncertainty of the global economy.
It doesn't matter where you are, whether you are sheltering at home or have a role critical to the situation, it's safe to say physical and financial health is right in the center of your thoughts and daily life.
Expert Advice
Two experts join us and offer insight into this, sharing what you can do right now to help you navigate the emotional and financial stress you may be coping with.
"This is a version of you that your kids or your neighbors will probably remember for decades to come. So give it your best shot.'"
Psychologist and gerontologist, author of 17 books and CEO of Age Wave, Dr. Ken Dychtwald
"We do expect the effects of this pandemic on the market to be temporary."
Investment strategist from Edward Jones, Nela Richardson
Want to talk? Find a financial advisor near you and schedule a virtual meeting today.
More resources:
Your Physical, Emotional and Financial Health
We're here for you – ready to listen, support and navigate these topics together. 

Edward Jones
Edward Jones
Edward Jones serves nearly 7 million investors from more offices than any other investment firm in America. We attribute a great deal of our success to our principles and personal, long-term approach to investing.
We have consistently been ranked among the best companies to work for by FORTUNE magazine, and our employees tend to stay with us for years. As a privately owned company, Edward Jones has a very personal feel that's almost like family. And we're very proud of that.
Corporate Social Responsibility
We care deeply about knowing your financial goals - and knowing you. And whether you live in a big city, small town, or somewhere in between, we know you care about your community - as do we. That's why giving back and being stewards of the environment have been integral parts of the Edward Jones culture for many years.
More from Edward Jones