Published 04-22-20
Submitted by Timberland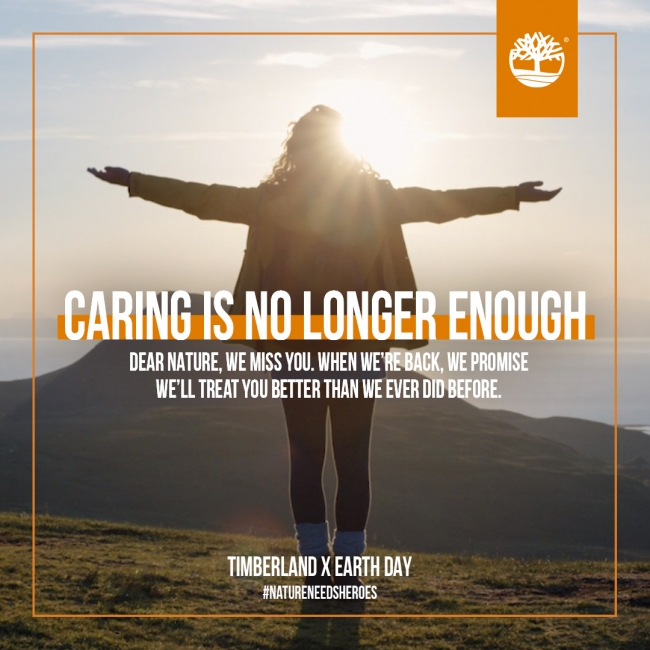 At the heart of the Timberland® brand is the belief that a greener future is a better future. For the 50th anniversary of Earth Day, Timberland has a bold new message to share about humanity's relationship with nature: "Caring is no longer enough."
The new anthem video, produced by SMALL (New York) and released today on Timberland's websites and social media channels worldwide, is narrated in a child's voice and reflects on the current pandemic reality that finds us unable to connect physically with nature. With messages of hope offered on behalf of people everywhere, Timberland takes a moment to appreciate nature as she repairs herself, with a promise to "treat you better than we ever did before" when we're back. 
"At Timberland, we believe in the power of nature, and human nature. This rings true today more than ever," said Argu Secilmis, vice president of global marketing for Timberland. "With this Earth Day video, we hope to inspire people around the world to be heroes for nature and protect what we love.  We all need to promise to do better, with the understanding that our actions can make a real difference for the future of our planet. Caring is no longer enough."
To work toward its vision of a greener future, Timberland has pledged to plant 50 million trees by 2025, and is planning 50 eco-service events worldwide this year once it is safe to serve together outdoors. The events aim to help connect people with nature and create a healthier planet, while underscoring Timberland's commitment to invest in communities worldwide. In addition, Timberland is encouraging its employees to serve remotely and each week shares easy Earth Day actions that can be completed at home. And finally, the brand continues to drive eco-innovation in its products, with a vision to not only reduce negative impact, but to one day have a net positive impact on the earth. 
These efforts all feed into Timberland's Nature Needs Heroes™ campaign, which launched last fall and celebrates real people taking action to create lasting change. 
In addition, Timberland today released its 2019 Corporate Social Responsibility report, underscoring the brand's progress and performance against its three core sustainability pillars: better product, stronger communities, and a greener world.  
To watch Timberland's Earth Day video, visit timberland.com.  For more information on Timberland's overall commitment to sustainability, visit the brand's responsibility site.
About Timberland
Founded in 1973, Timberland is a global outdoor lifestyle brand based in Stratham, New Hampshire, with international headquarters in Switzerland and Hong Kong. Best known for its original yellow boot designed for the harsh elements of New England, Timberland today offers a full range of footwear, apparel and accessories for people who value purposeful style and share the brand's passion for enjoying – and protecting – nature.
At the heart of the Timberland® brand is the core belief that a greener future is a better future. This comes to life through a decades-long commitment to make products responsibly, protect the outdoors, and strengthen communities around the world. To share in Timberland's mission to step outside, work together and make it better, visit one of our stores, timberland.com or follow us @timberland. Timberland is a VF Corporation brand.
# # #
TIMBERLAND EARTH DAY 2020 ANTHEM
Dear Nature,
You're probably wondering where we've all gone.
Where are all those people who were wandering in your woods?
Where are all those airplanes that were flying in your skies?
Isn't all this silence strange?
Dear Nature, we miss you.
Probably more than you miss us.
Take this time to breathe, to bloom, to conquer your space.
And when we're back, we promise we'll treat you better than we ever did before.
Because now that we're so distant from you
we truly understand how much you really mean to us.
CARING IS NO LONGER ENOUGH.
NATURE NEEDS HEROES™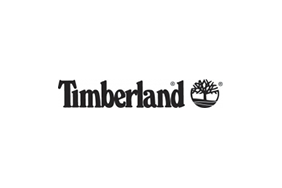 Timberland
Timberland
Timberland (NYSE: TBL) is a global leader in the design, engineering and marketing of premium-quality footwear, apparel and accessories for consumers who value the outdoors and their time in it. Timberland markets products under the Timberland(R), Timberland PRO(R), SmartWool(R), Timberland Boot Company(TM) and Mion(TM) brands, all of which offer quality workmanship and detailing and are built to withstand the elements of nature. The Company's products can be found in leading department and specialty stores as well as Timberland(R) retail stores throughout North America, Europe, Asia, Latin America, South Africa and the Middle East. Timberland's dedication to making quality products is matched by the company's commitment to "doing well and doing good" -- forging powerful partnerships among employees, consumers and service partners to transform the communities in which they live and work.
More from Timberland