Published 04-17-20
Submitted by ISAIC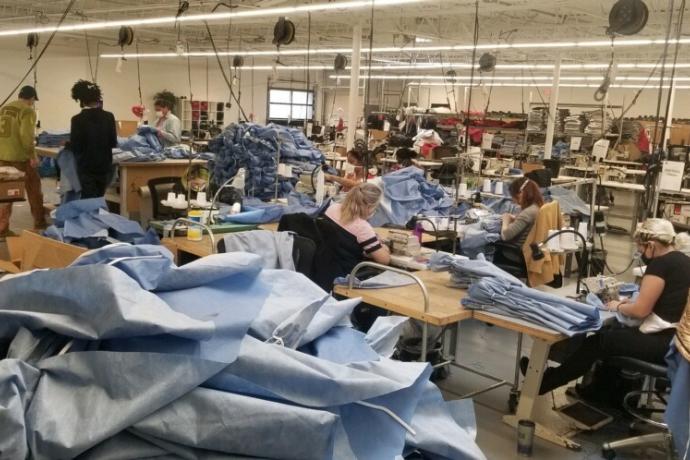 ISAIC, Industrial Sewing and Innovation Center, the national sewn goods manufacturing and training nonprofit based in Detroit, has announced the expansion of its effort to produce PPE for healthcare workers.  ISAIC has been contracted to produce nearly 100,000 isolation gowns for the State of Michigan and the Detroit Medical Center (DMC) and to serve as the coordinator for multiple manufacturing partners. Michigan Economic Development Corporation's (MEDC) Pure Michigan Business Connect (PMBC) has granted $150,000 and San Francisco-based  Autodesk Foundation has awarded $100,000 to defer ISAIC's costs to administer this collaboration. 
The urgent focus on gown production comes as a direct request from the healthcare systems.  "In our conversations with the State and DMC, it was apparent that the need for gowns has become as critical as masks," said ISAIC CEO Jen Guarino. "Together, we identified the most effective materials available for medical use and activated our network. As a national center we were able to recruit help from outside the state as well." 
ISAIC will handle material procurement, standardized product specifications, inventory, distribution and coordination with partner sites as well as delivery to the State and DMC. 
Cutting material for the massive effort is being handled by 3CON Corp, whose North American  headquarters for automotive interior technologies is located in Wixom, and global textile company Acme Mills, which is using its Hillsdale facility. Once material is cut, ISAIC is preparing gown kits to be distributed to partner sites for sewing.  Production partners include Empowerment Plan, Detroit Denim, Deviate, Refuge for Nations, Saint Clair Systems, William & Bonnie, Public Thread, York Project and Pingree.  ISAIC also turned to its nationwide network to secure a partnership with The Airtex Group in Minneapolis who will also be producing gowns on behalf of ISAIC for distribution in Michigan.  Partners in Pennsylvania and New York are also slated to join. 
"ISAIC has been a convener of the local fashion industry and is at the center of the region's efforts to increase garment manufacturing," said Pure Michigan Business Connect Director Robert Chasnis. "Their team is well-connected into the supply chains and resources that will assist our smaller businesses who have the workforce and equipment ready to go but would otherwise lack access to materials, supplies and customers. ISAIC is a trusted source to lead this vital coordinated effort."
The Autodesk Foundation, which supports people and organizations using design for positive social and environmental impact, has been an early supporter and partner of ISAIC and responded to ISAIC's coordinated plan with its gift.
Opening of ISAIC Factory
The ISAIC learning and contract factory, which was under construction and set to launch in April manufacturing for three domestic apparel companies, is now complete. Due to the pandemic, ISAIC shifted gears and production of gowns is beginning there. 
"Although it's not how we envisioned the factory opening, we are thrilled that it's finally happening and that we can contribute to the critical need for masks and gowns," added Guarino. "And we're doing it while continuing our mission of talent force development in Detroit. We are proud to have among our first hires some very talented individuals who were helped by Empowerment Plan's program and developed their initial sewing skills there. We are excited that their journey learning additional skills and having access to emerging technologies and new career paths will continue with us."
Carhartt donated the 12,000 square feet of space in its midtown Detroit building and funds for the buildout of ISAIC's factory, which is set to become the hub for talent force development and domestic apparel manufacturing in Detroit.  Empowerment Plan, the nonprofit that employs 50 previously homeless individuals to produce coats that convert into sleeping bags for those in need, has been a partner, implementing ISAIC's training and apprenticeship programs at its facility.
ISAIC will also be mass producing masks in its factory in May. It was previously announced that Quicken Loans Community Fund has purchased high-tech, advanced manufacturing equipment, which will enable automated production of up to two million masks per month.  The line machine will be the only one of its kind in the region.
For more information on ISAIC's Covid-19 response, including how to become a partner site, visit www.isaic.org/covid-19. Donations to help defray the cost of the gowns can be made through a Go Fund Me account.
# # #
About ISAIC
ISAIC, the Industrial Sewing and Innovation Center, is a fundamental new approach to talent force development and economic stimulus. A Detroit-based 501c3 nonprofit, ISAIC is a national resource for those committed to positive impact through responsible production of high-quality garments and provides solutions centered around people, education, advanced manufacturing and upward mobility for workers. ISAIC's proprietary training curriculum is being used in multiple states across the country. Its learning and contract manufacturing factory is located in mid-town Detroit, above Carhartt's flagship store.

ISAIC