Published 04-17-20
Submitted by Walgreens Boots Alliance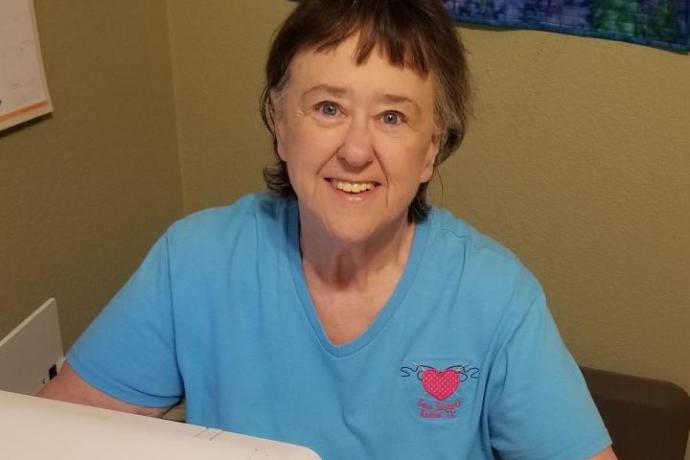 Above: Walgreens pharmacist Deborah Altsman Below: Boots opticians manager Elise Johnson
WBA Employees Are Pitching In to Support Essential Workers
As the COVID-19 pandemic creates an increased need for health care workers to have personal protective equipment, WBA employees are answering the call.
Deborah Altsman is cut from a special kind of cloth.
By day, she's a Centralized Services pharmacist for Walgreens, working remotely from her home in Austin, Texas. But she's also an avid quilter and community organizer who takes advantage of every opportunity to help neighbors near and far. So when she saw the desperate need for personal protective equipment (PPE) among healthcare workers in and around her city, she knew just what to do.
"What can I do to help? I can't actually go and take care of COVID patients," says Altsman. "But what I can do is support those who are, by helping with the PPE shortage and providing these frontlines workers with some kind of protection."
Altsman got right to work, recruiting friends, colleagues, neighbors and her husband to help her make masks to donate to health care workers. Within a few days, she had created a small assembly line of more than 40 happy volunteers, creating masks out of their spare quilting fabric, repurposed air filters donated from a friend and elastic hair ties she purchased at her local Walgreens store.
"It does feel sometimes like we're the bandage rollers from World War II," she says with a laugh. "My friend working with me on these will say, 'I'm Rosie the Riveter,' and I say, 'Yes, you are!'"
So far, Altsman's brigade of volunteers has produced more than 600 masks, which have gone to help local hospitals, doctor's offices, nursing homes, dentists and even optometrists in her area.
And they're not done yet – because for Altsman and her crew, knowing they're helping is a powerful motivation.
"We're not doing it for any glory," she says. "This is just us, behind the scenes, supporting people in the way that we can."
Scrubbing up
Although Elise Johnson is several thousand miles away, she's cut from the same cloth.
Johnson, who lives in Harrogate, England, was working as an assistant manager for Boots Opticians until recently, when she took leave expecting to begin her student program to be a dispensing optician. Her start date was delayed because of the pandemic – and she found herself with both extra time and extra fabric on her hands.
She'd gone to school for costume design, but when her professional aspirations drove her toward optometry, she kept her skills – and needles – sharp, creating a host of different handmade clothing items in her free time.
"I've done bridal garments, I've done costumes for theater companies, and a lot of comic conventions as well," explains Johnson. "If it exists on paper, I've probably made it at some point."
She decided to put her skills to use during the pandemic, making scrubs for her friends and family in the health care industry; her aunt is a staff nurse at a nearby hospital, and a number of her friends are military doctors. Although this is her first time making scrubs, it's not an unfamiliar process.
"I have actually made quite a number of karate uniforms, and they look very similar when you're making them up," says Johnson. "Then, muscle memory just kind of takes over and you're done."
Using her current stockpile of fabric, Johnson has so far made more than 20 full kits – tops and pants. And because she's using material she already owns, her personality will be reflected in many of the pieces she's donating.
"I've been able to bust out the really fun stuff," she says, laughing. "So there will be nurses wearing Pokémon fabric in Harrogate District Hospital by the time the week's up."
Because her supply of material is beginning to run short, she's now reaching out for support via a GoFundMe page, through which she hopes to collect enough to buy more material so she can continue contributing.
"I'm not delivering medication, I'm not testing people for COVID-19, but it's something that I can do that can make a difference," says Johnson. "I think I'll at least be making a difference to a few people's wardrobes for a number of months."
Diving in
In other parts of the world, members of the WBA community are thinking even more creatively about how they can help meet the global need for medical supplies.
In Madrid, Spain, Alphega – WBA's pan-European network for independent pharmacies – is joining in a nationwide effort to collect diving masks from the general public. The masks will be adapted for use as protective equipment and also, potentially, as high-flow oxygen masks for patients in need of respirators at local hospitals. So far, more than 160 masks have been collected.
Contributing in any way they can, these members of the WBA community join the hundreds of thousands more who are making a difference in the world, both on and off the clock.
And for more about WBA's response, including how the Boots healthy and beauty retailer is supporting COVID-19 testing, click here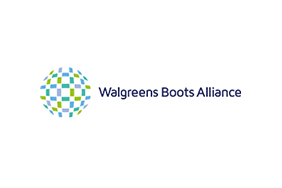 Walgreens Boots Alliance