Published 04-16-20
Submitted by America's Charities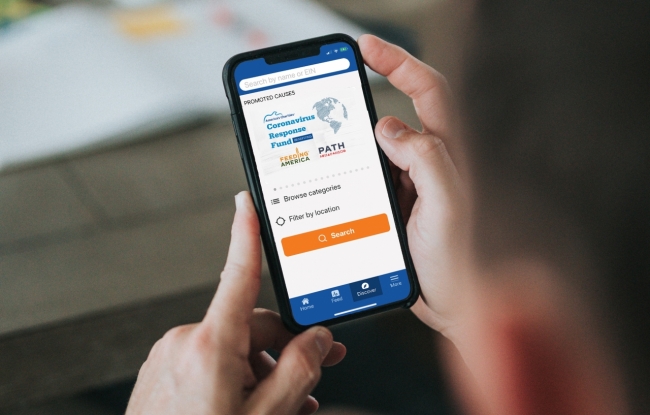 In light of COVID-19 (coronavirus), many organizations are looking for ways to give back to their communities and to those facing the biggest challenges during this time.
One easy way for companies to get involved is to adopt a workplace giving program by giving your employees access to a custom-branded Modern Giving solution, powered by Pinkaloo.
Let's talk about the benefits of workplace giving in a crisis and why you should sign up for Modern Giving to get started on giving back today.
The Benefits of Workplace Giving During a Crisis
It's likely that your organization has had to go through some major structural changes over the last few weeks. Employees are feeling these shifts the most - from having to work remotely to using new tools and technologies.
As an organization, leadership's role is to weather the storm at the helm of the ship. Leaders must step up during these trying times and make employees feel like they will all get through this together.
After you've taken care of the immediate needs of employees and customers, your focus should shift to your community.
Workplace giving programs are very powerful and rewarding in times of crisis. They allow you to foster community and employee engagement while staying safe. Many organizations are looking at launching a campaign on May 5, even if only for a day or week, to coincide with #GivingTuesdayNow, GivingTuesday's global day of giving to help nonprofits dealing with coronavirus.
By focusing on community, you empower individuals to do their best work. Creating a workplace giving program enables your employees to feel like they have some power when they may feel powerless. They will know their employer cares about giving back and that they can make a difference with their dollars.
Beyond these reasons, individual taxpayers will be able to claim up to $300 in contributions to charity as a deduction without itemizing in 2020. Why not power their giving with a workplace giving program?
Setting up a workplace giving program, especially with Modern Giving accounts, enables companies to go beyond the basics. With Modern Giving, your employees can immediately deduct charitable contributions from their paychecks and donate to the causes they care about with ease. As an employer, you can then choose to match those contributions to really engage your community and employees. It can also be completely customized to match your brand!
Why Modern Giving in the Time of COVID-19
Modern Giving is designed to help employers easily launch and scale their workplace giving programs while giving employees exactly what they want – a way to donate to charities and causes that matter to them whenever, however, and wherever they want.
With COVID-19, organizations and employees want to give to the organizations that matter to them and their communities. They also want their dollars to go as far as possible with every charity they donate to.
With Modern Giving, 100% of every donation goes directly to the nonprofit of the user or organization's choice. No fees are deducted from the donation, meaning every dollar donated goes further than with traditional donation methods.
It's also easy for individuals to set up a Modern Giving account. Enroll online, contribute funds to fill the account, and choose from over a million charities to donate to. Every individual can give to the causes they care about most. They can also decide if they want to make recurring donations to continue helping through the pandemic.
Plus Modern Giving Accounts travel with donors regardless of where they work. If something does happen where you have to let employees go, they can continue contributing to their favorite causes and have their tax receipts directly within the Modern Giving platform.
Launch Modern Giving at Your Organization Today
To schedule a demo of the Modern Giving Solution and discuss your company's charitable giving goals with our team, schedule a demo.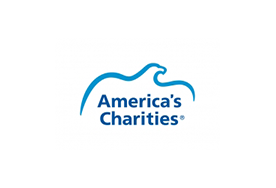 America's Charities
America's Charities
Every year, millions of people across America are invited to participate in an activity that has become a Fall tradition for generations of employees working at many of the nation's largest employers: the Employee Charitable Giving Campaign. The impact of employee giving campaigns on charitable organizations and the people and communities they serve is immense. These campaigns funnel $3 billion annually much of which is unrestricted, sustainable funds that enable nonprofit groups to deliver vital services throughout the nation.
America's Charities is a mission-driven organization that connects public and private sector employers with charities to engage employees in greater giving.
Who We Serve
Charities looking to expand their participation and reach in workplace giving and employee engagement programs through membership in one of America's Charities' four federations: America's Charities, Children First – America's Charities, Health First – America's Charities, or Community First – America's Charities of Greater Washington, D.C.
Employers seeking efficient and effective ways to manage and engage employees.
Individual donors seeking ways to make a significant impact on the causes they care about.
Our Core Services
Generating unrestricted, sustainable financial support for charities through employee engagement programs.
Distributing funds to charities in an efficient, effective and transparent manner.
Consulting with employers on strategies to achieve their philanthropic goals while strengthening employee engagement programs.
Providing solutions to support employers with their employee engagement programs that catalyze greater involvement and giving.
More from America's Charities