Published 04-16-20
Submitted by Adobe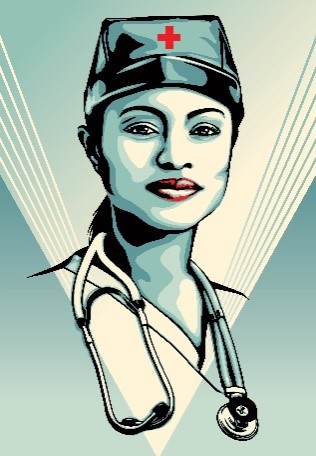 In times like this, we are reminded of how community and creativity have the power to change the world.
We're proud to be partnering with iconic artists and creative luminaries from around the world to honor the workers and volunteers who are making a difference during the COVID-19 crisis — the healthcare providers, first responders, delivery drivers, sanitation workers, mail carriers, supermarket staff, schoolteachers, and thousands of others — the people working tirelessly to keep us all safe.
Creativity is what connects us and enables us to bring to life the stories of the people we're all truly moved by. Telling of this is Shepard Fairey's Guts not Glory, a powerful illustration of a healthcare worker, and the first artwork in the new digital art collaboration "Honor Heroes".
"Guts not Glory is an illustration of one of the many healthcare workers whose selfless acts of compassion and service are always meaningful, but at this moment are especially heroic," said Fairey. "I'm inspired to glorify those who don't seek glory, but rather to serve humanity when it is most challenged. I want the portrait to emanate the comforting warmth and empathy healthcare workers provide in the midst of anxiety and crisis."
Artists from around the world — including Aaron Draplin, Donna Adi, Jessica Walsh and Ignasi Monreal — will also release original works over the coming weeks inspired by people making a difference during the COVID-19 crisis.
"At Adobe, we are so grateful to those who are on the frontlines every day keeping us safe. They are heroes, every single one of them. And so, we are inviting our amazing community to produce their own original creative tributes honoring their heroes," said Ann Lewnes, CMO, Adobe. "Creativity has the power to bring us all together even in the most challenging times."
Along with the $3 million commitment that Adobe has made to trusted organizations that are providing vital assistance to our communities — locally and globally — Adobe is pledging an additional $250k to Direct Relief as part of the Honor Heroes campaign. This donation is part of Adobe's overall efforts to supply necessary resources to help those in need during the COVID-19 pandemic.
Share your own creative expression recognizing heroes in your community using the #HonorHeroes hashtag on Twitter or Instagram. To support those directly impacted by COVID-19, you can make a donation to Direct Relief.

Adobe
Adobe
Adobe is changing the world through digital experiences. For more information, visit www.adobe.com.
More from Adobe