Published 04-15-20
Submitted by Discovery Education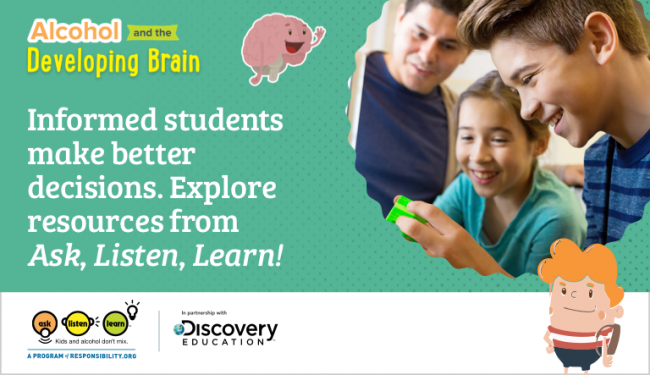 Parents are the leading influence on their kids' decision to drink – or not to drink – alcohol. With students and families homebound during April, Alcohol Responsibility Month, they can turn to a diverse array of digital resources from Ask, Listen, Learn in partnership with Discovery Education to initiate conversations that help kids say "YES" to a healthy lifestyle and "NO" to underage drinking.
"Ask, Listen, Learn provides digital resources for communities to learn about the impacts of alcohol on the developing brain, and we are proud to partner with Discovery Education to continue educating middle school-aged kids about the negative effects of underage drinking," said Director of Communications at Responsibility.org Erin Hildreth. "While home together during Alcohol Responsibility Month, families can have informative and engaging conversations that teach kids the importance of saying "NO" to underage drinking."
With classrooms across the country moving online, the following resources are available for at-home or distance learning. They provide families the key information they need to engage in conversations to sustain healthy lifestyles:
"Providing students with real-world content that supports the development of the whole student is critically important," said Lori McFarling, President of Corporate Education Partnerships at Discovery Education. "At a time when families are facing unique challenges and stressors related to COVID-19, we are proud to amplify the work of Responsibility.org and to provide dynamic, science-based virtual learning resources that foster healthy decision making."
Since 2003, underage drinking has declined 50% (Monitoring the Future, 2016), and conversations between parents and their kids about alcohol have increased 73% (Responsibility.org, 2016). Ask, Listen, Learn resources take a skills-based approach to teaching families and kids about communication, decision-making, and advocating for themselves and their peers.
Access program resources at DiscoverBrainBodyBehavior.com or through Discovery Education Experience's Corporate Education Partnerships channel.
For more information about Responsibility.org's Ask, Listen, Learn: Kids and Alcohol Don't Mix program, visit Responsibility.org and AskListenLearn.org. Stay connected with Ask, Listen, Learn through social media on Facebook, Twitter, Instagram, and Pinterest, and Responsibility.org on Facebook, Twitter and Instagram.
In response to the ongoing COVID-19 crisis, Discovery Education is offering schools and school systems not currently using the company's digital services free access to Discovery Education Experience. Schools accepting this offer will have access to Discovery Education's dynamic K-12 learning platform and its ready-to-use digital lesson plans, activities, and standards-aligned resources through the remainder of the school year. In addition, Discovery Education is offering a suite of no cost resources for parents and caregivers called Daily DE that can be used at home. For information, visit Discovery Education's comprehensive Virtual Learning resource center dedicated to helping educators adapt their instruction to meet today's need.
For more information about Discovery Education's digital resources and professional learning services, visit DiscoveryEducation.com, and stay connected with Discovery Education on social media through Facebook, follow us on Twitter at @DiscoveryEd, or find us on Instagram and Pinterest.
###
About Responsibility.org's Ask, Listen, Learn: Kids and Alcohol Don't Mix Program
Ask, Listen, Learn is the most widely-distributed underage drinking prevention program of its kind. Developed and distributed by Responsibility.org, founded by distillers, and recognizing more than a decade of success, the program has innovative, science and evidence-based digital resources for teachers, counselors, school nurses and other educators that teach kids about what the brain does, what alcohol does to it, and what THAT does to you. The program also includes resources for parents, such as conversation starters and tips, to help kids say "YES" to a healthy lifestyle and "NO" to underage drinking. For more information, visit AskListenLearn.org.
About Discovery Education
Discovery Education is the global leader in standards-aligned digital curriculum resources, engaging content, and professional learning for K-12 classrooms. Through its award-winning digital textbooks, multimedia resources, and the largest professional learning network of its kind, Discovery Education is transforming teaching and learning, creating immersive STEM experiences, and improving academic achievement around the globe. Discovery Education currently serves approximately 4.5 million educators and 45 million students worldwide, and its resources are accessed in over 140 countries and territories. Inspired by the global media company Discovery, Inc., Discovery Education partners with districts, states, and like-minded organizations to empower teachers with customized solutions that support the success of all learners. Explore the future of education at DiscoveryEducation.com.
Contacts
Erin Hildreth, Responsibility.org, Erin.Hildreth@responsibility.org
Grace Maliska, Discovery Education, gmaliska@discoveryed.com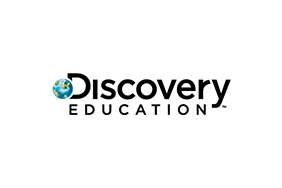 Discovery Education
Discovery Education
Discovery Education is the global leader in standards-based digital content for K-12, transforming teaching and learning with award-winning digital textbooks, multimedia content, professional development, and the largest professional learning community of its kind. Serving 4.5 million educators and over 50 million students, Discovery Education's services are in half of U.S. classrooms, 50 percent of all primary schools in the U.K., and more than 50 countries. 
Accelerate student achievement in your district by capturing the minds and imaginations of students with the fascination of Discovery, tapping into students' natural curiosity and desire to learn.
More from Discovery Education