Published 04-15-20
Submitted by Ecolab Inc.
In response to the COVID-19 pandemic, Ecolab, the global leader in water, food safety and infection prevention technologies and services, has donated more than $1.7 million in financial contributions and in-kind product donations to support organizations and individuals in need.
"We're committed to supporting our customers, our employees and our communities during these challenging times," said Ecolab Chairman and CEO Douglas M. Baker, Jr. "We're proud to be in a position to partner with many organizations that are providing essential services to those in need as a result of the global pandemic."
To help combat the spread of COVID-19, Ecolab worked with World Emergency Relief to donate more than 205,000 pounds of cleaning and sanitizing products, valued at more than $550,000, to nonprofit organizations in the U.S. Ecolab also has committed $700,000 in support of United Way efforts throughout the country and has contributed to the National Restaurant Association Employee Relief Fund to help support restaurant workers impacted by COVID-19.
In St. Paul, Minn., home to Ecolab's World Headquarters, the company is providing financial support to several organizations, including hunger relief organization Second Harvest Heartland, Higher Ground Saint Paul Shelter, multi-service agency Neighborhood House, youth social services provider Face to Face and the Saint Paul Bridge Fund, which is providing emergency relief to families and small businesses.
About Ecolab
A trusted partner at nearly three million customer locations, Ecolab (ECL) is the global leader in water, hygiene and infection prevention solutions and services. With annual sales of $15 billion and 50,000 associates, Ecolab delivers comprehensive solutions, data-driven insights and personalized service to advance food safety, maintain clean environments, optimize water and energy use, and improve operational efficiencies and sustainability for customers in the energy, food, healthcare, hospitality and industrial markets in more than 170 countries around the world. www.ecolab.com
Follow us on Twitter @ecolab, Facebook at facebook.com/ecolab, LinkedIn at Ecolab or Instagram at Ecolab Inc.  
###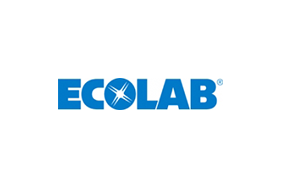 Ecolab Inc.
Ecolab Inc.
With 2006 sales of $5 billion and more than 13,000 sales-and-service associates, Ecolab Inc. (NYSE:ECL) is the global leader in cleaning, sanitizing, food safety and infection control products and services. Ecolab delivers comprehensive programs and services to the foodservice, food and beverage processing, healthcare, and hospitality markets in more than 160 countries. More news and information is available at www.ecolab.com
More from Ecolab Inc.