Published 04-14-20
Submitted by Cox Enterprises
The James M. Cox Foundation, Tull Foundation, Wilbur and Hilda Glenn Family Foundation and the Douglas J. Hertz Family Foundation announced a $325,000 donation to help feed frontline workers serving in emergency rooms, ICUs and critical care wards at 19 Atlanta hospitals. In addition, other foundations and companies are coming forward to lend their support.
Our country's healthcare workers are putting their lives on the line as hospitals respond to the influx of COVID-19 patients and manage ongoing care. In response to the growing strain on these professionals, the James M. Cox Foundation is partnering with eight restaurants and catering groups, as well as the Wilbur and Hilda Glenn Family Foundation and the Douglas J. Hertz Family Foundation, to supply meals to more than 8,000 healthcare workers each week through May 1.  
These meals are being delivered to hospitals in the Atlanta area including Emory Healthcare, Grady Health System, Piedmont Healthcare, the Atlanta VA Healthcare System, Children's Healthcare of Atlanta, Northside Hospital and WellStar Health System.  
"Every day our healthcare workers are leaving the safety of their homes and putting themselves in harm's way in order to save lives," said Jim Kennedy, chairman of Cox Enterprises. "We recognize the sacrifice they're making, and this is one small way we can support them while they battle on the front lines."  
The meals come at no cost to the healthcare workers and food suppliers have agreed to provide box meals for only $15 each. The Foundations are working with Emory Healthcare, which is coordinating expedited payments to food service partners on a weekly basis. Food service partners include Chef Linton Hopkins, Fifth Group restaurants, Local Three restaurants, Bazati, TukTuk, Southern Proper Hospitality, Avalon Catering and Chez Montier Catering.  
Our frontline healthcare providers are working around the clock, giving their all to treat COVID-19 patients — while also caring for other patients with acute medical emergencies. Help Emory expand the Feed the Frontline program to even more Atlanta healthcare heroes by making your gift at www.emory.edu/feedthefrontline.
About the James M. Cox Foundation 
The James M. Cox Foundation is named in honor of Cox Enterprises' founder and provides funding for capital campaigns and special projects in communities where the company operates. James M. Cox was Ohio's first three-term governor and the 1920 Democratic nominee for president of the United States. The foundation concentrates its community support in several areas, including conservation and environment, early childhood education, empowering families and individuals for success, and health. 
To stay up to date with all we're doing during the COVID-19 pandemic, please see our dedicated page.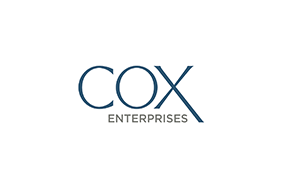 Cox Enterprises
Cox Enterprises
Cox Enterprises is one of the nation's leading media companies and providers of automotive services, with 2006 revenues of $13.2 billion and more than 80,000 employees. Major operating subsidiaries include Cox Communications, Inc. (cable television distribution, telephone, high-speed Internet access, commercial telecommunications, advertising solutions and Travel Channel); Cox Newspapers, Inc. (newspapers, local and national direct mail advertising and customized newsletters); Cox Television (television and television sales rep firms); Cox Radio, Inc. ([NYSE: CXR] broadcast radio stations and interactive Web sites); Manheim, Inc. (vehicle auctions, repair and certification services and web-based technology products) and Cox Auto Trader (automotive publications and a majority stake in AutoTrader.com).
More from Cox Enterprises