Published 04-07-20
Submitted by Discovery Education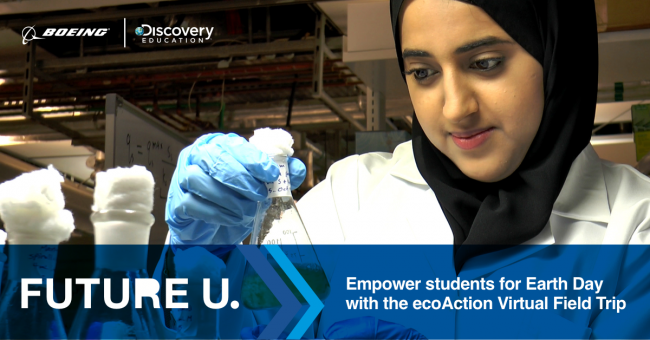 In preparation for Earth Day, Boeing and Discovery Education—the global leader in standards-aligned digital curriculum resources, engaging content, and professional learning for K-12 classrooms—present the ecoAction Virtual Field Trip, premiering on April 15, 2020.
This no-cost virtual field trip offers students in grades 6-12 across the United States the opportunity to dive into Boeing's cutting-edge research on sustainable solutions. From the comfort of their homes, students will tour Seattle and discover the ways STEM professionals develop and test innovative aviation technologies, re-imagine biofuels, restore waterways, and radically improve energy usage. Along with an exclusive view into technologies, participants will also enjoy unique access to the scientists, engineers, and other STEM experts improving sustainability and raising environmental awareness. Students and families can access the field trip on-demand here.
"Environmental action and community health are the responsibility of us all. Boeing is consistently committed to supporting the students of today become the leaders of tomorrow by providing innovative educational materials in partnership with Discovery Education," said Vice President of Boeing Global Engagement Cheri Carter. "We believe in the power of virtual learning resources to help students develop the problem-solving skills that shape the world and advance innovation."
"The ecoAction Virtual Field Trip showcases the power of communication, creativity, and collaboration to tackle some of the world's largest problems," said Lori McFarling, President of Corporate Education Partnerships at Discovery Education. "We're proud to partner with Boeing to introduce this dynamic virtual learning experience for students at home, as it builds their understanding of the tenants of sustainability and showcases the careers that power environmental innovation."
The Boeing ecoAction Virtual Field Trip builds upon the suite of no-cost virtual learning resources offered from the Boeing and Discovery Education educational program, Boeing FUTURE U. Through Boeing FUTURE U., students in grades 6-12 and their caregivers receive access to hands-on, experiential learning experiences that ignite excitement and inspire students with the knowledge to become tomorrow's innovators.
Boeing FUTURE U. resources are available at boeingfutureu.com and through Discovery Education Experience's Corporate Education Partnerships channel and the Virtual Field Trips channel. In response to the ongoing COVID-19 crisis, Discovery Education is offering schools and school systems not currently using the company's digital services free access to Discovery Education Experience. Schools accepting this offer will have access to Discovery Education's dynamic K-12 learning platform and its ready-to-use digital lesson plans, activities, and standards-aligned resources through the remainder of the school year. In addition, Discovery Education is offering a suite of no cost resources for parents and caregivers called Daily DE that can be used at home. For more information, visit Discovery Education's comprehensive Virtual Learning resource center dedicated to helping educators adapt their instruction to meet today's needs.
For more information about Discovery Education's digital resources and professional learning services, visit DiscoveryEducation.com, and stay connected with Discovery Education on social media through Facebook, follow us on Twitter at @DiscoveryEd, or find us on Instagram and Pinterest.
###
About Boeing
Boeing is the world's largest aerospace company and leading manufacturer of commercial airplanes, defense, space and security systems. As the top U.S. exporter, the company supports commercial and government customers in more than 150 countries. Boeing employs more than 150,000 people worldwide and leverages the talents of a global supplier base. Building on a legacy of aerospace leadership, Boeing continues to lead in technology and innovation, deliver for its customers and invest in its people and future growth.
About Discovery Education
Discovery Education is the global leader in standards-aligned digital curriculum resources, engaging content, and professional learning for K-12 classrooms. Through its award-winning digital textbooks, multimedia resources, and the largest professional learning network of its kind, Discovery Education is transforming teaching and learning, creating immersive STEM experiences, and improving academic achievement around the globe. Discovery Education currently serves approximately 4.5 million educators and 45 million students worldwide, and its resources are accessed in over 140 countries and territories. Inspired by the global media company Discovery, Inc., Discovery Education partners with districts, states, and like-minded organizations to empower teachers with customized solutions that support the success of all learners. Explore the future of education at DiscoveryEducation.com.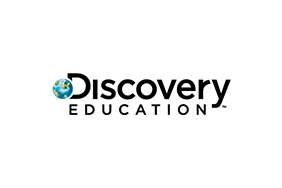 Discovery Education
Discovery Education
Discovery Education is the global leader in standards-based digital content for K-12, transforming teaching and learning with award-winning digital textbooks, multimedia content, professional development, and the largest professional learning community of its kind. Serving 4.5 million educators and over 50 million students, Discovery Education's services are in half of U.S. classrooms, 50 percent of all primary schools in the U.K., and more than 50 countries. 
Accelerate student achievement in your district by capturing the minds and imaginations of students with the fascination of Discovery, tapping into students' natural curiosity and desire to learn.
More from Discovery Education