Published 04-06-20
Submitted by Discovery Education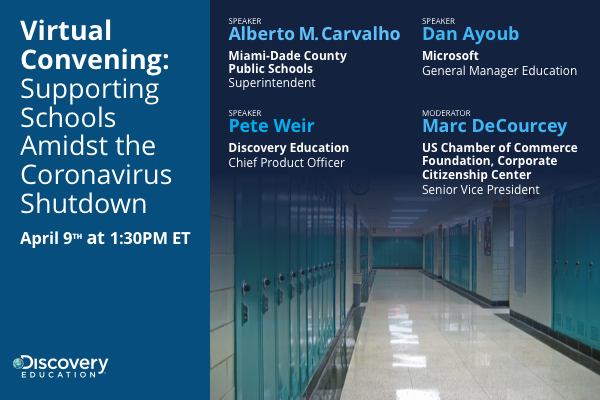 On April 9 at 1:30pm ET, Discovery Education will convene a virtual discussion between corporate and education leaders on the impacts of the COVID-19 pandemic on the US education system. A full agenda and registration information can be found here.
This unique conversation will be moderated by US Chamber of Commerce Foundation's Senior Vice President Marc DeCourcey and will include Miami-Dade County Public Schools Superintendent Alberto M. Carvalho, Microsoft's General Manager of Education Dan Ayoub, and Discovery Education's Chief Product Officer Pete Weir. Among the topics this panel will cover are:
How K-12 schools are meeting the challenge of these unprecedented circumstances

How the Miami-Dade County Public Schools built a world-class virtual learning program

The move from traditional in-person teaching to virtual learning

The unique opportunities for corporate America to step up and support schools during this rapidly evolving crisis

Examples of meaningful corporate responses that are building long-term, substantive solutions supporting education beyond this health crisis
"As a global company serving 45 million students across 140 countries , we, like many of our partners have heard firsthand the array of challenges COVID-19 has placed in the way of educators, families, and communities alike," said Lori McFarling, President of Corporate Education Partnerships at Discovery Education. "The unnatural disaster of this pandemic highlights the importance of collaboration and partnerships. We look forward to this industry convening, as we believe it will be the catalyst to grow the network of resources, support systems, and communication channels needed to effectively serve the millions of students and educators  impacted by COVID-19."
Attendees are invited to submit their questions to the panel as part of the registration process.
In response to the ongoing COVID-19 crisis, Discovery Education is offering schools and school systems not currently using the company's digital services free access to Discovery Education Experience. Schools accepting this offer will have access to Discovery Education's dynamic K-12 learning platform and its ready-to-use digital lesson plans, activities, and standards-aligned resources through the remainder of the school year. In addition, Discovery Education is offering a suite of no cost resources for parents and caregivers called Daily DE that can be used at home. For more information, visit Discovery Education's comprehensive Virtual Learning resource website dedicated to helping educators adapt their instruction to meet today's needs.
###
About Discovery Education
Discovery Education is the global leader in standards-aligned digital curriculum resources, engaging content, and professional learning for K-12 classrooms. Through its award-winning digital textbooks, multimedia resources, and the largest professional learning network of its kind, Discovery Education is transforming teaching and learning, creating immersive STEM experiences, and improving academic achievement around the globe. Discovery Education currently serves approximately 4.5 million educators and 45 million students worldwide, and its resources are accessed in over 140 countries and territories. Inspired by the global media company Discovery, Inc., Discovery Education partners with districts, states, and like-minded organizations to empower teachers with customized solutions that support the success of all learners. Explore the future of education at DiscoveryEducation.com.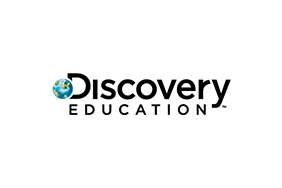 Discovery Education
Discovery Education
Discovery Education is the global leader in standards-based digital content for K-12, transforming teaching and learning with award-winning digital textbooks, multimedia content, professional development, and the largest professional learning community of its kind. Serving 4.5 million educators and over 50 million students, Discovery Education's services are in half of U.S. classrooms, 50 percent of all primary schools in the U.K., and more than 50 countries. 
Accelerate student achievement in your district by capturing the minds and imaginations of students with the fascination of Discovery, tapping into students' natural curiosity and desire to learn.
More from Discovery Education