Published 04-06-20
Submitted by Arrow Electronics, Inc.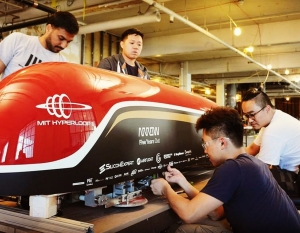 A team of MIT students has captured the 2020 Edison Gold Award for its Hyperloop II electric hovercraft. The team was named the top entry in the category of Transportation/NextGen Logistics. Arrow Electronics provided engineering mentorship, components sourcing and logistics support as part of its team sponsorship. 
"After a thorough review, the Edison Awards judges recognize the Hyperloop II as a game-changing innovation standing out among the best new products and services launched in their category," said Frank Bonafilia, executive director of the Edison Awards. 
Forty students collaborated to design and build the Hyperloop II, a high-speed, frictionless vehicle designed to carry people or freight using air levitation technology. Unlike many Hyperloop vehicles, which require a track or vacuum tube to run, the MIT team's model only needs a flat surface and rides on a cushion of air. It doesn't rely on expensive magnetic systems to power its levitation. 
The Hyperloop II was the only fully functioning air levitating pod in the 2019 SpaceX Hyperloop Pod Competition, an annual contest encouraging the development of new modes of transportation. The team placed fifth overall in the competition and won the innovation prize – a noteworthy accomplishment given that the team rebuilt their vehicle in three weeks after a fire destroyed the original prototype. 
The awards are named after Thomas Alva Edison (1847-1931) whose inventions, new product development methods and innovative achievements changed the world and garnered him 1,093 U.S. patents that made him an innovation genius around the globe.
About Arrow Electronics
Arrow Electronics (NYSE:ARW) guides innovation forward for over 175,000 leading technology manufacturers and service providers. With 2019 sales of $29 billion, Arrow develops technology solutions that improve business and daily life. Learn more at FiveYearsOut.com.
About the Edison Awards
Established in 1987, the Edison Awards is a program conducted by Edison Universe, a non-profit 501 (c)(3) organization dedicated to fostering future innovators. For more information about the Edison Awards, please visit www.edisonawards.com

Arrow Electronics, Inc.
Arrow Electronics, Inc.
Arrow Electronics' Corporate Social Responsibility (CSR) program guides today's innovators to a better tomorrow. With our help, our partners will transform their ideas into real and influential achievements that will help people and the communities in which Arrow works.And just as technology touches all facets of our lives, we intend to foster new, cross-cutting collaborations between Arrow, CSR partners, customers and suppliers, so efforts yield astonishing and unforeseen results. Working together, we can make the world a better place — now and Five Years Out.
Learn more at www.fiveyearsout.com.
More from Arrow Electronics, Inc.