Published 04-03-20
Submitted by America's Charities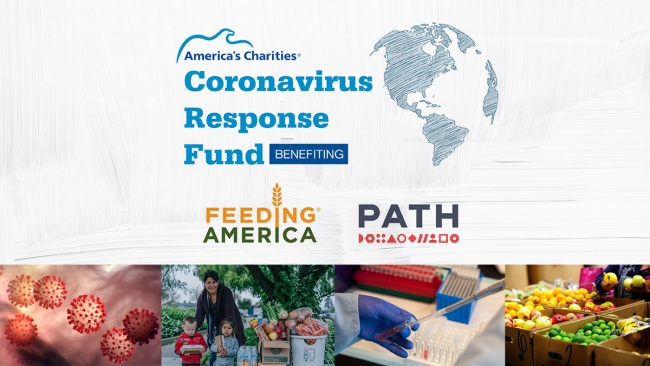 Who and How Your Donation Will Help:
With a single donation to America's Charities Coronavirus Response Fund, you can simultaneously help meet immediate needs of individuals affected by the coronavirus, along with long-term measures designed to combat COVID-19 and prevent and prepare for similar outbreaks in the future. All donations to the America's Charities Coronavirus Response Fund will be allocated evenly between the following two America's Charities' vetted nonprofits: Feeding America and PATH. 
Are you an employer? Make this fund available for your employees to support by holding a coronavirus response campaign through your workplace! Click here for more information and to get started. 
How Feeding America and PATH are responding and helping coronavirus-affected communities in the U.S. and globally:​
Feeding America® is the largest hunger-relief organization in the United States. Through a network of 200 food banks and 60,000 food pantries and meal programs, they provide meals to more than 40 million people each year.
School closures, job disruptions, lack of paid sick leave and the coronavirus' disproportionate impact on adults age 60 and older and low-income families further contribute to the demands placed on food banks. Lost wages or sudden expenses due to illness will be increasingly burdensome for the millions of people in America who live paycheck to paycheck. In the face of these challenges, the Feeding America network of food banks is uniquely positioned to help people who need it most during this pandemic.
While the media has reported greater at-risk factors for COVID-19 among the general population, such as age and pre-existing health conditions, many may not realize food-insecure households are likely more susceptible to the virus. This is believed to be due to lesser access to adequate health care, lower resistance or compromised immune systems, stigma or bias, or lack of information about proper prevention and care. Click here to learn more about Feeding America's coronavirus response and ongoing initiatives to this pandemic.
---
Long before the rise of COVID-19, PATH was already working with its partners to strengthen health systems and support safer, more secure communities in the face of health emergencies. Your support will help to ensure that the PATH team can strengthen epidemic preparedness, global health security, and improve health equity around the world.
The current coronavirus pandemic isn't the first epidemic the world has seen, and it won't be the last. That's why PATH partners with healthcare leaders in more than 28 countries to fortify global health security. Our shared mission: strengthen health systems, identify disease threats, and prevent outbreaks from reaching a critical state.
As COVID-19 spreads around the world, we are working to lessen its impact. Our experts are partnering with governments to establish emergency operations centers; advise on testing, treating, and managing the outbreak; and stand up digital and data systems that support real-time disease surveillance. Click here to learn more about PATH's COVID-19 response and ongoing initiatives for similar outbreaks.
>> Click here to donate to America's Charities Coronavirus Response Fund no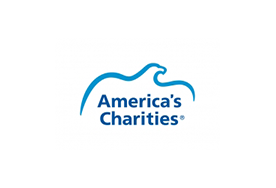 America's Charities
America's Charities
Every year, millions of people across America are invited to participate in an activity that has become a Fall tradition for generations of employees working at many of the nation's largest employers: the Employee Charitable Giving Campaign. The impact of employee giving campaigns on charitable organizations and the people and communities they serve is immense. These campaigns funnel $3 billion annually much of which is unrestricted, sustainable funds that enable nonprofit groups to deliver vital services throughout the nation.
America's Charities is a mission-driven organization that connects public and private sector employers with charities to engage employees in greater giving.
Who We Serve
Charities looking to expand their participation and reach in workplace giving and employee engagement programs through membership in one of America's Charities' four federations: America's Charities, Children First – America's Charities, Health First – America's Charities, or Community First – America's Charities of Greater Washington, D.C.
Employers seeking efficient and effective ways to manage and engage employees.
Individual donors seeking ways to make a significant impact on the causes they care about.
Our Core Services
Generating unrestricted, sustainable financial support for charities through employee engagement programs.
Distributing funds to charities in an efficient, effective and transparent manner.
Consulting with employers on strategies to achieve their philanthropic goals while strengthening employee engagement programs.
Providing solutions to support employers with their employee engagement programs that catalyze greater involvement and giving.
More from America's Charities