Published 04-03-20
Submitted by America's Charities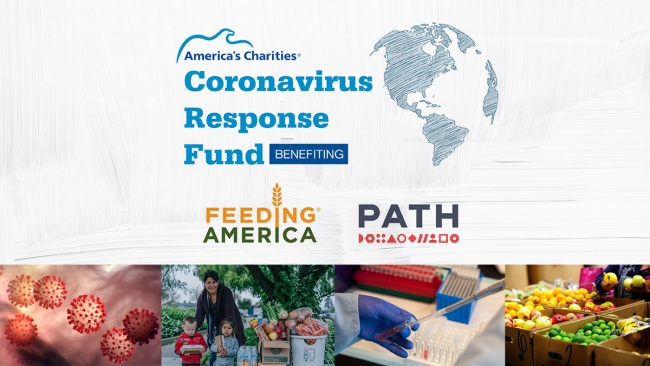 Who and How Your Donation Will Help:
With a single donation to America's Charities Coronavirus Response Fund, you can simultaneously help meet immediate needs of individuals affected by the coronavirus, along with long-term measures designed to combat COVID-19 and prevent and prepare for similar outbreaks in the future. All donations to the America's Charities Coronavirus Response Fund will be allocated evenly between the following two America's Charities' vetted nonprofits: Feeding America and PATH. 
Are you an employer? Make this fund available for your employees to support by holding a coronavirus response campaign through your workplace! Click here for more information and to get started. 
How Feeding America and PATH are responding and helping coronavirus-affected communities in the U.S. and globally:​
Feeding America® is the largest hunger-relief organization in the United States. Through a network of 200 food banks and 60,000 food pantries and meal programs, they provide meals to more than 40 million people each year.
School closures, job disruptions, lack of paid sick leave and the coronavirus' disproportionate impact on adults age 60 and older and low-income families further contribute to the demands placed on food banks. Lost wages or sudden expenses due to illness will be increasingly burdensome for the millions of people in America who live paycheck to paycheck. In the face of these challenges, the Feeding America network of food banks is uniquely positioned to help people who need it most during this pandemic.
While the media has reported greater at-risk factors for COVID-19 among the general population, such as age and pre-existing health conditions, many may not realize food-insecure households are likely more susceptible to the virus. This is believed to be due to lesser access to adequate health care, lower resistance or compromised immune systems, stigma or bias, or lack of information about proper prevention and care. Click here to learn more about Feeding America's coronavirus response and ongoing initiatives to this pandemic.
---
Long before the rise of COVID-19, PATH was already working with its partners to strengthen health systems and support safer, more secure communities in the face of health emergencies. Your support will help to ensure that the PATH team can strengthen epidemic preparedness, global health security, and improve health equity around the world.
The current coronavirus pandemic isn't the first epidemic the world has seen, and it won't be the last. That's why PATH partners with healthcare leaders in more than 28 countries to fortify global health security. Our shared mission: strengthen health systems, identify disease threats, and prevent outbreaks from reaching a critical state.
As COVID-19 spreads around the world, we are working to lessen its impact. Our experts are partnering with governments to establish emergency operations centers; advise on testing, treating, and managing the outbreak; and stand up digital and data systems that support real-time disease surveillance. Click here to learn more about PATH's COVID-19 response and ongoing initiatives for similar outbreaks.
>> Click here to donate to America's Charities Coronavirus Response Fund no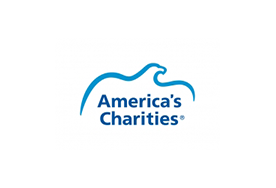 America's Charities
America's Charities
America's Charities inspires employees and organizations to support the causes they care about. We help nonprofits fundraise unrestricted, sustainable dollars through the workplace, and we help employers achieve their giving, engagement, and social impact goals. We do this to bring more resources to the nonprofits that are changing our world.
Who we serve:
Charities ­– We help charities fundraise recurring, unrestricted, sustainable dollars through the workplace. Click here for a printable list of our members.
Employers – We help employers achieve their giving, engagement, and social impact goals. Employers seeking to build or boost a strong culture; engage their employees and help them find purpose and meaning; attract, recruit, and retain talent; and ultimately achieve better corporate profitability and social impact, partner with America's Charities to launch or revitalize their workplace giving programs. We offer employers a suite of employee giving software packages, tools, and resources.
Employee Donors – Through our work with charities and employers, we inspire individual donors to connect with great causes, support nonprofits in a recurring, sustainable manner, and make a personal, social impact.
Core Services:
We offer a full suite of employee giving and engagement tools, including easy-to-use workplace giving technology platforms ranging from a straightforward, out-of-the-box option, to a comprehensive platform that integrates matching gifts, employee volunteering, cause campaigns, and more. Each of our solutions is tailored to fit an employer's specific needs and social impact goals, and deliver personalized, highly social online giving experiences.
We generate sustainable unrestricted financial support for member charities through the Combined Federal Campaign (CFC), state and local giving campaigns and private sector workplace giving campaigns.
We provide charitable funds management services to nonprofits and private and public sector employers while maintaining a resolute commitment to transparency and accountability.
We provide comprehensive consulting services with expertise in employee engagement, corporate social responsibility (CSR), workplace giving program and strategy development, benchmarking, analysis, and more.
We help companies support their employees in times of distress and hardship through Employee Assistance Funds (EAFs), also known as Employee Relief Funds or Employee Crisis Funds. By working with us, a company increases its flexibility around the types of hardships the fund can cover and lowers its administrative burdens.
Since 1980, our collective experience and ability to provide the highest level of personal service and expert consulting to our member charities and employer clients has resulted in more than $750 million for more than 25,000 nonprofits through federal, state and local government, and corporate workplace giving programs.
More from America's Charities