Published 04-03-20
Submitted by Global Environment & Technology Foundation (GETF)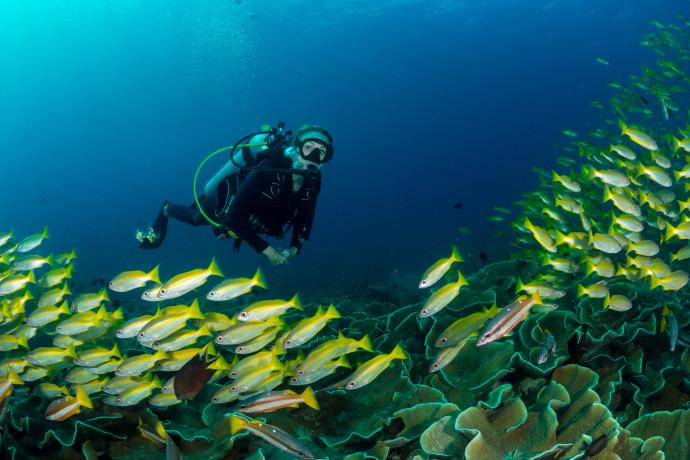 Above: Alexandra Cousteau exploring rebounding Philippines coral reefs. Photo: Danny Ocampo. Below: Seaweed aquaculture is a scalable ocean regenerative and revenue-generating opportunity. Photo: Carol Da Riva
Alexandra Cousteau, Founder of Oceans 2050, the campaign and action platform dedicated to restoring abundance to the oceans by 2050, announces that the science that underpinned the establishment of Oceans 2050 has now been made public. The international study, led by Oceans 2050 Chief Scientist Professor Carlos Duarte, demonstrates that recovery of marine life by 2050 is attainable if a key set of actions is employed at scale.
"Professor Duarte's evidence inspired the creation of Oceans 2050 as a platform to mobilize multisector alliances under the vision that the world's oceans can be restored in one human generation by catalyzing regenerative markets while mitigating climate change," said Cousteau.
Published on 1 April 2020 in the scientific journal Nature1, the research documents the recovery of marine populations, habitats and ecosystems following past conservation interventions and provides specific, evidence-based recommendations to scale proven solutions globally.
Key findings range from spectacular cases of marine megafauna rebounds such as that of humpback whales and northern elephant seals, to the recovery of fish stocks, pollution reduction and mangrove forest restoration. Importantly, the study noted that recovery time to rebuild key components of marine life can be accelerated to within two to three decades from today if climate change is tackled and a combination of six complementary "recovery wedges" are deployed.
 "2050 is an achievable goal," said Cousteau, "and one that will deliver transformative benefits to both ecosystems and economies. By scaling-up critical interventions such as seaweed aquaculture for example, we will restore ocean health, establish an ocean-based economy and take substantive climate action."
One of Oceans 2050 primary strategies is to advance the science required to demonstrate sequestration rates for seaweed farms globally and develop a voluntary carbon protocol to allow for the issuance of carbon credits by seaweed farms.
Per the study, the ocean currently contributes 2.5% of global GDP and provides employment to 1.5% of the global workforce with an estimated output of US$1.5 trillion in 2010, expected to double by 2030 – with increased attention on the ocean as a source of food and water, clean energy, and as a means to mitigate climate change.
"Success will depend on the collective realization that 21st century challenges demand a new operating system to feed and power the world in a regenerative way. We have to move beyond conservation to restoration and from sustainability to a core principal of abundance. With concerted effort, we can take this omni-win solution to scale," said Cousteau.
"Humanity is at an inflection point when we can choose between a legacy of a resilient and vibrant ocean or an irreversibly disrupted ocean for the generations to follow," Professor Duarte concluded.
# # #
Contact:
Cindy-Ann Hersom, Communications Officer – Oceans 2050/Global Water Challenge - GETF
Email: ca.hersom@globalwaterchallenge.org 
Mob: +1 941 404 9087
About Oceans 2050
Established in 2018, Ocean's 2050 mission is to mobilize a global alliance to restore the world's oceans to abundance by 2050, in the span of one human generation. Founded and lead by Alexandra Cousteau, the platform identifies and develops solutions that harness the power of markets to reshape an ocean strategy fit for current and future challenges by producing impact at a scale that is meaningful for the oceans, the climate and the millions of people that depend on them.  
Alexandra Cousteau
https://www.alexandracousteau.com
Alexandra Cousteau, granddaughter of Jacques-Yves Cousteau, is an award-winning ocean activist and advocate for ocean restoration and abundance. As head of Oceans 2050, and as a senior advisor to ocean conservation organization Oceana, Cousteau collaborates with world leaders across sectors to influence, convene and mobilize action to achieve measurable outcomes that will make the oceans more biodiverse and abundant. 
Professor Carlos M. Duarte
Dr. Duarte is an international leader in multiple branches of biological oceanography and marine ecology and a leading authority on the ecology of seagrass meadows and coastal ecosystems. He is published on all aspects of seagrass ecology, from population biology to genetics, from depth and geographical distribution patterns to their role in biogeochemical cycles, and from conservation strategies to their sensitivity towards climate change. Many of his synthesis papers have set the stage for the field and his research is characterized by versatility, addressing marine ecosystems from the tropics to polar ecosystems, from macrophytes to microbes, and from coastal systems to open ocean gyres using a broad range of approaches. Duarte is Professor of Marine Science and Tarek Ahmed Juffali Research Chair in Red Sea Ecology at KAUST.
Captions and copyright:
Photo 1:
Alexandra Cousteau on a scientific expedition with ocean conservation organization Oceana – examining rebounding coral reefs in El Nido, Philippines that were previously damaged by dynamite fishing. Photo credit: Danny Ocampo
Photo 2:
Seaweed farmer near Bali, Indonesia. Seaweed aquaculture is a scalable, revenue-generating opportunity for ocean farmers and farms of all capacities in all geographies to sequester carbon while providing regenerative ecosystem services to the oceans and significant economic impacts to communities. Photo credit: Carol Da Riva @caroldariva.photos
---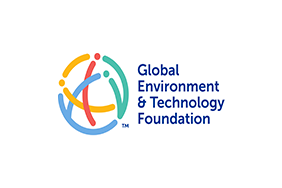 Global Environment & Technology Foundation (GETF)
Global Environment & Technology Foundation (GETF)
The Global Environment & Technology Foundation (GETF), established in 1988, is a leading 501(c)(3) nonprofit organization with a mission to accelerate sustainable development through partnerships that deliver impact at scale. GETF builds and manages high impact public-private partnerships improving the lives of over 10 million people in 65 countries through water access, sanitation and hygiene, health systems strengthening, entrepreneurship, women's empowerment, sustainable agriculture and climate resilience. Partnership platforms under GETF's management include the Replenish Africa Initiative (RAIN), The Coca-Cola Foundation's signature community water initiative, the Water and Development Alliance (WADA) and Project Last Mile Partnership (PLM) both partnerships between The Coca-Cola Company and USAID. GETF serves as the Secretariat for two high-impact water coalitions – Global Water Challenge and the US Water Partnership.  For more information visit http://www.getf.org.