Published 04-03-20
Submitted by Mohawk Industries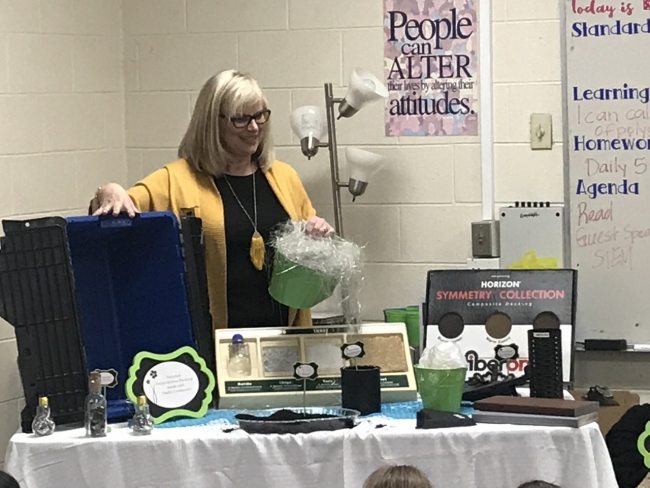 Mohawk Industries Material Recovery Manager Tina Clements presents to students at Cass Middle School
Thanks to the company's recycling and sustainability efforts, Mohawk Industries' Material Recovery Team helped Cass Middle School (Cartersville, Georgia) become one step closer to county STEM certification.
Facilities throughout the company find new and creative ways to reduce, reuse and recycle during the manufacturing process, and those efforts were recently shared with students learning about the manufacturing field. Material Recovery Manager Tina Clements gave a hands-on presentation about Mohawk's recycling efforts to the sixth graders at Cass Middle School to help them earn their STEM certification and learn more about different ways businesses and communities recycle.
"Our goal at Mohawk is to reduce our waste – not to make it," Tina said. "Our second goal is to reuse, reclaim or recycle the waste that is produced, which allows it to be made into something usable and keeps it out of our landfills. Mohawk takes sustainability to another level by using others' waste such as PET bottles, rubber waste from tires and cushion waste to make its flooring products. We know that we cannot save the world, but we want to do our part. It was an honor to share our 'green initiatives' with Cass Middle and to be a part of their school becoming STEM certified." 
The county STEM certification Cass Middle School is working towards includes three "walk-throughs" where community, business and other school administrators and faculty are encouraged to come and rate the school using a state standard rubric, which Mohawk was invited to do. 
"Since the math portion of the certification focused on local recycling, we invited Mohawk to share the process of how they recycle bottles to make carpet, among other items," CMS Math Teacher Laura Hayes said. "The day after the presentation, the students were given a layout of the sixth-grade hallway. They then had to calculate the area of each classroom. Using that information, the students had to figure out how many plastic bottles it would take to carpet each classroom. Everyone was very impressed with Mohawk's contribution in helping us with this."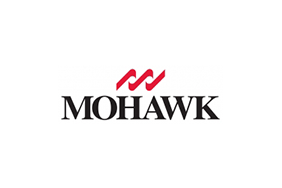 Mohawk Industries
Mohawk Industries
Mohawk Industries: Mohawk Industries is the leading global flooring manufacturer that creates products to enhance residential and commercial spaces around the world. Mohawk's vertically integrated manufacturing and distribution processes provide competitive advantages in the production of carpet, rugs, ceramic tile, laminate, wood, stone and vinyl flooring. Our industry-leading innovation has yielded products and technologies that differentiate our brands in the marketplace and satisfy all remodeling and new construction requirements. Our brands are among the most recognized in the industry and include American Olean, Daltile, Durkan, Karastan, Marazzi, Mohawk, Mohawk Group, Pergo, Unilin, Quick-Step and IVC. During the past decade, Mohawk has transformed its business from an American carpet manufacturer into the world's largest flooring company with operations in Australia, Brazil, Canada, Europe, India, Malaysia, Mexico, New Zealand, Russia and the United States.
More from Mohawk Industries