Published 04-02-20
Submitted by International Association for Volunteer Effort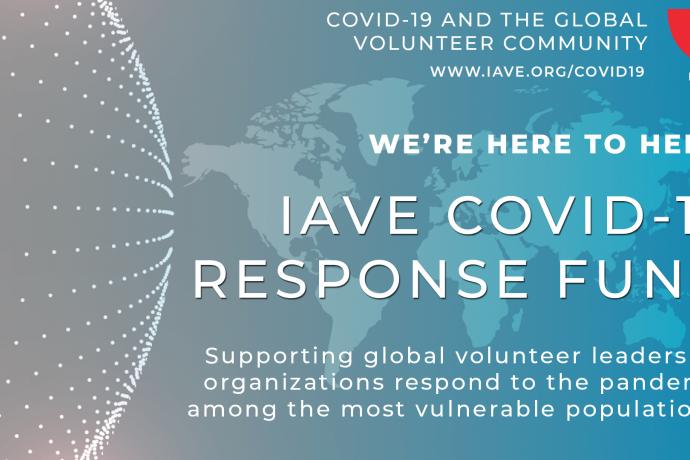 In response to the outbreak, the International Association of Volunteer Effort (IAVE) has launched the IAVE COVID-19 Response Fund to support volunteer-led preparedness, containment, response and recovery activities. This Fund will help ensure volunteering organizations have resources to keep critical volunteering efforts strong in this time of such great need. 
"Our Global Network of Volunteering Leadership organizations are on the frontlines of helping their communities respond to COVID-19," said IAVE Executive Director, Nichole Cirillo.  "This Fund will help meet their immediate needs and allow them to continue volunteer operations in their regions."
The IAVE COVID-19 Response Fund will focus on supporting global volunteer leadership organizations working directly to respond to the pandemic among the most vulnerable populations in order to help build their capacity for response. 
These will include organizations focused on youth, older adults, people with disabilities and other communities vulnerable to the physical health, mental health and economic impacts of the pandemic including supporting volunteer healthcare workers, quarantined and especially vulnerable individuals, and training and hygiene promotion activities.
IAVE is also hosting a COVID-19 webinar series to up-skill volunteer and employee engagement efforts during this crisis.  Topics include: Managing volunteers during a pandemic, Protecting the Health and Safety of Volunteers; How youth can respond to the coronavirus, and more.  The webinars are free and open to all. 
More information on both of IAVE COVID Response Fund and the Webinar series can be found at www.iave.org/covid19.
###
International Association for Volunteer Effort
International Association for Volunteer Effort
The International Association for Volunteer Effort (IAVE) is a networking membership organization that exists solely to support, promote and celebrate volunteerism in the myriad ways that volunteerism is carried out throughout the world. One initiative of IAVE is the Global Corporate Volunteer Council (GCVC), which is a network of leaders of volunteer and community programs in global companies based throughout the world.