Published 04-01-20
Submitted by Edison International
SCE Helps Fairplex Sheraton Open to Quarantined COVID-19 Patients
By Mary Ann Milbourn, Energized by Edison Writer.
On March 15, as COVID-19 cases in Los Angeles County began to mount, Southern California Edison learned that the Sheraton Fairplex Hotel & Conference Center at the LA County Fairgrounds in Pomona was under consideration as a possible quarantine site.
SCE's Covina district staff immediately got to work reviewing the electrical equipment and circuit that serves the 244-room hotel to ensure it had reliable power and backup generation to provide the care needed.
But what started out as a plan to ensure safe and reliable power at the hotel soon expanded to include the nearby Fairplex Child Development Center, which would serve more than 200 children of health care workers and first responders. Because the entire circuit needed to be de-energized so the critical work could be done, an on-site RV park whose 185 full utility hookups were at full capacity was also included in the planning.
Instead of one crew, four crews would be needed to replace switching equipment at four separate sites as well as a transformer. It was a difficult and complex job that normally would take months, but because of the COVID-19 crisis and the need to quickly open the hotel to patients, the work was going to have to be done in a single day.
"It was right up there with the biggest projects I've done in my 20 years," said Tony Escamilla, the SCE general foreman. "This will be one we tell our grandkids in 20 years."
Escamilla's team — about 30 SCE workers on-site with support from staff across the company — started at 6 a.m. March 19. They first had to provide backup generation, which took most of the morning to install, before starting replacement of the switching equipment and transformer, at least a 10½-hour job.
They worked throughout the day and into the night, all in pouring rain.
By sunup on March 20, the emergency work was complete, just in time for County Supervisor Hilda Solis and Miguel Santana, Fairplex president and CEO, to announce the hotel as the county's first COVID-19 quarantine site. The first patients arrived last Thursday.
"We are proud of what we were able to do," said Escamilla, calling it a team effort. "The crews understood the complexity. They knew how important it was for COVID-19 and they were determined to get it done."
Dwight Richards, the Sheraton Fairplex vice president of Operations, praised Edison and the crews for the work, especially during such bad weather.
"We are very grateful for the response from your organization," he said. "I hope that the SCE team feels great satisfaction in being part of the solution to the current crisis."
Phil Herrington, SCE senior vice president of Transmission and Distribution, said Edison is committed to providing safe and reliable energy.
"We have 5,000 employees who continue to do critical work in order to maintain the electrical system for all of our customers," he said. "And, when called upon in cases like the Sheraton Fairplex, we will go above and beyond to provide urgently needed support to our communities in the fight against COVID-19."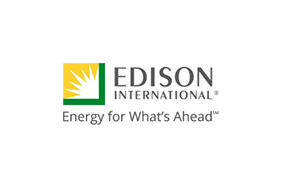 Edison International
Edison International
Edison International (NYSE:EIX), through its subsidiaries, is a generator and distributor of electric power and an investor in energy services and technologies, including renewable energy. Headquartered in Rosemead, Calif., Edison International is the parent company of Southern California Edison, one of the nation's largest electric utilities.
More from Edison International