Published 04-01-20
Submitted by FedEx Corporation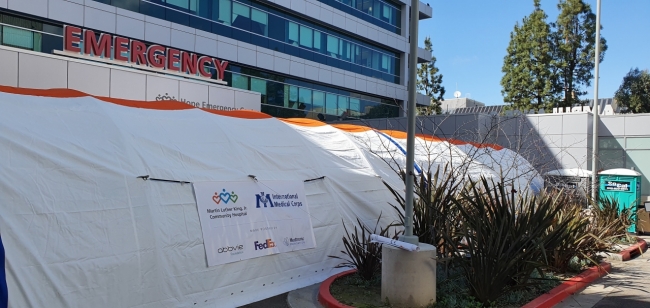 As part of its global response to the Covid-19 pandemic, International Medical Corps has deployed two medical shelters and equipment to Martin Luther King, Jr. Community Hospital (MLKCH), which serves an area of high medical need in South Los Angeles.
Currently, the hospital, which operates in one of the most medically underserved areas in the nation, has been preparing for a potential increase in patients due to the spread of COVID-19. The additional shelters, provided to International Medical Corps through the support of FedEx, in partnership with AbbVie and Medtronic, will assist frontline providers in the management of patient flow and treatment.
International Medical Corps emergency team members set up the shelters—which will add capacity for 16 beds total—outside the hospital on Friday, March 20. Experts from International Medical Corps and MLKCH are available to answer questions from the media.
International Medical Corps is working globally with international health bodies, local and national governments, and ministries of health to provide expertise, equipment, training, and triage and treatment services. Its response prioritizes areas where the disease has spread or where populations are particularly vulnerable.
For more information about International Medical Corps' global response to the COVID-19 pandemic, please visit: https://internationalmedicalcorps.org/covid19.
For more information about MLKCH's response, please visit: https://www.mlkch.org/coronavirus-response.
For questions about the emergency shelters or other aspects of our response, please write media@internationalmedicalcorps.org.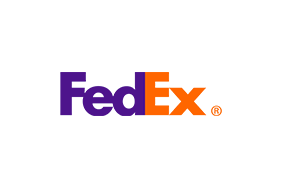 FedEx Corporation
FedEx Corporation
FedEx Corp. (NYSE: FDX) provides customers and businesses worldwide with a broad portfolio of transportation, e-commerce and business services. With annual revenue of $92 billion, the company offers integrated business solutions through operating companies competing collectively, operating collaboratively and innovating digitally under the respected FedEx brand. Consistently ranked among the world's most admired and trusted employers, FedEx inspires its 600,000 team members to remain focused on safety, the highest ethical and professional standards and the needs of their customers and communities. FedEx is committed to connecting people and possibilities around the world responsibly and resourcefully, with a goal to achieve carbon-neutral operations by 2040. To learn more, please visit about.fedex.com.
More from FedEx Corporation