Published 03-31-20
Submitted by Business Fights Poverty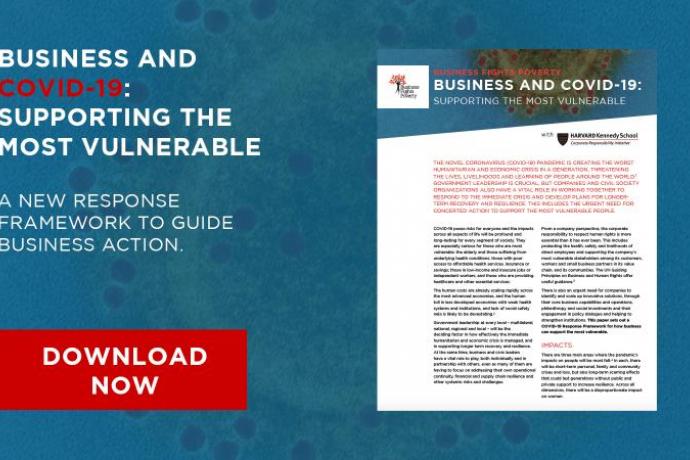 Business Fights Poverty is coordinating an urgent process to protect the most vulnerable in the face of COVID-19, in partnership with the Harvard Kennedy School Corporate Responsibility Initiative to publish the 'Business and COVID-19 Response Framework'.
Today marks the publication of the 'Business and COVID-19 Response Framework' which provides practical guidance on how businesses can protect the most vulnerable. Developed in collaboration with Jane Nelson, Director, Harvard Kennedy School Corporate Responsibility Initiative, the framework builds on the analytical work that has already been done in the last couple of weeks by McKinsey, the World Economic Forum, and others, and draws upon Business Fights Poverty's 15 years of experience in the social impact space and that of our business-led network of 25,000+ professionals. Click here to download the Business Fights Poverty COVID-19 Response Framework.
'If ever there was a time for us to stand up together and protect the most vulnerable, this is the moment.  I invite you to work with us to develop the tools business needs to put people first in the decision-making process.'
Zahid Torres-Rahman, Co-Founder and CEO, Business Fights Poverty
The novel coronavirus pandemic is creating the worst humanitarian and economic crisis in a generation, threatening the lives, livelihoods and learning of people around the world. Government leadership is crucial, but companies and civil society organizations also have a vital role in working together to respond to the immediate crisis and develop plans for longer-term recovery and resilience. This includes the urgent need for concerted action to support the most vulnerable people.
The Response Framework is intended to support a process of rapid shared learning and co-creation. We hope that it will provide a useful framing for practical conversations, and will inform coalition-building and local action.
The paper forms one part of a wider response that Business Fights Poverty is convening to crowdsource and share best-practice examples and insights from a variety of companies, industry sectors, and countries. It is accompanied by an active program of online events and virtual peer group convenings.
Business Fights Poverty is developing a live database of business case studies, including videos, which are mapped across the Response Framework, as well as topic- and sector-specific practical toolkits to guide immediate and longer-term decision-making. You can find out more by registering your interest in this work here. 
The work is grounded in local action, and Business Fights Poverty is collaborating with national coalitions. This includes the Kenyan National Business Compact on COVID-19 that is developing a unified communication platform on handwashing and other measures to stop the spread of coronavirus, as well as a flexi-fund to support government-prioritized community activation. The aim is to facilitate and learn from local action.
Business Fights Poverty have formed a global coalition, which so far includes the UK Department for International Development, the UNDP Business Call to Action, and Business Partners for Sustainable Development, an initiative of the US Council for International Business (USCIB) and the USCIB Foundation, with support from a core group of companies and a wide range of expert organizations and networks.
We invite other individuals, businesses, civil society organizations, government agencies and networks to get involved to scale this collective effort to drive global learning and local action.
To get involved register your interest at https://snipbfp.org/coronavirus #FightCOVID19 @FightPoverty.
About Business Fights Poverty
Business Fights Poverty is an award-winning, business-led collaboration network focused on social impact.  For 15 years, it has been bringing together organizations and individuals to collaborate on questions that matter to business, people and planet. Along with over 100 international companies, NGOs, universities, and government bodies, it has a global network of more than 25,000 professionals who share their collective insights to move the needle on pressing global challenges. 
More information is available at www.businessfightspoverty.org
About The Corporate Responsibility Initiative at the Harvard Kennedy School's Mossavar-Rahmani Center for Business and Government
The Corporate Responsibility Initiative is a multi-disciplinary and multi-stakeholder program that seeks to study and enhance the public contributions of private enterprise. It explores the intersection of corporate responsibility, corporate governance, public policy, human rights, and international development. It bridges theory and practice, builds leadership skills, and supports constructive dialogue and collaboration among business, government, civil society and academics.
For more information, visit: https://www.hks.harvard.edu/centers/mrcbg/programs/cri
Media Contact:
Communications Director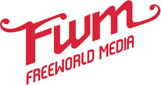 Business Fights Poverty
Business Fights Poverty
Business Fights Poverty is the international network for professionals passionate about fighting world poverty through good business. The network connects the practitioners and experts around the world to form a global community of pioneers pushing the boundaries of how business can fight poverty. Our members are corporate executives, social entrepreneurs, investors, donor agency staff, policy officials, non-government organization staff, academics, students and many others who are just interested. Members use the social network to connect with likeminded professionals, discover trends, and share ideas through blogs, videos and discussion forums. Connections are empowering. By harnessing our collective intelligence and energies we can achieve more together than we can alone.
More from Business Fights Poverty