Published 03-27-20
Submitted by America's Charities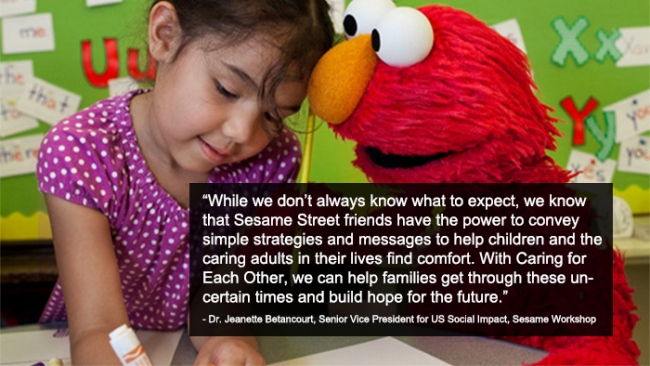 In response to the unprecedented uncertainty facing young children and families, Sesame Workshop, the nonprofit educational organization behind Sesame Street, is offering a broad variety of free resources to help children and families during the coronavirus pandemic. Today's announcement of the Caring for Each Other initiative marks the beginning of a commitment to support families for the duration of this crisis, with brand new content featuring the Sesame Street Muppets sharing messages of love and kindness, playful learning activities, and virtual play dates launching soon. Mindful that the adults who care for children need support too, the resources are intended to help caregivers as well as children.    
The initiative features resources designed to help parents provide comfort and manage anxiety, as well as help with creating routines, fostering playful learning at home, and staying physically and mentally healthy. SesameStreet.org/caring will be regularly updated to meet the needs of families as the situation evolves. Families can also watch Sesame Street episodes on HBO and PBS stations, and the PBS KIDS 24/7 channel, with an expanded offering of free on-demand episodes of Sesame Street on PBS KIDS digital platforms. 
"Around the world, young children's lives are being turned upside down, and parents and caregivers are looking for ways to give their children—and themselves—a sense of stability in this new normal," said Dr. Rosemarie Truglio, Senior Vice President for Curriculum and Content, Sesame Workshop. "But there are things parents and caregivers can do to face each day with optimism. Sesame Street is here to provide the caring adults in children's lives with the resources they need to help children, and foster their healthy development at home."
Sesame Workshop is also creating brand new content on topics like handwashing, how to cough or sneeze properly, and how taking good care of yourself means taking good care of others, which will be available in the US and globally in a wide range of languages and released in the coming weeks.
Sesame Street has long been a source of comfort for children and families during difficult times," said Dr. Jeanette Betancourt, Senior Vice President for US Social Impact, Sesame Workshop. "While we don't always know what to expect, we know that Sesame Street friends have the power to convey simple strategies and messages to help children and the caring adults in their lives find comfort. With Caring for Each Other, we can help families get through these uncertain times and build hope for the future."
Additionally, over 110 free Sesame Street ebooks are available on all major ebook platforms including Amazon Kindle, Apple Books, Barnes & Noble Nook, Google Play, and Kobo.
Resources will also be distributed through a wide range of partners in the US and globally, including community providers serving vulnerable families through Sesame Street in Communities and PBS stations.
About Sesame Workshop 
Sesame Workshop is the nonprofit educational organization behind Sesame Street, the pioneering television show that has been reaching and teaching children since 1969. Today, Sesame Workshop is an innovative force for change, with a mission to help kids everywhere grow smarter, stronger, and kinder. We're present in more than 150 countries, serving vulnerable children through a wide range of media, formal education, and philanthropically-funded social impact programs, each grounded in rigorous research and tailored to the needs and cultures of the communities we serve. For more information, please visit www.sesameworkshop.org. 
Make More Initiatives Like This Possible! Donate to the Yellow Feather Fund through Workplace Giving.

Individual Donors:

As a donor, you can support Sesame Workshop's programs and initiatives by donating to the Yellow Feather Fund through your employer's workplace giving program (CFC# 58827 if you're a military or federal employee participating in the Combined Federal Campaign). Your gift enables Sesame Street to research, create, and distribute materials used by educators, families, and service providers nationwide—and helps us spread the message that every child is unique, and every child is amazing.

Businesses:

As the Yellow Feather Fund's workplace giving partner, America's Charities can help your company implement a program centered on supporting their work - through workplace giving campaigns, employee fundraising, matching gifts, and other employee engagement and philanthropic initiatives. Click here to request more information about how we can help you do this.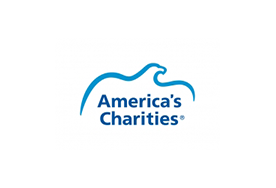 America's Charities
America's Charities
America's Charities inspires employees and organizations to support the causes they care about. We help nonprofits fundraise unrestricted, sustainable dollars through the workplace, and we help employers achieve their giving, engagement, and social impact goals. We do this to bring more resources to the nonprofits that are changing our world.
Who we serve:
Charities ­– We help charities fundraise recurring, unrestricted, sustainable dollars through the workplace. Click here for a printable list of our members.
Employers – We help employers achieve their giving, engagement, and social impact goals. Employers seeking to build or boost a strong culture; engage their employees and help them find purpose and meaning; attract, recruit, and retain talent; and ultimately achieve better corporate profitability and social impact, partner with America's Charities to launch or revitalize their workplace giving programs. We offer employers a suite of employee giving software packages, tools, and resources.
Employee Donors – Through our work with charities and employers, we inspire individual donors to connect with great causes, support nonprofits in a recurring, sustainable manner, and make a personal, social impact.
Core Services:
We offer a full suite of employee giving and engagement tools, including easy-to-use workplace giving technology platforms ranging from a straightforward, out-of-the-box option, to a comprehensive platform that integrates matching gifts, employee volunteering, cause campaigns, and more. Each of our solutions is tailored to fit an employer's specific needs and social impact goals, and deliver personalized, highly social online giving experiences.
We generate sustainable unrestricted financial support for member charities through the Combined Federal Campaign (CFC), state and local giving campaigns and private sector workplace giving campaigns.
We provide charitable funds management services to nonprofits and private and public sector employers while maintaining a resolute commitment to transparency and accountability.
We provide comprehensive consulting services with expertise in employee engagement, corporate social responsibility (CSR), workplace giving program and strategy development, benchmarking, analysis, and more.
We help companies support their employees in times of distress and hardship through Employee Assistance Funds (EAFs), also known as Employee Relief Funds or Employee Crisis Funds. By working with us, a company increases its flexibility around the types of hardships the fund can cover and lowers its administrative burdens.
Since 1980, our collective experience and ability to provide the highest level of personal service and expert consulting to our member charities and employer clients has resulted in more than $750 million for more than 25,000 nonprofits through federal, state and local government, and corporate workplace giving programs.
More from America's Charities