Published 03-26-20
Submitted by Discovery Education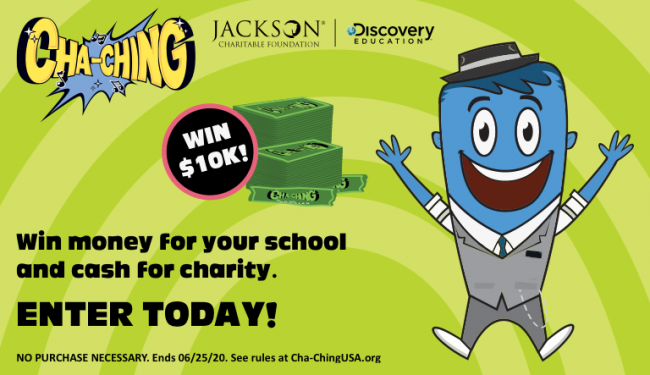 Jackson Charitable Foundation, a nonprofit with the mission to advance financial knowledge on a national scale, and Discovery Education today opened the 4th annual Cha-Ching Money Smart Kids Pledge Challenge. This challenge enables communities to collaborate virtually, empowering students and local schools with financial literacy.
This national challenge encourages elementary school teachers, families, and community members to show their commitment to financial literacy education by voting online daily for their school to receive a prize package featuring:  
A grant of $10,000 to build a brighter financial future at the winning school. 

$1,000 to be donated to the charity of the school's choice.

A fun, educational financial literacy event hosted by Discovery Education that brings to life Cha-Ching's four pillars of financial education – earn, save, spend, and donate.
Participants may enter up to once a day on behalf of their school from now through June 25, 2020. Learn more and vote for your school.
"With both economic challenges from the pandemic and Financial Literacy Month just around the corner in April, we are glad to open the 2020 Cha-Ching Money Smart Kids Pledge Challenge," said Danielle Robinson, Executive Director, Jackson Charitable Foundation. "With our partners at Discovery Education, we welcome parents and teachers to join us in helping young people understand the choices we all have with money. Together, we can raise money-smart kids who become money-smart adults!" 
"The Cha-Ching Money Smart Kids Challenge is a hands-on way for young people to galvanize around the importance of financial literacy," said Lori McFarling, President of Corporate Education Partnerships at Discovery Education. "Discovery Education is proud to support the Jackson Charitable Foundation by empowering students with access to engaging digital resources designed to continue their engagement in building smart money habits, while creating the opportunity to support their local school and community-based charities." 
The annual challenge builds upon a Jackson Charitable Foundation and Discovery Education educational program, Cha-Ching Money Smart Kids, which provides no-cost resources that build critical life skills in K-6 students by beginning high-quality financial literacy education in elementary school. Launched in 2017, the engaging and fun financial education program provides millions of students with the knowledge, tools, and practice they need to make informed decisions to reach their goals and dreams.
Cha-Ching Money Smart Kids resources and information about how to enter the 2020 Cha-Ching Money Smart Kids challenge are available at Cha-ChingUSA.org and through Discovery Education Experience's Corporate Education Partnerships channel and the Financial Literacy channel. In response to the ongoing COVID-19 crisis, Discovery Education is offering schools and school systems not currently using the company's digital services free access to Discovery Education Experience. Schools accepting this offer will have access to Discovery Education's dynamic K-12 learning platform and its ready-to-use digital lesson plans, activities, and standards-aligned resources through the remainder of the school year. For more information, visit Discovery Education's comprehensive Virtual Learning resource dedicated to helping educators adapt their instruction to meet today's needs.
For more information about Discovery Education's digital resources and professional learning services, visit www.discoveryeducation.com, and stay connected with Discovery Education on social media through Facebook, follow us on Twitter at @DiscoveryEd, or find us on Instagram and Pinterest.
###
About Jackson Charitable Foundation
Jackson Charitable Foundation's vision is for all Americans to have the strong personal finance skills that allow people to live fuller, more self-directed lives. The 501(c)(3) private operating Foundation, is the charitable-giving arm of Jackson National Life Insurance Company. The Foundation works with Jackson associates and world-class partners to provide economic opportunities that build strong communities. Follow the Jackson Charitable Foundation at jacksoncharitablefoundation.org, on Facebook at @JacksonCharitableFoundation and on Twitter at @JacksonFdn.
About Discovery Education
Discovery Education is the global leader in standards-aligned digital curriculum resources, engaging content, and professional learning for K-12 classrooms. Through its award-winning digital textbooks, multimedia resources, and the largest professional learning network of its kind, Discovery Education is transforming teaching and learning, creating immersive STEM experiences, and improving academic achievement around the globe. Discovery Education currently serves approximately 4.5 million educators and 45 million students worldwide, and its resources are accessed in over 140 countries and territories. Inspired by the global media company Discovery, Inc., Discovery Education partners with districts, states, and like-minded organizations to empower teachers with customized solutions that support the success of all learners. Explore the future of education at DiscoveryEducation.com.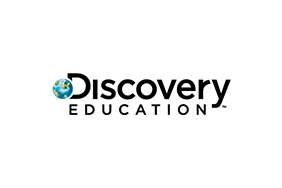 Discovery Education
Discovery Education
Discovery Education is the global leader in standards-based digital content for K-12, transforming teaching and learning with award-winning digital textbooks, multimedia content, professional development, and the largest professional learning community of its kind. Serving 4.5 million educators and over 50 million students, Discovery Education's services are in half of U.S. classrooms, 50 percent of all primary schools in the U.K., and more than 50 countries. 
Accelerate student achievement in your district by capturing the minds and imaginations of students with the fascination of Discovery, tapping into students' natural curiosity and desire to learn.
More from Discovery Education