Published 03-25-20
Submitted by Discovery Education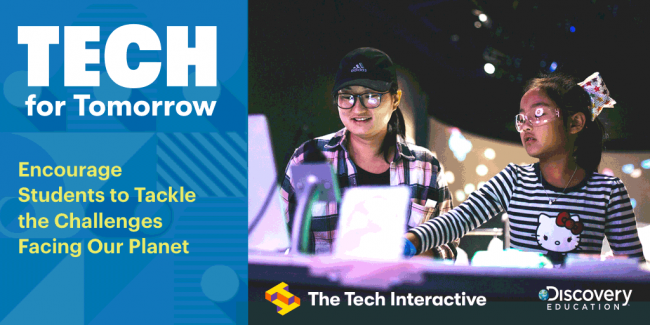 Fifty years ago, the United Nations established April 22nd as International Mother Earth Day. Since then, global efforts for environmental protections have grown, but so too have the challenges. Research estimates that in only twenty years, a quarter of children around the world will not have access to clean water (UNICEF, 2017). Earth's soils have depleted over 33% around the world. And there is likely to be upwards of 700 million displaced peoples because of climate change (UNCCD).
But things change quickly, and it takes collective action keep people and the Earth safe. The Tech Interactive and Discovery Education know that virtual resources can help everyone better understand their local community and when to take action to protect the environment.
Tech for Tomorrow – created in partnership with The Tech Interactive and Discovery Education to introduce students to today's cutting-edge technology and inspire them to create enduring innovations for the future – now offers four new amazing multidimensional resources all at no-cost. The resources are a part of the Tech for Global Good Initiative that provides kids a front-row seat to the world's top innovators and encourages them to tackle the toughest challenges facing our planet.
The video series and classroom learning experiences focus on climate change, water, and health, all with a focus on the importance of gender representation in technology. From a seat in a living room, students learn about problems, discover solutions, realize the impacts, and come up with innovative solutions to the world's most pressing problems.
These resources are perfect for the classroom and virtual learning environments, as well. Educators can teach students about internet access, clean water access, how to diversify artificial intelligence, overcome challenges in delivering medical supplies, and more with easily downloadable complementary lesson plans.
Look to the "Zipline" lesson plan to teach students about how technology can address the many challenges of ensuring those in remote areas have access to the medical supplies they need. Use this lesson, and the suite of resources associated, in your virtual classroom as a way to connect the current news of COVID-19 with a greater understanding about the social, economic, scientific, and political relations of medicine and medical crises.
Together, communities can overcome health crises, climate change, water scarcity, and gender inequality by empowering the next generation of leaders and innovators with the resources and technology to create global good.
Make the Tech for Tomorrow and Tech for Global Good resources part of your virtual learning classroom today.
The Tech Interactive resources are available at techfortomorrow.com and through Discovery Education Experience's Corporate Education Partnerships channel. In response to the ongoing COVID-19 crisis, Discovery Education is offering schools and school systems not currently using the company's digital services free access to Discovery Education Experience. Schools accepting this offer will have access to Discovery Education's dynamic K-12 learning platform and its ready-to-use digital lesson plans, activities, and standards-aligned resources through the remainder of the school year. For more information, visit Discovery Education's comprehensive Virtual Learning page dedicated to helping educators adapt their instruction to meet today's needs.
For more information about Discovery Education's digital resources and professional learning services, visit www.discoveryeducation.com, and stay connected with Discovery Education on social media through Facebook, follow us on Twitter at @DiscoveryEd, or find us on Instagram and Pinterest.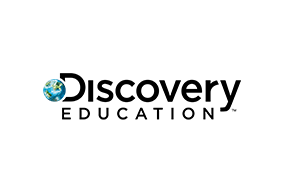 Discovery Education
Discovery Education
Discovery Education is the global leader in standards-aligned digital curriculum resources, engaging content, and professional learning for K-12 classrooms. Through its award-winning digital textbooks, multimedia resources, and the largest professional learning network of its kind, Discovery Education is transforming teaching and learning, creating immersive STEM experiences, and improving academic achievement around the globe. Discovery Education currently serves approximately 4.5 million educators and 45 million students worldwide, and its resources are accessed in over 140 countries and territories. Inspired by the global media company Discovery, Inc., Discovery Education partners with districts, states, and like-minded organizations to empower teachers with customized solutions that support the success of all learners. Explore the future of education at www.discoveryeducation.com.
More from Discovery Education