Published 03-25-20
Submitted by Duke Energy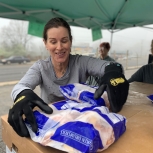 Duke Energy is donating $1.3 million to help hunger relief efforts in the seven states it serves. Here, a volunteer prepares donations at Harvest Hope Food Bank in South Carolina.
While the pandemic is wreaking havoc on the economy, nonprofits, governments and businesses are pulling together to help those in need.
Duke Energy and Piedmont Natural gas are helping customers, employees and the communities they serve in a number of ways. To ease the financial burden on customers, the company is waiving late payment fees, fees for returned payments, and fees for credit and debit card payments beginning March 21 until the national state of emergency is lifted.
The company is also donating $1.3 million to health and human services and hunger relief efforts in the seven states it serves. Duke Energy Foundation President Shawn Heath said the company wanted to provide immediate assistance where it was needed most: providing meals to children who are out of school and people who are out of work.
In South Carolina, $100,000 of Duke Energy's overall donation is benefitting Harvest Hope Food Bank, which serves 20 counties in the Upstate, Midlands and Pee Dee regions. Chief Executive Officer Wendy Broderick said the donation will be crucial as they try to meet an unprecedented need. Harvest Hope, the state's largest food bank, has been distributing food in a curbside-pickup method and served more than 2,000 people in two days.
Usually, they serve about 600. In addition to the average need, Broderick said many of this week's clients are were likely recently laid off.
"It's hard to wrap your head around how big the impact is," Broderick said. "We're working together so well to support one another, but this isn't going to let up."
In addition to an increased need, the pandemic has had negative effects on the number of donations and volunteers the food bank has received. Grocery stores are selling out, so they have less inventory to donate. Individuals, unsure of the future, are stocking their own pantries, and regular volunteers, many of whom are retired, are heeding the Centers for Disease Controls' warnings to stay home to avoid getting sick.
Still, Broderick said, Harvest Hope met its need for volunteers to work the two-hour curbside shifts. On Thursday, she said she was grateful for a supply of beautiful fresh lettuce, individually wrapped muffins, bread and produce that volunteers added to the standard box of non-perishable items.
"I continue to be optimistic," she said, "and we are unbelievably grateful."
But she is nervous, too. With each day, the demand is growing and the future is unknown.
For now, she said, her strategy is to keep her staff and volunteers as healthy as possible while reaching out to donors to support their efforts. They will keep working and take pride in knowing that providing groceries is helping ease the burden on families.
"I stood back looking at the lines of volunteers, and everyone works so well together for a common cause. They're tired, but they're motivated and dedicated to helping other people," Broderick said. "This is what we exist to do."
How the donation will support Duke Energy service territories, customers and employees
In addition to waiving fees during the pandemic, Duke Energy previously said it would not disconnect power to those who have not paid their bills. The company will continue to read meters in most cases and send bills. Customers should pay what they can to avoid building up a large balance that will be harder to pay off later. 
As an essential service provider, Duke Energy is committed to delivering power and responding to outages. The company has instructed employees to work from home where possible and asked all employees to limit interactions, forego handshakes and maintain a 6-foot distance from others.
As part of the company's larger donation, Duke Energy contributed $100,000 to its Relief4Employees program, which gives one-time grants to employees experiencing financial hardship. The company is also offering five additional personal days off to employees whose dependent care is disrupted, and some employees will be eligible for a $1,500 stipend to assist with unplanned expenses like emergency childcare.
Find details and the most recent Duke Energy and Piedmont Natural Gas COVID-19 announcements at dukeenergyupdates.com.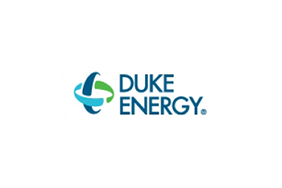 Duke Energy
Duke Energy
Duke Energy (NYSE: DUK), a Fortune 150 company headquartered in Charlotte, N.C., is one of the largest energy holding companies in the U.S. It employs 30,000 people and has an electric generating capacity of 51,000 megawatts through its regulated utilities and 3,000 megawatts through its nonregulated Duke Energy Renewables unit.
Duke Energy is transforming its customers' experience, modernizing the energy grid, generating cleaner energy and expanding natural gas infrastructure to create a smarter energy future for the people and communities it serves. The Electric Utilities and Infrastructure unit's regulated utilities serve approximately 7.7 million retail electric customers in six states – North Carolina, South Carolina, Florida, Indiana, Ohio and Kentucky. The Gas Utilities and Infrastructure unit distributes natural gas to more than 1.6 million customers in five states – North Carolina, South Carolina, Tennessee, Ohio and Kentucky. The Duke Energy Renewables unit operates wind and solar generation facilities across the U.S., as well as energy storage and microgrid projects.
Duke Energy was named to Fortune's 2019 "World's Most Admired Companies" list and Forbes' 2019 "America's Best Employers" list. More information about the company is available at duke-energy.com. The Duke Energy News Center contains news releases, fact sheets, photos, videos and other materials. Duke Energy's illumination features stories about people, innovations, community topics and environmental issues. 
More from Duke Energy