Published 03-24-20
Submitted by Arrow Electronics, Inc.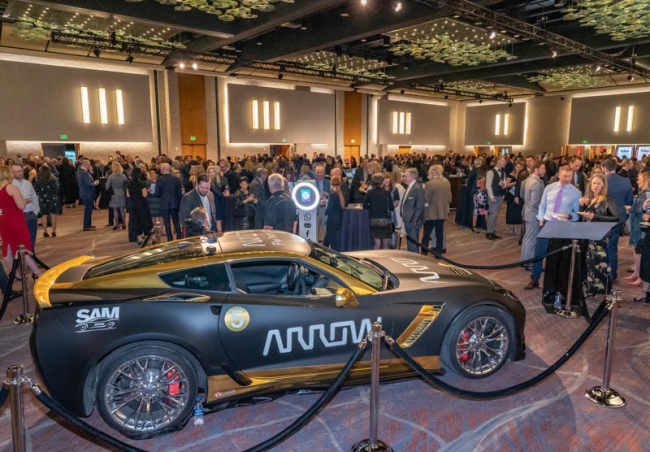 Arrow Electronics was the presenting sponsor for the 2020 Craig Hospital PUSH gala, which raised a record-setting amount for the hospital's programs, research and patients. More than 1,200 attended the event chaired by Arrow Chairman, President and CEO Mike Long and his wife, Karen.
Craig provides patient and family-centered care for those affected by spinal cord and brain injuries. The gala raised more than $2 million to support innovative and interdisciplinary programs not typically covered by insurance, including therapeutic recreation, assistive technology, music therapy and community reintegration. The gala also helps fund spinal cord and brain injury research.
"Arrow guides innovators forward to a better tomorrow. From virtual reality to robotic exoskeletons, Craig Hospital embraces technology in its efforts to improve rehabilitation for its patients," said Long. "That commitment to innovation is one reason why we support Craig."
In addition to chairing the event, the Longs pledged to establish a Patient Assistance fund in honor of IndyCar race driver Robert Wickens, a driver with Arrow McLaren SP. Wickens rehabilitated at Craig after sustaining a spinal cord injury in a 2018 crash. The fund will provide a safety net for qualifying patients and families to meet the financial burdens associated with a catastrophic injury. The fund addresses needs such as durable medical equipment, home modifications, and emergency financial support.
The gala also featured Arrow's Semi-Autonomous Motorcar (SAM Car). Arrow has modified a series of performance cars so they can be driven at speed and on the street  by a quadriplegic race car driver using only the motions of his head.  Arrow launched the SAM Car Project in 2014 with former Indy race car driver Sam Schmidt, who was paralyzed from the neck down in 2000 after a racing accident.  Schmidt's charity Conquer Paralysis Now also supports some Craig patients following their rehabilitation there.
About Arrow Electronics
Arrow Electronics (NYSE:ARW) guides innovation forward for over 175,000 leading technology manufacturers and service providers. With 2019 sales of $29 billion, Arrow develops technology solutions that improve business and daily life. Learn more at FiveYearsOut.com.
About Craig Hospital 
Craig Hospital is a world-renowned hospital and research center specialized in the care of people who have sustained a spinal cord and/or a brain injury. Located in Englewood, Colo., Craig Hospital is a 93-bed, private, not-for-profit care facility providing a comprehensive system of inpatient and outpatient medical care, rehabilitation, neurosurgical rehabilitative care, and long-term follow-up services. Half of Craig's patients come from outside of Colorado. Craig has been ranked as a top 10 rehabilitation center by U.S. News & World Report for 30 consecutive years. Craig received the NDNQI® award in 2009, 2012, 2013, 2014 and 2015 for the highest quality outcomes in nursing care in a rehabilitation facility. Craig also received its 3rd recognition for excellence in nursing by the American Nurses Credential Center (ANCC) Magnet Recognition Program® in 2015. The 2015 recognition ensures Magnet designation until the year 2020. Craig was voted by employees as a "Top Workplace" by the Denver Post in 2012, 2013, 2014, 2015, 2016 and 2018 and was ranked in the top 150 places to work in healthcare by Becker's Healthcare in 2014. For more information visit craighospital.org

Arrow Electronics, Inc.
Arrow Electronics, Inc.
Arrow Electronics' Corporate Social Responsibility (CSR) program guides today's innovators to a better tomorrow. With our help, our partners will transform their ideas into real and influential achievements that will help people and the communities in which Arrow works.And just as technology touches all facets of our lives, we intend to foster new, cross-cutting collaborations between Arrow, CSR partners, customers and suppliers, so efforts yield astonishing and unforeseen results. Working together, we can make the world a better place — now and Five Years Out.
Learn more at www.fiveyearsout.com.
More from Arrow Electronics, Inc.