Published 03-19-20
Submitted by Johnson & Johnson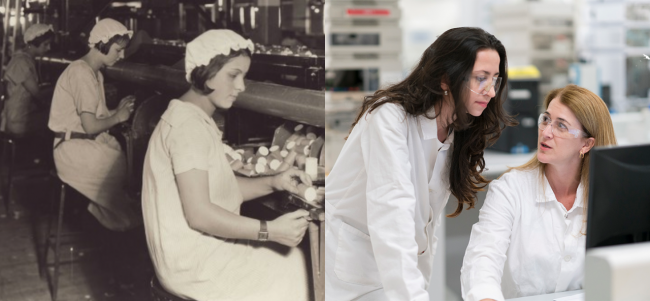 Johnson & Johnson employees from the early 20th century and today
1908.
That's the year Johnson & Johnson hired its first female scientist—no small feat during an era when less than 3% of women attended college.
Then again, this is hardly surprising for a company whose first 14 employees included eight women—and whose workforce today is nearly 50% female. In fact, Johnson & Johnson's diversity and inclusion programs helped it claim the #2 spot on the Thomson Reuters Diversity & Inclusion Index in 2017.
Gender Fair—an organization that rates companies on their fairness practices for leadership, employee policies, advertising and philanthropy—also certified Johnson & Johnson as being Gender Fair in 2018. The company ranked in the 93rd percentile of companies assessed for eligibility—and was named the top-ranking over-the-counter/pharmaceutical company with the certification. Only 16% of analyzed Fortune 500 companies meet certification standards.
In honor of International Women's Day—this year's theme is #EachforEqual, which promotes a gender-equal world—here are just some key facts and figures that show how Johnson & Johnson has worked to advance and celebrate women both inside and outside the company for over 130 years.​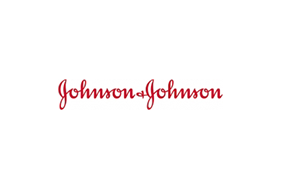 Johnson & Johnson
Johnson & Johnson
Caring for the world, one person at a time... inspires and unites the people of Johnson & Johnson. This year, we celebrate 126 years of embracing research and science – bringing innovative ideas, products and services to advance the health and well-being of people. Employees of the Johnson & Johnson Family of Companies work in more than 250 operating companies in 60 countries throughout the world. The passion and commitment of our people yield innovations that further minimize our impact on the planet, drive new alliances to address major health challenges in developing and developed countries, and help to create economic opportunity for people. Improving human health and well-being is our crucial mission and the ultimate measure of upholding our responsibility now and for generations to come.
At Johnson & Johnson, our top priority is health-health of people and the planet. That's why we set aggressive corporate wide goals to reduce our environmental impact, outlined in our Healthy Future 2015 goals. To this end, we established the proprietary Earthwards® process for developing and marketing greener products through lifecycle analysis. Every Earthwards® recognized product must achieve a greater than 10 percent improvement in at least three of the seven goal areas:
Materials used
Packaging reduction
Energy reduction
Waste reduction
Water reduction
Positive social impact or benefit
Product innovation
More from Johnson & Johnson