Published 03-18-20
Submitted by Points of Light
Preventing a Double Recession for Nonprofits: 5 Things You Can Do to Meet Urgent Needs
Driven by a desire to lend a helping hand, the "hands-on" world of volunteer service connects people to help each other meet community challenges. These on-the-ground organizations are powered by people, comprised of community leaders who know the specific needs and strengths of their community.
But in this new "hands-off" world of social distancing, volunteering in person has come to an abrupt halt.
With COVID-19, nonprofits are facing unprecedented headwinds. Not only are funds constricting quickly and dramatically, but now the volunteers that organizations rely on cannot perform many of critical tasks, while the needs of their populations grow each day of this crisis.
According to the New York Times, during the Great Recession (2008-2012), a survey by NCOC found that "72 percent of Americans said they were devoting less time to volunteering and other civic activities, like providing food and shelter to those in need and participating in public discussions like town-hall-style meetings."
Given that in this unprecedented time communities are going to be more vulnerable than ever, if the economy slides into a recession after COVID-19 runs its course, which there are indicators it will, we simply cannot afford for volunteers to take a step back or for the organizations who mobilize them to be out of commission.
What does this look like on a macro scale? 63 million Americans volunteer about 8 billion hours of their time, talent, and effort to improve contributing approximately $203.4 billion of value in the U.S., according to Independent Sector.
We also know in the Points of Light Global Network, for every volunteer mobilized an average six lives are positively impacted.
If we apply that ratio to the national numbers of 63 million, just a 10% reduction in volunteers would directly impact nearly 38 million of our most vulnerable neighbors.
So what can be done, right now and in the future? How can we help people-powered organizations weather this storm? In addition to volunteering, civic engagement can come in many forms, each of which can help nonprofits when we cannot volunteer in person.
1. Donate to your local "volunteer connector" organizations. Many areas have a local community foundation that is well equipped to support the specific financial needs of local nonprofits; they can connect volunteers to where they are needed most. The Points of Light Global Network is made up of nearly 200 such organizations. They in-turn work with or connect with more than 30,000 local nonprofits in their communities. These organizations are also radically efficient, for every dollar donated more than doubles in value in the community.
2. If you were going to give time, give that value in other ways. With people practicing social distancing, resources are more needed than ever. If you are one of millions that volunteer, consider donating the economic value of that time to an organization you volunteer for. Independent Sector values the average volunteer hour at $25.43. Help that pet shelter, senior home, or advocacy organization that had to cancel their spring event keep their doors open. If your company gives you PTO for volunteer time, see if they will convert that to cash to match your funds.
3. Donate technology hardware and software, and get your company involved too. Did your office support your work from home by providing a laptop and video conferencing licenses? Most nonprofits don't have laptops to issue to employees or volunteers. As your company is replacing its laptops, consider donating those in good condition to nonprofits, or adding a few extra laptops to your company's purchase order to make an in-kind donation to local nonprofits. This gift could make a big difference to many organizations, potentially supporting staff work remotely, and may also mitigate disruption to their office. Beyond laptops, a local senior center or homeless shelter could do a lot a of video visiting with smart tv's and smart home devices to say connected during the height of isolation.
4. Use your voice. Nonprofits are always trying to build awareness of their mission and the needs in the communities. Use your social network to advocate for them and their cause. It will likely provide them with more followers long-term and help break-up the relentless news cycle. Follow, repost and comment with your favorite causes and amplify the impact of their message.
5. Educate yourself on the issues. In this time of social distancing, empathy will be tested. Awareness of issues, and the impact of these environmental forces on our communities, is a needed step for us all to get ready to take-action; particularly when we transition from emergency response to recovery. Additionally, there are a lot of issues that will be on the ballot this November in the U.S. Make sure you know how to use every aspect of your civic power.
People always find a way to do good – to be points of light—and will continue to do so, even when they are socially distancing. We know this virus cannot stop the human spirit, but even with new and innovative approaches, the nonprofit sector is not equipped to deliver its services when crippled by drastic reductions in BOTH their financial and human capital. These organizations have been there for us, caring for our parents, running amazing programs for our kids, providing meals and connections, and raising awareness on critical issues. Let's be there for them when they need us most.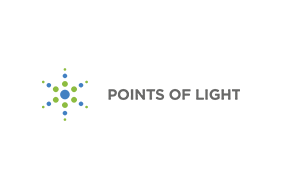 Points of Light
Points of Light
Points of Light is a nonpartisan, global nonprofit organization that inspires, equips and mobilizes millions of people to take action that changes the world. We envision a world in which every individual discovers the power to make a difference, creating healthy communities in vibrant, participatory societies. Through 177 affiliates across 38 countries, and in partnership with thousands of nonprofits and corporations, Points of Light engages 5 million volunteers in 16 million hours of service each year. We bring the power of people to bear where it's needed most.
More from Points of Light