Published 03-10-20
Submitted by Ceres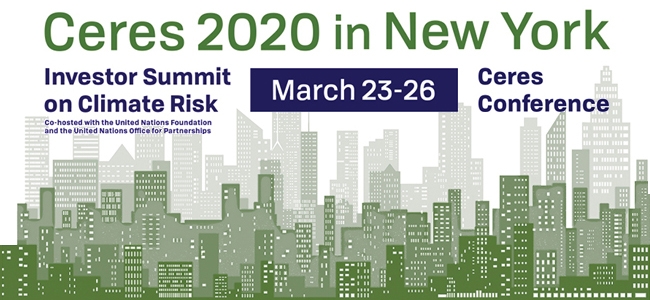 After extensive deliberation and with great sadness, we have made the difficult decision to cancel the Ceres 2020 in New York in-person convening due to the outbreak of the coronavirus.  
While we cannot predict exactly how the situation with the coronavirus will unfold, we do know that it continues to affect major cities and communities around the world. Our hearts go out to all of those affected by this virus and we believe that the precautionary step of canceling Ceres 2020 in New York is in the best interests of our staff, attendees and partners.
In addition to the safety and well-being of our participants, our decision incorporated the reality that a growing number of speakers and participants who have become subject to travel bans are no longer able to join us. Therefore, the feasibility of delivering the high-quality in person experience that our attendees have come to expect has been severely compromised. With that in mind, we are developing a new digital program to deliver key elements of Ceres 2020 in New York that will be made available in the weeks and months to follow. 
We look forward to sharing the details of this new experience with our participants in the coming weeks, and we will be in touch with further details and next steps!
In light of the circumstances, Ceres will apply current registrations to the new digital program to be announced soon. If you would like to discuss other options, please contact ceres2020@ceres.org.
If you booked your hotel stay as part of the Ceres 2020 room block, please cancel your room reservation with the Sheraton by calling (888) 627-7067 or clicking here. Cancellations must be made by March 20, 2020 for a full refund.
We could not be more grateful to the speakers who have worked tirelessly with our staff to develop the program, to our sponsors who make these events possible and to our community for the commitment to work together towards our shared goal of a sustainable future.
Please reach out to Alyssa Kierkegaard, Director of Events and Sponsorship, at ceres2020@ceres.org with any questions.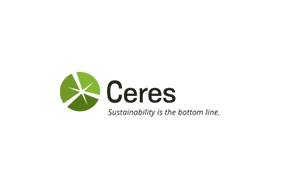 Ceres
Ceres
Our Mission: Ceres is transforming the economy to build a just and sustainable future for people and the planet. 
Ceres is a nonprofit organization working with the most influential capital market leaders to solve the world's greatest sustainability challenges. Through our powerful networks and global collaborations of investors, companies, and nonprofits, we drive action and inspire equitable market-based and policy solutions throughout the economy to build a just and sustainable future. For more information, visit ceres.org and follow @CeresNews. 
More from Ceres