Published 03-09-20
Submitted by CSRHub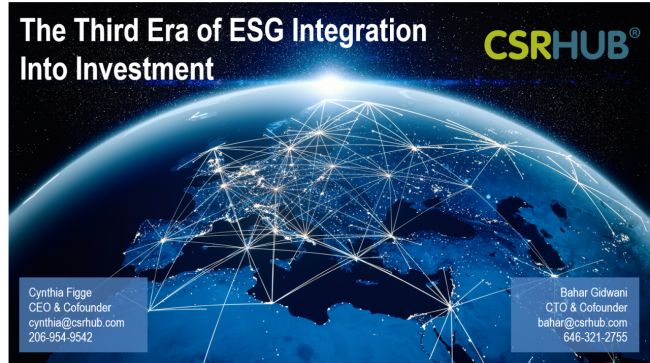 As previously seen on the CSRHub blog

CSRHub CTO and co-founder, Bahar Gidwani will be leading the BrightTALK webinar The Third Era of Integrating ESG Into Investment Processes on March 10th at 5pm ET. Register for the webinar here.
We appear to be entering the third era of ESG (Environment, Social, and Governance) investment integration. Existing data sets have been broadened to improve their coverage and their providers have clarified their methodologies. New data sets are available that offer insights that were not previously available. A wider range of asset owners are requesting investment products that have sustainability-related claims. This has prompted the creation of passive ETFs, single theme funds (e.g., gender lens, decarbonized), and various types of hedge funds (including long-short and short-only offerings).
This session will discuss what third generation investors appear to be looking for:
A consistent signal. Investors want to integrate as much of the available ESG information as possible into factors that are comparable across all companies, industries, and countries.

Broad coverage. ESG data influences investment in large cap, small cap, and emerging market equities. It is also increasingly important in fixed income investment processes.

Many years of data history. Most portfolio management and quantitative analysis systems perform better when at least five years (and ideally ten years) of history is available.

Integration with other sources of data. Investors would like ESG piped to their desktop and already linked with the other financial and market return data they normally use.
Register for the webinar here.
Bahar Gidwani is CTO and Co-founder of CSRHub. Bahar has built and run large technology-based businesses for many years. Bahar holds a CFA (Chartered Financial Analyst) and was one of the first people to receive the FSA (Fundamentals of Sustainability Accounting) designation from SASB. Bahar worked on Wall Street with Kidder, Peabody, and with McKinsey & Co. He has founded several technology-based companies and is a co-founder of CSRHub, the world's broadest source of corporate social responsibility information. He has an MBA from Harvard Business School and an undergraduate degree in physics and astronomy. He plays bridge, races sailboats, and is based in New York City.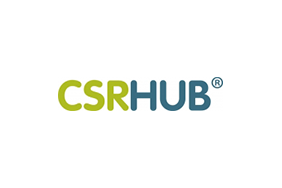 CSRHub
CSRHub
CSRHub provides access to the world's largest corporate social responsibility and sustainability ratings and information, covering over 13,700+ companies from 135 industries in 127 countries. By aggregating and normalizing the information from 370 data sources, CSRHub has created a broad, consistent rating system and a searchable database that links millions of rating elements back to their source. Managers, researchers and activists use CSRHub to benchmark company performance, learn how stakeholders evaluate company CSR practices, and seek ways to improve corporate sustainability performance.
CSRHub is a B Corporation, an Organizational Stakeholder (OS) with the Global Reporting Initiative (GRI), a silver partner with CDP (Carbon Disclosure Project), and an Advisory Council Member of Sustainability Accounting Standards Board (SASB).
More from CSRHub