Published 03-09-20
Submitted by Cox Enterprises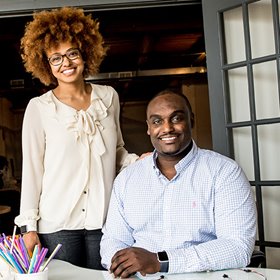 Imagine a world where Netflix makes your kids smarter, and Youtube is safe. A world where K-12 children can live-stream classes from the very best instructors in courses like robotics, microbiology, chemistry and engineering (like Peleton classes, but for STEM education). 
That's the world Blue Studios wants to bring to your computer or mobile device through its unique web app. The startup company is one of 10 selected to be in the inaugural class of Cox Enterprises Social Impact Accelerator powered by Techstars. This is the second accelerator in the partnership between Techstars and Cox Enterprises. Our company supports these programs as part of our commitment to grow the city where we are headquartered into a regional hub for innovation and attract new talent to the area. 
"We all have that one teacher that told us we could do it. Or that one class that just opened our eyes to the path we're on today," said Kelley Cambry, who cofounded Blue Studios with her husband, Emile. "We make those moments happen on Blue Studios every day."
Promoting Lifelong Learning
While she was growing up, Kelley's parents owned a marketing agency and production studio. It was in this hands-on learning environment where Kelley said she learned how to code, taught herself graphic design and discovered the joys of being a lifelong learner.
Her husband, Emile, is a former graduate school professor for data science and a filmmaker who founded the Chicago International Social Change Film Festival.  Before they started Blue Studios, they sold millions of dollars' worth of STEM curriculum to school systems in 40 cities across the globe.
"We're really passionate about STEM education, because we feel like the approach to teaching STEM is fundamentally broken," said Kelley. "It is the most cost-prohibitive aspect of our educational system, but it really provides kids with the most opportunity. We really believe we are the ones who can solve that problem."
How it Works
Parents pay for unlimited access to Blue Studios' on-demand library and live-streamed classes. The instructors are highly engaging teachers (chemists, food scientists, audio engineers and more), each social media influencers in their own right who have huge followings on YouTube and Instagram, said Kelley.
Rethinking Education  
Blue Studios isn't the only company in the Techstars for Social Impact program thinking differently about education. BestFit, founded by Rebecca Kwee and Asha Owens in 2018, is an app that helps college students navigate their "hidden curriculum to success" by connecting them with resources they need on campus (think emergency funding, stipend opportunities, mental health services or housing assistance). They are hoping to pilot BestFit with several universities in coming months.
Yet another company, Make Music Count, offers innovative math curriculum that teaches students how to master fractions, graphing and algebra through popular music on the piano.
A Class Above
You can check out all the innovative companies in the first Techstars for Social Impact class by clicking here.
The program culminates April 29 with a Demo Day event, where company founders will pitch their business to a crowd of supporters and potential investors in Atlanta.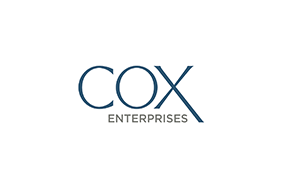 Cox Enterprises
Cox Enterprises
Cox Enterprises is one of the nation's leading media companies and providers of automotive services, with 2006 revenues of $13.2 billion and more than 80,000 employees. Major operating subsidiaries include Cox Communications, Inc. (cable television distribution, telephone, high-speed Internet access, commercial telecommunications, advertising solutions and Travel Channel); Cox Newspapers, Inc. (newspapers, local and national direct mail advertising and customized newsletters); Cox Television (television and television sales rep firms); Cox Radio, Inc. ([NYSE: CXR] broadcast radio stations and interactive Web sites); Manheim, Inc. (vehicle auctions, repair and certification services and web-based technology products) and Cox Auto Trader (automotive publications and a majority stake in AutoTrader.com).
More from Cox Enterprises