Published 03-06-20
Submitted by CNH Industrial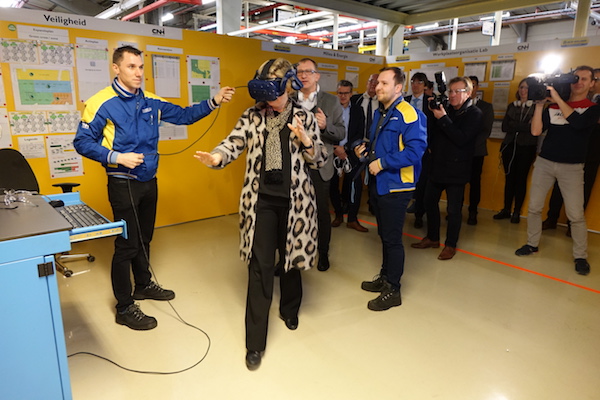 Hilde Crevits, Belgian Minister of Agriculture and Work giving the futuristic VR equipment a try at the New Holland Plant in Zedelgem, Belgium.
New Holland Agriculture a global agricultural brand of CNH Industrial N.V. (NYSE: CNHI/ MI: CNH), hosted Hilde Crevits, the Belgian Minister of Agriculture and Work, at its New Holland Agriculture plant in Zedelgem, Northwest of Belgium. The Zedelgem facility focuses on developing and building combine harvesters, balers and forage harvesters for global export.
Minister Crevits' visit focused on product innovation and "feasible work" – that is using technology to assist employees in their daily activities – at Zedelgem, the "Center of Excellence" for New Holland harvesters worldwide.
During her visit, Minister Crevits toured the BigBaler, large square baler, assembly line and was shown several demonstrations of "feasible work" in practice. One of the production employees showed how he was guided "live" by a screen during the assembly process. The screen shows the next action to be performed, thereby virtually eliminating potential errors. In another area, an employee, equipped with an exoskeleton, demonstrated how it assisted him in his daily activities. An exoskeleton is an outer suit that is worn over an employee's uniform, that provides additional support to the arms and shoulders when lifting heavier objects.
These enhancements to the production line follow the significant investments CNH Industrial has made in Belgium with regards the transition to Industry 4.0. Infrastructure improvements have included a new virtual reality room, where machinery can be 'virtually' constructed in a digital 3D environment, as well as new durability testing facilities. Investment has also focused on sustainable power, with facilities enabling the recovery of electricity used in the testing environment.
Zedelgem's role as a Center of Harvesting Excellence has led to numerous innovations from the site's 370 employees dedicated to product development, securing CNH Industrial's position in the top ten listing of Belgian inventors, a rank it has held for many years.
The New Holland site in Zedelgem is one of the largest employers in West Flanders. Founded in 1906, the company made its breakthrough in 1952 with the launch of the first European self-propelled combine. Today, machines developed in Zedelgem harvest more than a quarter of the world's grain.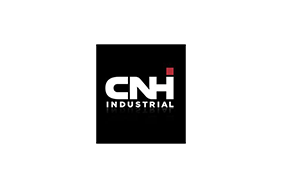 CNH Industrial
CNH Industrial
CNH Industrial is a global leader in the capital goods sector with established industrial experience, a wide range of products and a worldwide presence. Each of the individual brands belonging to the Company is a major international force in its specific industrial sector: Case IH, New Holland Agriculture and STEYR for tractors and agricultural machinery; CASE Construction Equipment and New Holland Construction for earth moving equipment; IVECO for commercial vehicles; IVECO BUS and Heuliez Bus for buses and coaches; IVECO ASTRA for quarry and construction vehicles; Magirus for firefighting vehicles; Iveco Defence Vehicles for defence and civil protection; and FPT Industrial for engines and transmissions.

Sustainability at CNH Industrial
CNH Industrial has a proactive approach to sustainability, which is in tune with global changes. We have set long-term targets to align with the United Nation's Sustainable Development Goals and we are driven to ensure that our footprint is sustainable, and one that leaves a positive and lasting impression. Furthermore, CNH Industrial is a recognized as a sustainability leader in its field, having been named as the Industry Leader in the Machinery and Electrical Equipment segment of the Dow Jones Sustainability Indices (DJSI), World and Europe, for nine consecutive years, as well as being admitted to range of sustainability indices.
More from CNH Industrial