Published 03-05-20
Submitted by HP Inc.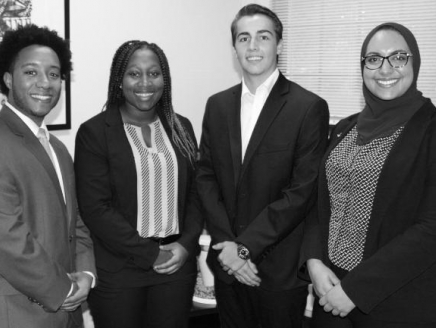 The winning team of the HBCU business challenge, from left to right: Ambrose Bond, Jacobia Johnson, Daniel Barbare, and Hadeer Salem. COURTESY OF NORTH CAROLINA CENTRAL UNIVERSITY
When you think the future of gaming you might think of blazing-fast processors, the loaded graphics card in the latest PC, and even the rise of global esports competitions, but one team of students also thinks it could include what's under your bottom. 
That's the vision of the winning team in HP's third-annual HBCU Business Challenge from North Carolina Central University in Durham, who took home the top accolade for their idea: A high-tech gaming chair for the OMEN by HP lineup of gaming desktops, laptops, and accessories. 
The HP HBCU challenge, which is geared toward students from historically black colleges and universities, asked them to make a business pitch that answers the question: "What is a transformative product or service that shows where the gaming market is going in the next five years?" As part of HP's partnership with the National HBCU Business Deans Roundtable, the competition is open to top undergraduate and graduate students from more than 80 HBCUs who are selected by their business school dean to participate.
The winning team of four North Carolina Central University undergraduates with various majors in computer science, chemistry, finance, and business, created a wholly new product category for HP to bring even more immersive experiences to PC gamers. Their concept and prototype, the OMEN Cooling Immersion Citadel Gaming Chair, is purpose-built for PC gamers and taps into the growth of this market, which is projected to be worth $45 billion by 2021.
"One-third of the world's population plays games today, and that number continues to grow," says Judy Johnson, director of gaming at HP, who came up with the prompt for this year's challenge and was a judge. "I was impressed by the amount of research each team put into their proposals. The proposals were very thorough, focused on the user, and complemented HP's gaming technology."  
Among the prototype Citadel's most innovative features is "vibration signaling technology," which provides location- and moment-specific haptic feedback, alerting the player where action is taking place or when they are running up against a time limit in the game. Like the FrostCap technology in the OMEN by HP Mindframe PC Gaming Headset, the Citadel also provides thermoelectric cooling for comfort during long cyber battles.
The team came up with the idea for a PC gaming chair after their market research found there wasn't one with features made specifically for serious gamers. While console gameplay tends to happen gathered around a TV, on a couch or in a comfy chair low to the ground, typical office-style chairs didn't offer much in the way of differentiation for gamers' needs. 
"We asked our friends who were primarily console gamers: 'What would make you switch to playing on a PC?'" says Ambrose Bond, a junior studying finance and political science who's part of the winning team. "The immersion aspect is the biggest thing that we took away from our research. That's what gaming is supposed to be — an escape." 
They also found that traditional desk chairs are built for knowledge workers, but not for ergonomic comfort during hours of gameplay. The team found that 42% of gamers play for an hour or more at a time, making comfort a high priority. It's why they included a plan for a built-in cooling unit, controlled by a remote in the armrest, to manage the temperature of the backrest and seat of the chair, and cushions with chemical properties that absorb body heat.
The Citadel chair "leans forward into where gaming is going in general," says HP's Johnson. "We've seen the evolution, and this is the next step to having a comfortable, immersive, innovative product that enhances the experience for gamers."
There were 30 schools in this year's challenge, totaling 177 student participants. Finalists received coaching and feedback from HP mentors and judges on how to best present their ideas in a comprehensive and business-savvy way. "The feedback was invaluable," says Jacobia Johnson, a computer science major on the winning team. "They asked about things we hadn't thought of — about IP, warranties, and such. It broadened my scope in understanding how much is involved in designing a product, building it, and getting it out to market." 
The North Carolina Central University teammates pulled from their diverse backgrounds and areas of study, says Daniel Barbare, a chemistry major who brought his knowledge of materials science to the winning team. "Usually, when you do group projects everyone comes from the same background. We had a lot of diversity so it helped give us an edge." 
With guidance from their team advisor, Business Communications instructor Laura Graham of North Carolina Central University's School of Business, the team of students honed their idea from a notebook sketch to a business plan they could take to market.
"Watching the students learn how to turn a good idea into a viable business proposal has been inspiring," Graham says. "You see that reflected in our team, where we have STEM, Management and Finance majors, Division I student athletes, honors students, and students with internships all working together and using all their academic and life skills to help solve a business problem."
The team sees applications for the Citadel chair outside of the gaming world. "We could see applicability for simulations and training and even a more immersive experience in an office environment," says Hadeer Salem, a business administration and management student on the team. 
While there are no immediate plans to build the Citadel chair, HP takes all of the feedback and ideas into consideration for product roadmaps. 
Participants in the business challenge are also encouraged to apply for HP internships. Over the last two years, HP hired seven interns from top teams in the HP HBCU Business Challenge. Since the challenge launched in 2017, 44 HBCUs have participated (repeat participation from 17), resulting in five full-time offers at HP. 
"It's very exciting to see that these are going to be our business leaders in the future," says HP's Johnson. "They have the skills, the creativity to innovate, and the perseverance to be great."
How streamers are building a more inclusive gaming community for women and underrepresented groups.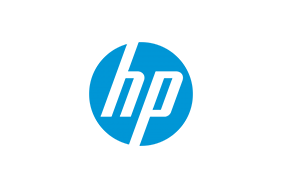 HP Inc.
HP Inc.
HP Inc. creates technology that makes life better for everyone, everywhere. Through our portfolio of printers, PCs, mobile devices, solutions, and services, we engineer experiences that amaze. More information about HP (NYSE: HPQ) is available at www.hp.com.
Sustainable Impact at HP, Inc.
Sustainable Impact is our commitment to create positive, lasting change for the planet, its people and our communities. Click here for more information on HP's Sustainable Impact initiatives, goals and progress.
More from HP Inc.