Published 03-05-20
Submitted by Taproot Foundation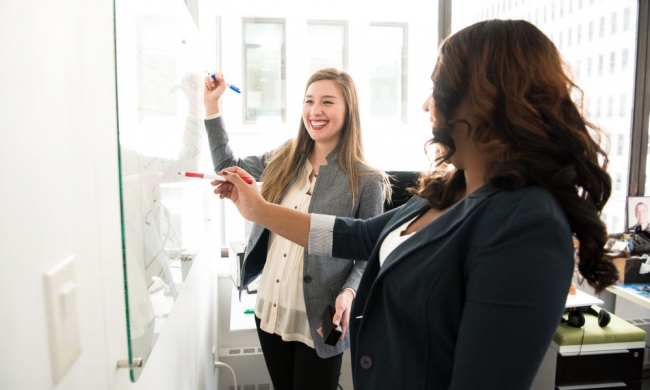 We at the Taproot Foundation are committed to making certain that pro bono service is an accessible and valuable resource across sectors. Pictured: two women work together writing at a whiteboard.
Driving the movement forward in the new decade
By Lindsay Firestone Gruber, President and CEO, Taproot Foundation
The Nonprofit Finance Fund released a report recently finding that 86% of nonprofits are experiencing an even greater increase in demand for their programs and services. And yet, more than half of those nonprofits say they anticipate being unable to meet the demand in the coming year. These numbers should concern us all. More often than not, as a society, we're relying on nonprofits and social good organizations to take up the herculean effort of addressing the complex issues facing our communities. How are we all stepping up to ensure the needs of these organizations are met so that they can truly support those they serve? Pro bono is one of the solutions.
We at the Taproot Foundation are committed to making certain that pro bono service is an accessible and valuable resource across sectors. But in order to do that, we need to move the field forward in new and progressive ways—both to meet the demands that exist today and those we anticipate for tomorrow. This year, we'll be digging in on not only the clear and present need and opportunity for pro bono right now, but the impact it can have on what are sure to be some of this decade's most pressing issues. Here's what's top of mind for us.
The future of work will leave no part of our communities untouched. The Bureau of Labor Statistics projects more than 1.3 million workers will be displaced in the next decade, and 79% of CEOs note a lack of key skills as a threat to future growth. Pro bono service is playing a vital role in two ways: in building the capacity of organizations supporting a growing population of people who are at risk of being left behind, while also contributing to the upskilling today's workforce through the experiential learning pro bono provides.
Be on the lookout for Building Bridges to the Future, a resource for corporate pro bono practitioners looking to connect their programs to this new business imperative, coming out in just a few short weeks.

Request an invitation to our U.S. Pro Bono Summit, where we'll bring leaders together from across sectors to uncover innovative ways pro bono service is helping to build a future that works for all.

And be inspired as we showcase workforce development organizations Building Communities that Work with the support of pro bono.
Inclusion is top of mind for all sectors as we work to become a more equitable society. From developing inclusive leaders who thrive in diverse environments to equipping philanthropy with an inclusive resource for traditionally disadvantaged grant seekers—pro bono service is an essential solution.
Diversity and inclusion practitioners will discover how to leverage pro bono service in cultivating inclusive leaders at their companies—and at the nonprofit organizations they serve—in our forthcoming resource, Pro Bono &  Inclusive Leadership.

Grantmakers will find us at the PEAK 2020 conference leading a session examining how the grantmaking community can leverage pro bono service to promote equity in the nonprofit sector by bridging the gap for nonprofits and leaders while historically disadvantaged by the traditional grantmaking process.
We hope you're as inspired as we are by the potential of pro bono service to drive change in our communities and at your companies.
Follow along with us as we explore these progressive strategies, and connect with us to see how we can partner for even great impact.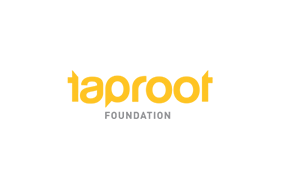 Taproot Foundation
Taproot Foundation
The Taproot Foundation is the provider of pro bono services to the nonprofit sector. It works to engage the country's millions of business professionals in pro bono service, building the infrastructure of organizations we rely on to strengthen and support our communities. Their pro bono model leverages the best practices of leading professional services companies to deliver reliable and quality marketing, human resources and technology services using corporate employees. Since 2002, the Taproot Foundation has recruited over 3,500 business professionals to awarded over $12 million in pro bono services to nonprofits in New York, Chicago and the San Francisco Bay Area.
More from Taproot Foundation