Published 03-04-20
Submitted by HP Inc.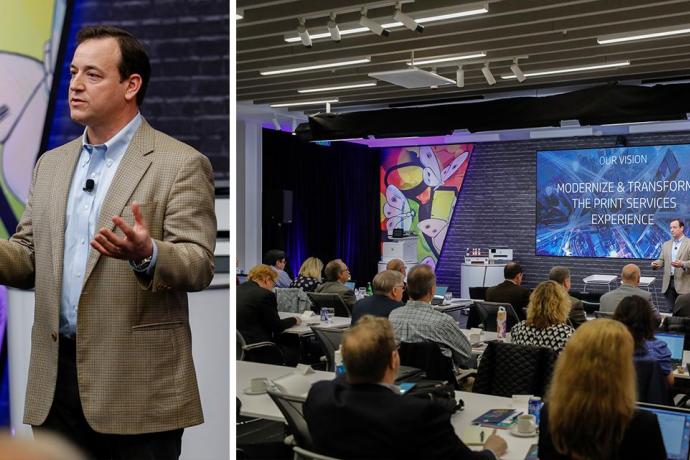 HP™s global head of Print Services and Solutions Dave Prezzano says the company aims to handle security issues without users having to do anything. COURTESY OF HP
For printing to stay relevant to today's hyper-mobile society, it has to evolve to do something more for people than simply getting their text and images from the digital world into the physical one. And HP knows how to do it.
That's among the biggest takeaways from the recent Power of Print event at HP's Palo Alto headquarters, where industry analysts from around the world gathered for a two-day summit to hear from print business leaders and key partners. 
Top of mind for consumers today are mobility, security, and sustainability, and HP is the clear leader in products across these areas. "We are the market leaders because we out innovate competitors," says Tuan Tran, president of HP's Imaging Printing & Solutions unit. "We continue to make sure we deliver the best-in-class experience. And that experience will be unlocked because somebody uses HP hardware, HP supplies, and HP services."
Making mobile printing a reality
Since everyone is doing more with their smartphones, seamless printing from a mobile device is table stakes. In the past, it required a separate third-party application that didn't always work due to compatibility or connectivity issues. HP is on a mission to make "print from anywhere" possible with the HP Smart mobile printing app, which has seen impressive growth as HP has poured more development into it. 
"We have over 23 million users and we are adding 600,000 more a year," says Xavier Garcia, global head and general manager of HP's Print Hardware Systems. "It's a productivity toolbox in your pocket that lets you print, fax, scan, or copy." 
HP has seen 100% growth in downloads of the HP Smart app in the past year. That jump caught IT tech analyst Rob Enderle's attention.
"I think this showcases one of the unspoken problems with smartphones; you really can't easily review, edit, or annotate a document effectively," he says. "But, if you can print from one, you can do all of this without trying to chase down a PC or a large tablet."
Printer security is key for consumers and businesses
Security is just as important for printers as it is for laptops, desktops, or smartphones, as cyber criminals will exploit any vulnerability in any connected device.
Dave Prezzano, HP's global head of Print Services and Solutions, says the company aims to handle security issues without users having to install anything extra or proactively take precautions. "We will build devices that are connected to the cloud, anticipate your needs, and resolve security and technical challenges without you having to do anything," pledges Prezzano. 
He points to Netflix as an example of a service that manages users' security behind the scenes. Prezzano says print services should be just as simple: "No manual required, it should just work."
Protecting the environment now and into the future
HP is working with groups like World Wildlife Fund as part of HP's Sustainable Forests Cooperative, an initiative designed to catalyze forest restoration, protection, and improved management. HP is committing to the restoration, protection, and conservation of 200,000 acres of forest in Brazil and China, an area equal to the size of New York City.
"In Brazil, we will restore a thousand acres of native forest using funds from HP," says Linda Walker, senior director of forests at the World Wildlife Fund. "This will accelerate our efforts to reconnect iconic species like the jaguar, and improve water quality and quantity in watersheds that supply Rio and Sao Paulo."
HP's environmental efforts go well beyond paper. They include helping suppliers reduce emissions through science-based targets, and closing the loop on plastic waste, such as with products like Original HP ink cartridges. Eighty percent of Original HP ink cartridges contain up to 70% post-consumer  recycled content. The company has also committed $200 million in water-based inks to help reduce water pollution.
"We also want to drive technologies that create less paper waste and more efficient paper consumption," says Anneliese Olson, head of HP's print category. This is also a business imperative for us," she adds. "Customers are preferring sustainable companies and 70% of consumers link their purchasing preference to brands they trust."
Sustainability efforts are increasingly important to customers and therefore the bottom line. In a 2019 Nielsen survey of sustainable consumerism, 83% of millennials agreed with the statement that "it's important for companies to implement programs to improve the environment" and 75% agreed "… they would change their purchasing habits to reduce their own environmental impact." 
According to Olson, in 2018 HP generated $900 million in new revenue where Sustainable Impact was a key differentiator.
Cloud computing and smarter printers
Looking ahead, HP wants to build on the success of its cloud-based Instant Ink subscription service, which lets the company monitor printer usage and send a customer a new cartridge when needed. HP said it now has over five million Instant Ink customers who also get discounts on new cartridges and a prepaid envelope to return old cartridges for recycling.
"By comparing an individual printer's performance to all the data we have about other printers and how they're being used, we can do predictive analytics and anticipate when there's going to be a problem and when you're going to need a new printer cartridge," says Tran.
In addition to data analysis, Tran says HP is working on ways to give mobile users the ability to locate printers from their mobile device and print to that device if authorized to do so.
"Today you have to think about whether you can print something if you don't know if your mobile device can do it," says Tran. "If you always knew you could print wherever you were, that would drive all sorts of new use cases." 
See how HP is reusing plastic from empty ink cartridges to make new electronics in a factory outside Nashville, Tennessee.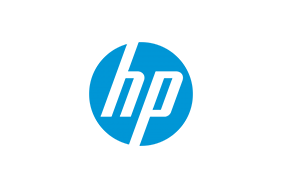 HP Inc.
HP Inc.
HP Inc. creates technology that makes life better for everyone, everywhere. Through our portfolio of printers, PCs, mobile devices, solutions, and services, we engineer experiences that amaze. More information about HP (NYSE: HPQ) is available at www.hp.com.
Sustainable Impact at HP, Inc.
Sustainable Impact is our commitment to create positive, lasting change for the planet, its people and our communities. Click here for more information on HP's Sustainable Impact initiatives, goals and progress.
More from HP Inc.