Published 03-03-20
Submitted by America's Charities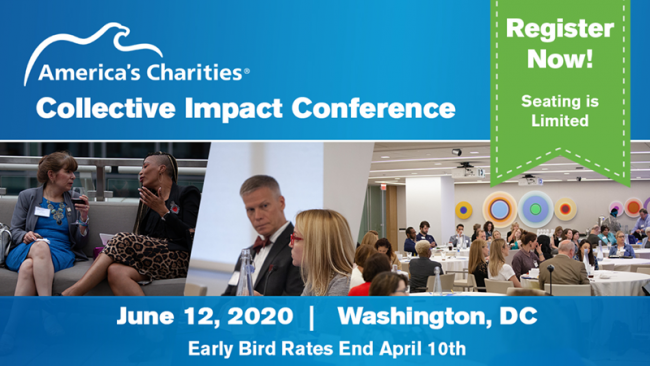 Early Bird Rates End April 10, 2020
Offering a safe space for cross-sector collaboration, America's Charities' Collective Impact Conference, named as one of the top CSR Conferences of 2020, empowers nonprofits and employers to interactively discuss best practices, explore the latest trends, and engage with experts and peers about tackling real-world challenges and creating sustainable social impact through:
Employee engagement and volunteering,

Workplace giving,

Employee Assistance Funds (EAFS) and wellness programs,

Sustainable Development Goals (SDGs), and

Other related areas of philanthropy. 
Hear from industry experts, including Heather Lofkin Wright, Corporate Responsibility Director at PwC US; Gary Levante, Senior Vice President of Corporate Responsibility & Culture at Berkshire Bank; Gideon Taub, CEO, Pinkaloo Technologies; and more!
Seating is limited! RSVP now for the early bird rate. Visit www.charities.org/CIC2020 for more information and sponsorship opportunities.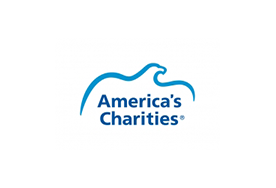 America's Charities
America's Charities
Every year, millions of people across America are invited to participate in an activity that has become a Fall tradition for generations of employees working at many of the nation's largest employers: the Employee Charitable Giving Campaign. The impact of employee giving campaigns on charitable organizations and the people and communities they serve is immense. These campaigns funnel $3 billion annually much of which is unrestricted, sustainable funds that enable nonprofit groups to deliver vital services throughout the nation.
America's Charities is a mission-driven organization that connects public and private sector employers with charities to engage employees in greater giving.
Who We Serve
Charities looking to expand their participation and reach in workplace giving and employee engagement programs through membership in one of America's Charities' four federations: America's Charities, Children First – America's Charities, Health First – America's Charities, or Community First – America's Charities of Greater Washington, D.C.
Employers seeking efficient and effective ways to manage and engage employees.
Individual donors seeking ways to make a significant impact on the causes they care about.
Our Core Services
Generating unrestricted, sustainable financial support for charities through employee engagement programs.
Distributing funds to charities in an efficient, effective and transparent manner.
Consulting with employers on strategies to achieve their philanthropic goals while strengthening employee engagement programs.
Providing solutions to support employers with their employee engagement programs that catalyze greater involvement and giving.
More from America's Charities