Published 03-02-20
Submitted by Porter Novelli/Cone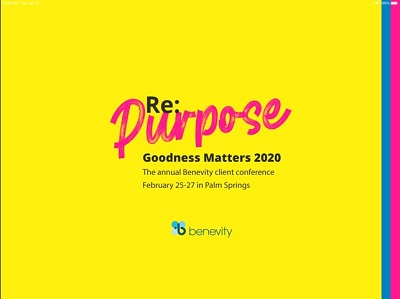 Insights from Goodness Matters: 5 Ways to Engage Employees for the Greater Good

This week, more than 400 companies and nonprofits gathered at Benevity's annual Goodness Matters conference in Palm Springs, California to share insights and best practices around creating social impact for good.
Through a lens of "rePurpose," the conversation focused on how companies can refresh, reframe and reboot their employee engagement strategies. Notable speakers included the UN Foundation's John McArthur, Intel's Erin Alcaraz, BlackRock's Karolina Walecik and PN's own Whitney Dailey. 
Here's a few key takeaways from this year's event:
Purpose paves the way for profits. As we know from our own research, Purpose isn't just the latest buzzword or marketing tactic. Not only do consumers expect companies to lead with Purpose, they are willing to use their purchasing power as a voice for good, with 88 percent saying they would buy a product from a Purpose-driven company (Cone/Porter Novelli 2018 Purpose Study). Companies that are more vocal about their Purpose and take their employees, customers and stakeholders along with them on their Purpose journey are seeing positive results. Whether that's through a cause-marketing campaign like Levi's donation roundup for ACLU, or TOM'S multipronged strategy to end gun violence, including efforts to compel consumers to call on representatives for stricter gun laws.

Create a social impact platform that unifies. To truly engage and inspire employees, companies need to create social impact platforms that have a clear Purpose with focus areas that are aligned with the company's mission and are authentic to their employees. A great example of this is Shiseido Americas*, which recently launched its social impact platform The Beauty of Helping Others, designed to unite its brands and employees around a common mission – to bring beauty, happiness and kindness to the people and communities that need it most. Rather than launch a platform with a narrowed focus with the expectation that every brand will get onboard, Shiseido Americas wanted to create a program that was broad enough so that every brand and employee found a pillar and focus area that resonates and empowers them to volunteer.

More ways to engage leads to higher participation. By creating a platform with multiple touchpoints and opportunities for employees to get involved, companies are seeing greater success in overall engagement. Whether focused more on giving or volunteering, there are many ways to get people involved through seeding funds, matching donations, volunteer events, volunteer time off (VTO) or payroll deductions. While some people may be consistent volunteers in their community and have no issues using VTO, others may be less inclined to volunteer and are more interested in giving. Recognizing the varying demographics, availability and interests of employees is critical when building an employee engagement strategy.

Employees are your biggest advocates. Rather than telling employees to get involved in your strategy, the best way to engage them is to inspire them so they not only want to get involved but also enlist their peers, and even friends and family, to join in as well. By creating a network of ambassadors, companies can better utilize their best advocates—their most passionate and dedicated employees. Xylem*, for example, leverages a global network of Champions who rally colleagues to volunteer in an effort to provide education and access to safe water to ensure healthy lives, gender equality and resilient communities. In addition to ambassadors, it's also critical to utilize senior leadership as advocates to reinforce the level of commitment of the organization in its social impact program. To engage its senior leaders, Voya encourages executives to not only volunteer and give but to serve on nonprofit boards. Intel also encourages leaders to get involved and keeps them regularly updated on the company's progress toward its goals through quarterly cause updates.
By coming together to share best practices and key learnings and brainstorm new strategies, companies can further invigorate their employees, increase their giving, and in turn, deliver meaningful impact for the greater good.

Porter Novelli/Cone