Published 02-28-20
Submitted by Center for Resource Solutions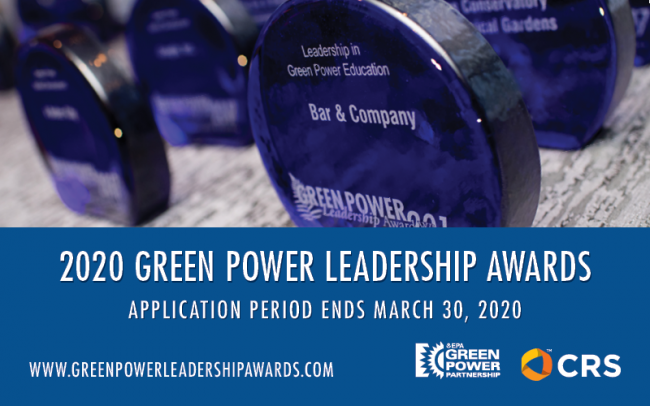 We are excited to announce that the application period for the 2020 Green Power Leadership Awards is open today through Monday, March 30th. Center for Resource Solutions (CRS) co-sponsors the awards with the U.S. EPA's Green Power Partnership. The awards recognize leading organizations that have helped further the green power market through their green power procurement, innovation, overall green power strategy, and impact.
Award Categories
Center for Resource Solutions gives awards in four categories: Green Power Market Development, International Green Power Market Development, Leadership in Green Power Education, and Green Power Leader of the Year.
U.S. EPA Green Power Partnership gives awards in Excellence in Green Power Use, Direct Project Engagement, Green Power Community of the Year, Green Power Partner of the Year, and Sustained Excellence in Green Power.

Center for Resource Solutions
Center for Resource Solutions
The Center for Resource Solutions (CRS) is a national nonprofit with global impact. CRS brings forth expert responses to climate change issues with the speed and effectiveness necessary to provide real-time solutions. Our leadership through collaboration and environmental innovation builds policies and consumer-protection mechanisms in renewable energy, greenhouse gas reductions, and energy efficiency that foster healthy and sustained growth in national and international markets.
More from Center for Resource Solutions