Published 02-27-20
Submitted by Kimberly-Clark Corporation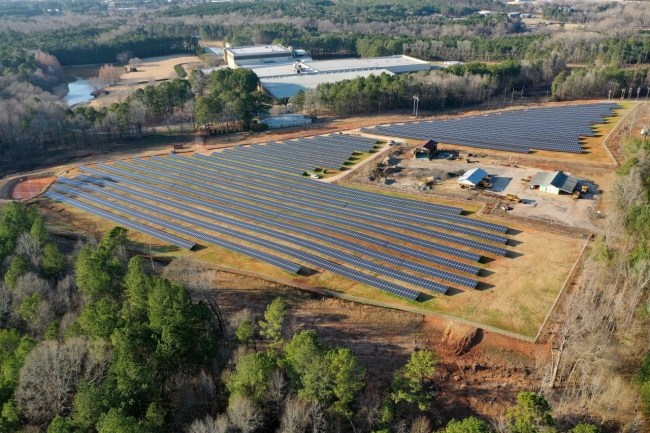 Kimberly-Clark's support in a 3-megawatt (MW) photovoltaic (PV) project is helping foster the growth of renewable energy in LaGrange, Georgia.
Through a collaboration between Kimberly-Clark's LaGrange manufacturing facility, United Renewable Energy LLC, and a subsidiary of NextEra Energy Resources, LLC, the 3MW solar facility, along with all the renewable energy credits (RECs), will be sold to Georgia Power as part of Georgia Power's Renewable Energy Development Initiative.
"The project is a source of pride for LaGrange employees, and purchasing renewable energy credits from NextEra Energy Resources helps us strive towards our global goal of a 40% offset in greenhouse gas emissions by 2022," says Jeremy Cannady, manager of Kimberly-Clark's LaGrange facility. "The development of this project is the most recent example of our commitment to renewable energy."
The project consists of more than 8,600 solar panels installed on land adjacent to and leased from Kimberly-Clark.
"Our partnerships with industrial clients are focused on helping them achieve their business goals, which can range from saving money on their utility bills to meeting their greenhouse gas emissions goals.  Distributed generation assets like this one at Kimberly-Clark are a great way for industrial businesses to make an impact at their facilities where they are visible to employees and stakeholders," says Matt Ulman, vice president of distributed generation for NextEra Energy Resources.

Kimberly-Clark Corporation
Kimberly-Clark Corporation
Kimberly-Clark and its well-known global brands are an indispensable part of life for people in more than 150 countries. Every day, 1.3 billion people--nearly a quarter of the world's population--trust K-C brands and the solutions they provide to enhance their health, hygiene and well-being. With brands such as Kleenex, Scott, Huggies, Pull-Ups, Kotex and Depend, Kimberly-Clark holds the No. 1 or No. 2 share position in more than 80 countries. To keep up with the latest K-C news and to learn more about the company's 134-year history of innovation, visit www.kimberly-clark.com.
More from Kimberly-Clark Corporation