Published 02-27-20
Submitted by ON Semiconductor
ON Semiconductor (Nasdaq: ON), driving energy efficient innovations, today announces that it has been recognized by Ethisphere, a global leader in defining and advancing the standards of ethical business practices, as one of the 2020 World's Most Ethical Companies.
"Our employees' dedication to maintaining a strong culture of compliance and ethics allows us to differentiate ourselves within the semiconductor industry," said Jean Chong, vice president, ethics and corporate social responsibility at ON Semiconductor. "Our core values of respect, integrity and initiative guide every business decision and allow us to maintain the highest levels of trust from our customers and partners."
In 2020, 132 honorees were recognized spanning 21 countries and 51 industries. The fourteenth class of honorees profoundly illustrate how companies continue to be the driving force for improving communities, building capable and empowered workforces, and fostering corporate cultures focused on ethics and a strong sense of purpose.
"Ethical business practices is part of the corporate culture – going beyond simply meeting legal and regulatory standards, and demonstrating the power of aligning business objectives with doing the right thing," said Tobin Cookman, senior vice president, human resources at ON Semiconductor. "Every employee is encouraged to talk about ethics, raise concerns and share their experience while also being recognized for their extraordinary commitments. As our company continues to grow, our employees commitment to our core cause assures an ethical culture throughout our global operations."
ON Semiconductor has been recognized for five consecutive years and is one of only four honorees in the Electronics & Semiconductors industry, underscoring its commitment to leading with integrity and prioritizing ethical business practices. In addition to this, ON Semiconductor was recognized in 2019 as a Fortune 500 company, and was most recent recognized as both one of Barron's 100 Most Sustainable Companies and on Newsweek's America's Most Responsible Companies 2020 list.
ON Semiconductor attributes this prestigious recognition to its longstanding and active pursuit of the total alignment of all business objectives with exercising the utmost care and commitment to ethical stewardship, across the entire organization of more than 35,000 employees in 34 countries. Starting with the CEO and the chief compliance and ethics officer, spanning to the executive leadership team and to every employee, the principles of compliance, ethics and corporate social responsibility are role-modeled from the top and instilled in each employee, in accordance with ON Semiconductor's core values of respect, integrity and initiative. A strong foundation in compliance and ethics stemming from the company's board of directors that is echoed throughout an organization, results in trust from customers and partners, who count on the company to be honest and equitable regardless of macroeconomic factors.
"Congratulations to everyone at ON Semiconductor for earning this recognition," said Ethisphere's Chief Executive Officer, Timothy Erblich. "This is a moment to acknowledge the leaders working to advance corporate cultures defined by integrity and affirm those companies contributing to broader societal imperatives and the greater good."
Ethics & Performance
Ethisphere's research supports the conclusion that ethics and financial performance go hand-in-hand. Our annual practice of tracking how the stock prices of publicly traded honorees compare to the Large Cap Index found that listed 2020 World's Most Ethical Companies outperformed the large cap sector over five years by 13.5 percent. This "Ethics Premium" forms the basis upon which companies can correlate responsible behavior with shareholder value.
Methodology & Scoring
Grounded in Ethisphere's proprietary Ethics Quotient®, the World's Most Ethical Companies assessment process includes more than 200 questions on culture, environmental and social practices, ethics and compliance activities, governance, diversity and initiatives to support a strong value chain. The process serves as an operating framework to capture and codify the leading practices of organizations across industries and around the globe. Best practices and insights from the 2020 honorees will be released in a report and webcast in March and April of this year.
All companies that participate in the assessment process receive an Analytical Scorecard providing them a holistic assessment of where their programs stand against the demanding standards of leading companies.
Honorees
The full list of the 2020 World's Most Ethical Companies can be found at 2020 World's Most Ethical Companies.
About ON Semiconductor
ON Semiconductor (Nasdaq: ON) is driving energy efficient innovations, empowering customers to reduce global energy use. The company is a leading supplier of semiconductor-based solutions, offering a comprehensive portfolio of energy efficient power management, analog, sensors, logic, timing, connectivity, discrete, SoC and custom devices. The company's products help engineers solve their unique design challenges in automotive, communications, computing, consumer, industrial, medical, aerospace and defense applications. ON Semiconductor operates a responsive, reliable, world-class supply chain and quality program, a robust compliance and ethics program, and a network of manufacturing facilities, sales offices and design centers in key markets throughout North America, Europe and the Asia Pacific regions. For more information, visit https://www.onsemi.com.
# # #
ON Semiconductor and the ON Semiconductor logo are registered trademarks of Semiconductor Components Industries, LLC. All other brand and product names appearing in this document are registered trademarks or trademarks of their respective holders. Although the company references its Web site in this news release, such information on the Web site is not to be incorporated herein.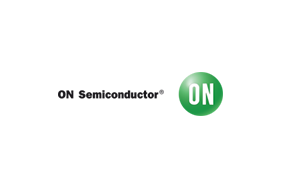 ON Semiconductor