Published 02-18-20
Submitted by Bechtel
Bechtel senior vice president Brian Reilly has begun a one-year term as president of the board of directors for Engineers Without Borders USA (EWB-USA), a nonprofit organization that delivers engineering projects to solve pressing global challenges and meet basic human needs in vulnerable communities.
As EWB-USA president, Reilly will focus on opening new country offices, growing EWB-USA's volunteer pool, and increasing access to funding for each project.
"I have a passion for EWB-USA and the important work that our volunteers do to improve people's lives," said Reilly. "I'm excited about working with our board and our partners to streamline project development, improve execution, and find new opportunities to meet the needs of vulnerable communities across the world." 
Bechtel has been partnering with EWB-USA since 2011.
Reilly joined the EWB-USA Board of Directors in January 2017. He served on the group's Corporate Leadership Council from 2013 to 2016. His term as board president will end in December.
"Brian is deeply committed to the mission of EWB-USA, and his global perspective and proven track record of driving innovation in complex settings will be invaluable to the success of our organization this year," said Cathy Leslie, EWB-USA's executive director.
At Bechtel, Reilly has spent 40 years in commercial nuclear power, environmental cleanup, and U.S. national security projects. Currently, he oversees the construction of two nuclear power plants near Augusta, Georgia. The project, Plant Vogtle Units 3 & 4, is the only nuclear plant construction currently underway in the U.S.
Reilly earned a Bachelor of Science degree in civil engineering from Rutgers University. He is a member and past chairman of the Rutgers University School of Engineering Industry Advisory Board and past chairman of the Nuclear Energy Institute Suppliers Advisory Committee.
ABOUT BECHTEL
Bechtel is a trusted engineering, construction and project management partner to industry and government. Differentiated by the quality of our people and our relentless drive to deliver the most successful outcomes, we align our capabilities to our customers' objectives to create a lasting positive impact. Since 1898, we have helped customers complete more than 25,000 projects in 160 countries on all seven continents that have created jobs, grown economies, improved the resiliency of the world's infrastructure, increased access to energy, resources, and vital services, and made the world a safer, cleaner place.  
Bechtel serves the Infrastructure; Nuclear, Security & Environmental; Oil, Gas & Chemicals; and Mining & Metals markets. Our services span from initial planning and investment, through start-up and operations. www.bechtel.com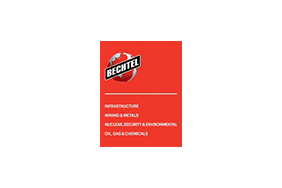 Bechtel
Bechtel
Bechtel is among the most respected engineering, project management, and construction companies in the world. We stand apart for our ability to get the job done right—no matter how big, how complex, or how remote. Bechtel operates through five global business units that specialize in civil infrastructure; power generation, communications, and transmission; mining and metals; oil, gas, and chemicals; and government services. Since its founding in 1898, Bechtel has worked on more than 25,000 projects in 160 countries on all seven continents. Today, our 53,000 colleagues team with customers, partners, and suppliers on diverse projects in nearly 40 countries. www.bechtel.com
More from Bechtel