Published 02-15-20
Submitted by Warner Bros.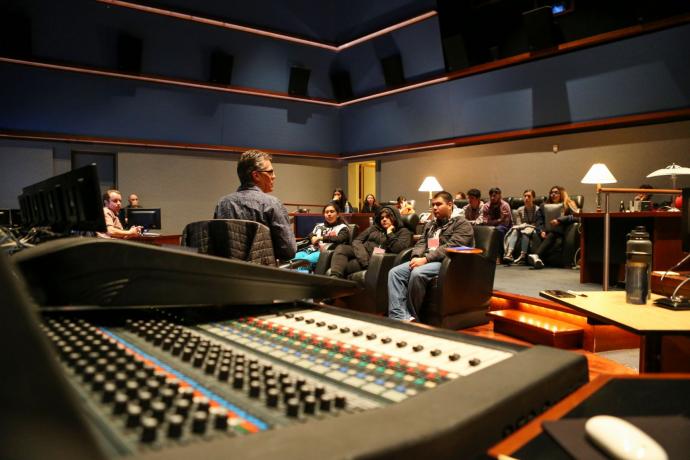 WB First Cut students learn about post production in a Warner Bros.' sound editing suite.
This past weekend, nearly 200 high school students spent the day on Warner Bros.' Burbank lot immersed in the company's first-ever WB Studio Day. The gathering was an opportunity for those participating in the WB First Cut program and interested in production careers to engage more deeply with the studio and gain insight into various career pathways the entertainment industry has to offer. Through a partnership with the Los Angeles Unified School District and nonprofit Ghetto Film School (GFS), WB First Cut provides filmmaking curriculum, skills and expanded industry opportunities to high school students. Now in its third season, the program first launched in 2018.
"One of our core beliefs here at Warner Bros. is that good stories can come from anywhere," said Dee Dee Myers, EVP, Worldwide Corporate Communications & Public Affairs, Warner Bros., "which means some of the storytellers we might work with in the not-so-distant future could even be with us today!"
The students began their day with "Behind the Credits," a career insights panel featuring five creative professionals who work on several of the most successful television shows produced by Warner Bros.: Nkechi Okoro Carroll (executive producer and showrunner, "All American"), Tara Hernandez (co-executive producer, "Young Sheldon"), Christina Kim (writer and executive producer, "Blindspot"), Jaffar Mahmood (producing  director, "Young Sheldon") and Eric Wallace (executive producer and showrunner, "The Flash").
Imparting wisdom to the student audience, Okoro Carroll said, "I'm going to bet that none of us had the same foot-in-the-door opportunity – and sometimes you can't predict where it's coming from – but what you can do is control how prepared you are for that opportunity because you'll find often that people don't even realize that the opportunity came because they weren't ready for it." Echoed Wallace, "Put your head down, do the work, do it with gusto, embrace and be open to things happening in a way that you may not have planned… and the most important thing: bring your own jam – that's what Hollywood is looking for."
The students then attended four, 40-minute production-themed sessions held throughout the day. From post-production workshops on Warner Bros.' dub stages and color grading suites and an intensive tour of soundstages and backlot sets, to production assistant training and a presentation on making a studio movie, these aspiring filmmakers were able to gain invaluable insight and exposure within the setting of a working studio lot. Their lunch break also included a nonprofit resource fair, giving students the opportunity to engage with organizations like Film2Future, Hollywood CPR, National Association of Latino Independent Producers and NewFilmmakers Los Angeles, which provide education and training opportunities beyond the classroom experience.
"The greatest value of an opportunity like today is to see the diversity of people in these jobs, and the students are able to see themselves in the people on stage and in these workshops," said Dr. Steven McCarthy, Director, Arts Education Branch, Los Angeles Unified School District. "The students are our future storytellers, so bringing them to Warner Bros. allows them to speak to the professionals and ask them questions like, 'How did you get this job? What do I need to do to better prepare myself for this?' Their eyes are opening to the possibilities, and they are realizing that everyone has a story to tell."
The day closed with "See Yourself in the Work We Do," a conversation with Warner Bros. Pictures' VP of Development & Production Peter Dodd. Dodd discussed the importance of representation in the industry and content and shared his personal experience both as a former agent and current studio executive.
"Having an opinion and having a point of view is critical in every job I've ever had," said Dodd, stressing the importance of advocacy to the audience. "I think you all will discover when you come to work in this industry that if you can't sit in a room with someone and argue with them about why you believe something and have the data points to support it and convince them that you're right, you'll never get anything you want done made."
To learn more about WB First Cut, please visit www.wbgood.com.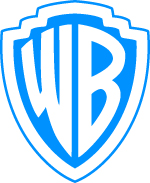 Warner Bros.
Warner Bros.
Warner Bros. is a global leader in all forms of entertainment and their related businesses across all current and emerging media and platforms. A WarnerMedia Company, the fully integrated, broad-based Studio is home to one of the most successful collections of brands in the world and stands at the forefront of every aspect of the entertainment industry from feature film, television and home entertainment production and worldwide distribution to DVD and Blu-ray, digital distribution, animation, comic books, video games, product and brand licensing, and broadcasting.
More from Warner Bros.