Published 02-12-20
Submitted by America's Charities

 America's Charities, a nonprofit celebrating its 40th year as a pioneer in employee engagement, today announced it has expanded its Employee Assistance Fund (EAF) service by welcoming six new clients. Based throughout the country, the companies partnering with America's Charities to facilitate their EAF programs range from very large institutions, including one of the world's largest private research universities and a leading global healthcare solutions company, to a mid-size financial institution and an administrative support and shared business service, to a smaller energy storage company and a microbrewery.  
"Corporate social responsibility is more than what you do for others – it is also about what you do for your own employees," said Jim Starr, president and CEO of America's Charities. "The future of the workplace and true employee engagement is focused on caring about the well-being of a workforce and an intentional culture. We are thrilled to expand our EAF services to a wide range of companies who want to embrace their social responsibility, improve their communities, and use their resources to meet the challenges facing our world."
According to a 2019 Federal Reserve report on the economic well-being of US households, a third of Americans can't cover a $400 unexpected expense, and only 39 percent of Americans say they have enough savings to cover a $1,000 emergency room visit or car repair. A 2019 West Health and Gallup study found that 45 percent of Americans fear bankruptcy if a major health event strikes, and 60 percent of employees cite money as a significant source of stress, according to the American Psychological Association. No matter the scale or severity of the crisis, employee financial stress costs employers an average of $5,000 per employee, per year, in lost productivity. In other words, employee financial stress impacts a company's bottom line. These situations not only impact employees, they negatively affect the employees' companies, communities, and the wider world.
Meant for employers who want to turn their corporate social responsibility (CSR) efforts inward and support employees experiencing financial hardships, America's Charities' EAF solution helps companies develop an EAF program and policies from scratch, or outsource an existing program, as well as facilitate the program overall. From designing and reviewing applications, to making grant decisions and disbursing funds, to handling the appeals process and more, America's Charities increases the flexibility of what hardships a company's fund can cover and lowers the administrative burden to the company and the employee. Also known as an Employee Relief Fund or Employee Crisis Fund, an EAF helps employees recover more quickly, demonstrates a company's care for its employees and commitment to their well-being, and provides co-workers with an opportunity to help their colleagues. 
Additionally, since America's Charities is a nonprofit, companies gain legal and tax benefits that they would not receive if they left the administration and management of the fund to their private foundation or in-house team. Each contribution to the EAF is tax-deductible, and all grants made from the EAF are tax-free. Working with America's Charities helps companies maintain their employees' privacy and confidentiality, as well as increase participation, as workers may be less inclined to unveil personal financial hardships to their employers than they would a faceless third party. America's Charities' proven practices and established infrastructure makes the EAF set-up easy, and its 40 years of experience in corporate relationships, customer service, and funds management ensures that each EAF is managed professionally.
Added Starr, "From corporate philanthropy to employee giving, and volunteering to adopting sustainability practices, businesses are striving to be the difference for their employees and their communities. Time and again, I hear from our clients and partners that an EAF program enables them to move beyond mere words to true actions that show employees they care, thereby significantly impacting employee engagement and retention efforts." The mere effort of providing an EAF can demonstrate empathy, boosting workers' trust and loyalty. A Limeade Institute report found that retention skyrockets when employers show workers they care. Sixty percent of workers in the report who said they felt cared for planned to stay on board for the next three years, compared to the seven percent of those who said they didn't feel cared for. And an overwhelming number of respondents, 94 percent, cited that feeling included was the very factor that engaged them.
Companies can fund an EAF in a variety of ways including setting aside budget or empowering their employees to donate to the EAF through its workplace giving program. An EAF can form the basis of a new employee wellness or CSR program, or it can be easily incorporated into an existing engagement program.
America's Charities' EAF offering is the latest addition to America's Charities' portfolio of high-tech, high-touch giving, volunteering, and engagement services, ranging from a simple donation-only product to a robust set of engagement tools. Tailored to support each employers' specific needs and social impact goals, America's Charities helps companies with workplace giving, volunteerism, employee engagement, fundraising, disaster relief, matching gifts, benchmarking, strategic advice, charity vetting, charitable funds management and distribution, and more.
The expansion of America's Charities' EAF offering comes on the heels of the anniversary of its partnership with the U.S. Chamber of Commerce Foundation. Chamber members should visit www.charities.org/employeeassistancefund.  
Visit www.charities.org/eaf for more information about America's Charities' EAF solution.
About America's Charities
America's Charities is a 501(c)(3) membership-based nonprofit that inspires employees and organizations to support causes they care about. America's Charities' deep expertise in workplace giving and employee engagement is anchored in its history in helping private and public sector employers support charities of their choice, which in turn provides more sustainable, unrestricted revenue to nonprofits that are changing our world. Since 1980, America's Charities has raised more than a half billion dollars in corporate, federal, state and local government workplace giving campaigns, benefiting tens of thousands of nonprofits addressing causes including education, human rights, hunger, poverty, research, animal welfare, veteran assistance, disaster relief, and health services. More information about America's Charities is at www.charities.org, as well as on our social media networks.
###
Media Contact:
Lindsay Nichols                                                
America's Charities                                         
703-674-5359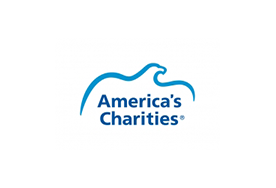 America's Charities
America's Charities
America's Charities inspires employees and organizations to support the causes they care about. We help nonprofits fundraise unrestricted, sustainable dollars through the workplace, and we help employers achieve their giving, engagement, and social impact goals. We do this to bring more resources to the nonprofits that are changing our world.
Who we serve:
Charities ­– We help charities fundraise recurring, unrestricted, sustainable dollars through the workplace. Click here for a printable list of our members.
Employers – We help employers achieve their giving, engagement, and social impact goals. Employers seeking to build or boost a strong culture; engage their employees and help them find purpose and meaning; attract, recruit, and retain talent; and ultimately achieve better corporate profitability and social impact, partner with America's Charities to launch or revitalize their workplace giving programs. We offer employers a suite of employee giving software packages, tools, and resources.
Employee Donors – Through our work with charities and employers, we inspire individual donors to connect with great causes, support nonprofits in a recurring, sustainable manner, and make a personal, social impact.
Core Services:
We offer a full suite of employee giving and engagement tools, including easy-to-use workplace giving technology platforms ranging from a straightforward, out-of-the-box option, to a comprehensive platform that integrates matching gifts, employee volunteering, cause campaigns, and more. Each of our solutions is tailored to fit an employer's specific needs and social impact goals, and deliver personalized, highly social online giving experiences.
We generate sustainable unrestricted financial support for member charities through the Combined Federal Campaign (CFC), state and local giving campaigns and private sector workplace giving campaigns.
We provide charitable funds management services to nonprofits and private and public sector employers while maintaining a resolute commitment to transparency and accountability.
We provide comprehensive consulting services with expertise in employee engagement, corporate social responsibility (CSR), workplace giving program and strategy development, benchmarking, analysis, and more.
We help companies support their employees in times of distress and hardship through Employee Assistance Funds (EAFs), also known as Employee Relief Funds or Employee Crisis Funds. By working with us, a company increases its flexibility around the types of hardships the fund can cover and lowers its administrative burdens.
Since 1980, our collective experience and ability to provide the highest level of personal service and expert consulting to our member charities and employer clients has resulted in more than $750 million for more than 25,000 nonprofits through federal, state and local government, and corporate workplace giving programs.
More from America's Charities